For the record: the Francis Crick Archive at the Wellcome Library.
Affiliation: chrisjbeckett@aol.com
"This is an historic occasion", announced Francis Crick on 2 June 1966, as he began the opening address of the annual meeting of molecular biologists at Cold Spring Harbor. "There have been many meetings", he continued, "about the genetic code during the past ten or twelve years but this is the first important one to be held since the code became known. "1 Such bold pronouncements usually guarantee that an occasion will linger in history's footnotes and never shine centre-page... In April 1953, in fourteen paragraphs and a diagrammatic sketch (contributed by Odile Crick), they had announced—with a minimalism that came more of urgent certainty than of diffidence or reticence—not just a physical structure for DNA, but something far more. "It has not escaped our notice that the specific pairing [of purine and pyrimidine bases] we have postulated immediately suggests a possible copying mechanism for the genetic material. "2 The trajectory begun in 1953 with the suggestion of "a possible copying mechanism" completed its public arc at Cold Spring Harbor in 1966 with a very specific and (almost) complete table showing the genetic code. 3 The occasion "marked", as Crick later judged, "the end of classical molecular biology". 4 Students of drama know, however, that actions off-stage can be as important as actions that take place in full view of an audience, if not more so... In Moscow, in August 1961, at the Fifth International Congress of Biochemistry, some 5000 to 6000 delegates gathered over five days. 5 There, in a seminar-room sideshow, peripheral to the molecular biology main programme, Marshall Nirenberg, then a young unknown biochemist (described by one delegate as not one of "the club"6), reported to a largely empty room that he and Johann Matthaei had succeeded in making a synthetic protein (polyphenylalanine) from synthetic RNA (poly-U), thus establishing the first word in the DNA dictionary: UUU = phenylalanine. 7 It was as if, through some scheduling embarrassment, history had missed its occasion... The first word of the newly-discovered language of life had been recited to almost no one. 8 Informed of the presentation, after the event, an excited Crick promptly asked Nirenberg if he would repeat his report, for the record, to the rather larger forum of the main floor, which he did, to the "startlement" of all. 9 Personal scientific archives are, in many respects, less about end-points, conclusive moments, and a final hammered form of words, than they are about process, the confusion of beginnings, ways and means, drafts, pathways, false turns, actions off-stage, and remarks around- and off-the-record... In the abundance of material gathered—particularly, the correspondence—there is a richness of detail that will be of considerable interest to researchers tracing the many-stranded history of molecular biology... It would be a mistake to conclude that Crick's influence as a theoretical driving-force derived solely from the many papers he has published over some fifty years... I want to suggest that at the end of the Gordon Conference on Nucleic Acids a statement be issued on the state of the Genetic Code... As you know I have found myself involved in this, but as a collater [sic] of information rather than a producer... There is inspirational Crick... And there is always the Crick who does not suffer fools... The "precedence" referred to (footnoted in the letter) is that of a colleague who had been scheduled, on a previous Crick occasion, to deliver a lecture himself but had sent "a stand-in with the excuse that he was being visited by Francis Crick! This sounded", concluded Noll, "like an event that a certain clause in insurance contracts defines as an 'Act of God'. "24 Once, a public exposition of this recurring conceit—famous atheist and/as God—took the form of wall-graffiti: "CRICK FOR GOD"... As well as indicating the direction in which sequence information usually travels, the "dogma" also implied the direction in which sequence information cannot travel. "The so-called central dogma is a grand hypothesis that attempts to predict which transfers of sequence information cannot take place". 54 The triangular figure that Crick used consistently to present the "dogma" visually, with DNA, RNA and Protein at each point of the triangle, and arrows indicating the direction in which the genetic information travels, was revised in 'Central dogma of molecular biology' to accommodate both the RNA→RNA transfer of certain viruses such as flu and polio, and the RNA→DNA transfer (reverse transcription) used by RNA retroviruses, such as the AIDS virus... Rather, the threads are chromatin—a filamentary assembly of DNA and proteins—in which only very short stretches of the naked helix are fleetingly revealed. "62 Furthermore, there is recognition of epigenetic inheritance. "At its simplest level, chromatin should be viewed as a single entity, carrying within it the combined genetic and epigenetic codes. "63 The next physical DNA frontier is the difficult middle ground of mesobiology: "We know about molecules, we know about cells and organelles, but the stuff in between is messy and mysterious. " At this difficult level of magnification ("perhaps a few to several hundred nanometres"), scientists expect to see "DNA on a scale where it flexes and twists like a soft rod" revealing "how the mechanical and the molecular interact. "64 It is a world for which "the central dogma"—bravely predictive65—was a point of entry but now ill-fits a post-genomic mesobiological world that is ready for new models and new metaphors to match its bewildering complexity... Whatever future direction molecular biology takes, and whatever historical interpretations of its development are advanced, the work of Francis Crick will remain a formative and central episode.
Show MeSH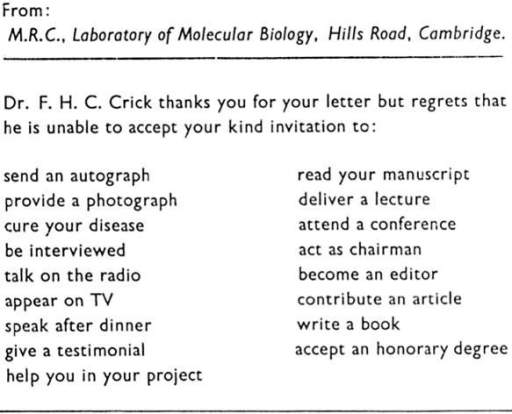 © Copyright Policy
getmorefigures.php?uid=PMC546341&req=5
Mentions: A response strategy Crick adopted in the 1960s to cope with an enormous post—and to make a serious point playfully—was the (occasional) use of a pre-printed postcard offering a number of reply options. The seventeen listed (see Figure 3) are a faithful reflection of the requests he regularly received, and one could add more (unsolicited solutions to "the coding problem" were quite common). One way of getting in under the radar of the reply-card might be to acknowledge it as an opening gambit. Thus, perhaps, thought Dr Robert Langridge (22 October 1964): "I realise that the following request will make me eligible for receiving one of your all purpose cards with a number of items checked, nevertheless as a somewhat unwilling organizer of the Biophysics Seminars at Harvard this year…".22