Methanosphaera stadtmanae induces a type IV hypersensitivity response in a mouse model of airway inflammation
ABSTRACT
---
Despite improved awareness of work‐related diseases and preventive measures, many workers are still at high risk of developing occupational hypersensitivity airway diseases. This stems from a lack of knowledge of bioaerosol composition and their potential effects on human health. Recently, archaea species were identified in bioaerosols, raising the possibility that they play a major role in exposure‐related pathology. Specifically, Methanosphaera stadtmanae (MSS) and Methanobrevibacter smithii (MBS) are found in high concentrations in agricultural environments and respiratory exposure to crude extract demonstrates immunomodulatory activity in mice. Nevertheless, our knowledge of the specific impact of methanogens exposure on airway immunity and their potential to induce airway hypersensitivity responses in workers remains scant. Analysis of the lung mucosal response to methanogen crude extracts in mice demonstrated that MSS and MBS predominantly induced TH17 airway inflammation, typical of a type IV hypersensitivity response. Furthermore, the response to MSS was associated with antigen‐specific IgG1 and IgG2a production. However, despite the presence of eosinophils after MSS exposure, only a weak TH2 response and no airway hyperresponsiveness were observed. Finally, using eosinophil and mast cell‐deficient mice, we confirmed that these cells are dispensable for the TH17 response to MSS, although eosinophils likely contribute to the exacerbation of inflammatory processes induced by MSS crude extract exposure. We conclude that, as MSS induces a clear type IV hypersensitivity lung response, it has the potential to be harmful to workers frequently exposed to this methanogen, and that preventive measures should be taken to avoid chronic hypersensitivity disease development in workers.
No MeSH data available.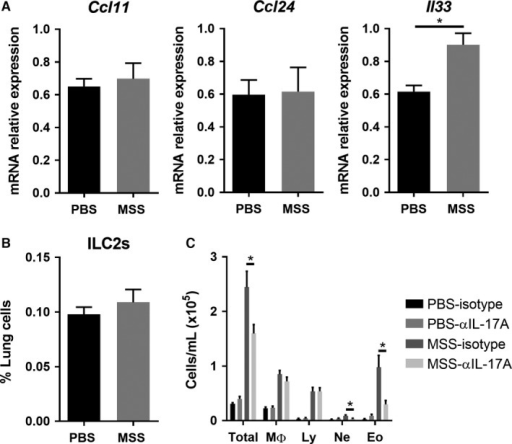 © Copyright Policy - creativeCommonsBy
License
getmorefigures.php?uid=PMC5392504&req=5
Mentions: Eosinophils are present in response to low doses of MSS and the presence of eosinophils in the lung after exposure to non‐infectious agents is anticipated to be associated to allergic, asthma‐like symptoms. Importantly, eosinophils can also contribute to resolution processes in asthma (Takeda et al. 2015), but their significance and role in MSS‐induced airway hypersensitivity remains misunderstood. Therefore, we set out to further evaluate the importance of this cell population in the response to MSS crude extract exposure. However, we found that low‐dose exposure to MSS induces only a weak CD4/IL‐13+ response and recruitment of eosinophils (Nakajima et al. 1992; Pope et al. 2001), and no devolopment of AHR, a response associated with the presence of eosinophils (Cockcroft and Davis 2006). Accordingly, we examined the functional significance of eosinophils in the airway inflammatory response to MSS, and on their potential harmful impact in disease. We first assessed the activation of eosinophil recruitment pathways in response to MSS. We analyzed eotaxins and IL‐33 production, which are well‐known chemokines involved in eosinophil recruitment. qRT‐PCR analyses revealed no increase in eotaxins Ccl11 (Eotaxin‐1) and Ccl24 (Eotaxin‐2) following MSS crude extract exposure, but an increase in Il33 mRNA expression (Fig. 4A). IL‐33 is a potent activator of lung ILC2s (Neill et al. 2010), which, in turn, recruit eosinophils in allergy development (Gold et al. 2014). To assess whether MSS‐induced expression of IL‐33 promotes the expansion of lung ILC2s, we quantified lung ILC2s following antigen challenge by flow cytometry (Lineage−CD45+Sca1+CD90.2+CD25+ST2+). The frequency of lung ILC2s was unchanged following exposure to MSS (Fig. 4B). Thus, these results suggest that MSS‐induced eosinophil recruitment to the lungs is not induced by type I hypersensitivity mechanisms.