Lipid Lowering Therapy to Modify Plaque Microstructures: Insights from Optical Coherence Tomography Imaging
ABSTRACT
---
Due to the pandemics of obesity and diabetes mellitus, especially in the Western countries, atherosclerotic cardiovascular disease (ASCVD) has become a major health burden and is expected to increase in the future. Modifying lipid targets, especially low-density lipoprotein cholesterol (LDL-C) level, has become the first-line therapy for primary and secondary prevention of ASCVD. Intravascular imaging modalities have contributed to elucidating clinical efficacy of lipid lowering therapy on atherosclerotic plaques. Optical coherence tomography (OCT) is a high-resolution imaging tool enables visualization of plaque microstructures associated with its instability. This modality has demonstrated favorable changes in plaque microstructures under lowering LDL-C level. In addition, clinical studies using OCT have suggested potential association of other lipid targets, including triglyceride and high-density lipoprotein cholesterol with plaque microstructures. Given continuing cardiovascular risks despite statin therapy, OCT will be an important imaging modality to evaluate novel therapeutic approaches that potentially modulates plaque instability.
No MeSH data available.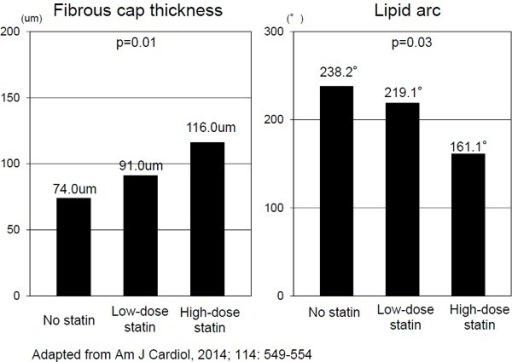 © Copyright Policy - open-access
License
getmorefigures.php?uid=PMC5392473&req=5
Mentions: 1) Statin: Plaque microstructures at non-culprit lesions under low- and high-dose statin were investigated in 275 patients with stable CAD who required percutaneous coronary intervention.29) (Fig. 1). Achieved LDL-C levels were 103.1 ± 37.9, 96.3 ± 40.7, and 80.5 ± 31.2 mg/dl in no statin, low-dose, and high-dose statin groups, respectively. Compared to subjects who did not take a statin, thicker fibrous cap (p = 0.01) and smaller lipid arc (p = 0.03) were observed in association with dose of statins. In addition, patients receiving a statin were more likely to exhibit a lower frequency of thin-cap fibroatheroma (p < 0.001) and vaso vasorum (p = 0.01). These favorable features were more frequently observed in subjects under high-dose statin who achieved the lowest LDL-C level. The EASY-FIT (Effect of Atorvastatin therapy on fibrous cap thickness in coronary atherosclerotic plaque assessed by optical coherence tomography) trial compared the efficacy of 20 mg and 5 mg atorvastatin on OCT-derived plaque microstructures in 70 patients with unstable angina pectoris.30) (Table 1). On-treatment LDL-C level was significantly lower in 20 mg atorvastatin group [69 mg/dl (interquartile range: 61–80) vs. 78 mg/dl (interquartile range: 66–108), p = 0.03]. On serial evaluation, 20 mg atorvastatin use was associated with greater increase in fibrous cap thickness [69% (interquartile range: 25–104) vs. 17% (interquartile range: −1–34), p < 0.001]. Furthermore, more favorable changes in lipid arc [−27% (interquartile range: from −37 to −20) vs. −8% (interquartile range: −13 to −4), p < 0.001] and macrophage grade [−38% (interquartile range: −44 to −31) vs. −24% (interquartile range: −33–0), p < 0.001] were also observed in patients receiving 20 mg atorvastatin. Biomarkers associated with fibrous cap thickness included percent change in LDL-C (R = −0.450, p < 0.001), malondialdehyde-modified low-density lipoprotein (R = −0.283, p = 0.029), high-sensitivity c-reactive protein (R = −0.276, p < 0.001), and matrix metalloproteinase-9 (R = −0.502, p < 0.001) levels.30).