Branched-chain amino acids prevent hepatic fibrosis and development of hepatocellular carcinoma in a non-alcoholic steatohepatitis mouse model
ABSTRACT
---
Oral supplementation with branched-chain amino acids (BCAA; leucine, isoleucine, and valine) in patients with liver cirrhosis potentially suppresses the incidence of hepatocellular carcinoma (HCC) and improves event-free survival. However, the detailed mechanisms of BCAA action have not been fully elucidated. BCAA were administered to atherogenic and high-fat (Ath+HF) diet-induced nonalcoholic steatohepatitis (NASH) model mice. Liver histology, tumor incidence, and gene expression profiles were evaluated. Ath+HF diet mice developed hepatic tumors at a high frequency at 68 weeks. BCAA supplementation significantly improved hepatic steatosis, inflammation, fibrosis, and tumors in Ath+HF mice at 68 weeks. GeneChip analysis demonstrated the significant resolution of pro-fibrotic gene expression by BCAA supplementation. The anti-fibrotic effect of BCAA was confirmed further using platelet-derived growth factor C transgenic mice, which develop hepatic fibrosis and tumors. In vitro, BCAA restored the transforming growth factor (TGF)-β1-stimulated expression of pro-fibrotic genes in hepatic stellate cells (HSC). In hepatocytes, BCAA restored TGF-β1-induced apoptosis, lipogenesis, and Wnt/β-Catenin signaling, and inhibited the transformation of WB-F344 rat liver epithelial stem-like cells. BCAA repressed the promoter activity of TGFβ1R1 by inhibiting the expression of the transcription factor NFY and histone acetyltransferase p300. Interestingly, the inhibitory effect of BCAA on TGF-β1 signaling was mTORC1 activity-dependent, suggesting the presence of negative feedback regulation from mTORC1 to TGF-β1 signaling. Thus, BCAA induce an anti-fibrotic effect in HSC, prevent apoptosis in hepatocytes, and decrease the incidence of HCC; therefore, BCAA supplementation would be beneficial for patients with advanced liver fibrosis with a high risk of HCC.
No MeSH data available.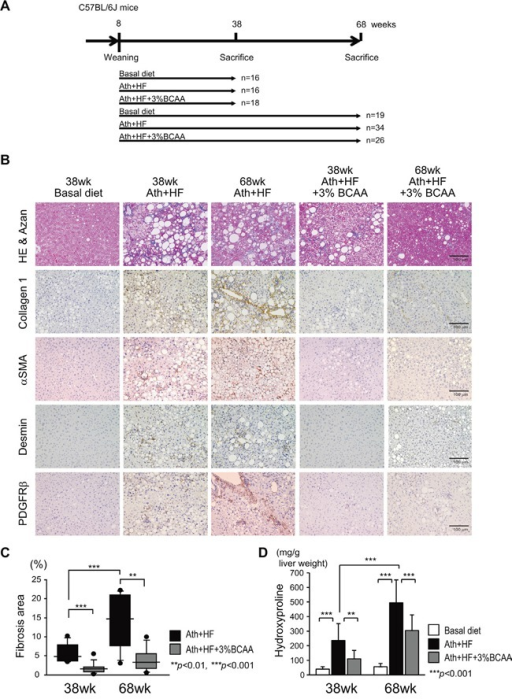 © Copyright Policy - open-access
License
getmorefigures.php?uid=PMC5392319&req=5
Mentions: Male C57BL/6J mice after weaning at week 8 were fed a basal diet (basal diet group), Ath+HF diet (Ath+HF group), or Ath+HF diet containing 3% BCAA (Ath+HF+BCAA group), respectively (Figure 1A). The mice were killed at 38w or 68w for the evaluation of liver histology or tumor incidence. Hematoxylin and eosin and Azan staining of formalin-fixed paraffin-embedded liver sections showed that substantial steatosis and fibrosis were observed in the liver of the Ath+HF group and were less severe in the Ath+HF+BCAA group (Figure 1B). The area of fibrosis deduced from densitometry analysis and the hydroxyproline content in the liver revealed the progression of hepatic fibrosis from 38w to 68w, and hepatic fibrosis was significantly reduced in the Ath+HF+BCAA group compared with the Ath+HF group (Figure 1C and 1D). Laboratory data for the serum of 12w and 68w mice (Supplementary Table 1) showed that the levels of serum alanine aminotransferase (ALT), plasma total cholesterol, and free cholesterol were significantly up-regulated in the Ath+HF group compared with the basal diet group, and the values were significantly reduced in the Ath+HF+BCAA group in 68w mice. Immunohistochemical (IHC) staining of collagen 1, alpha smooth muscle actin (α-SMA), desmin, and platelet-derived growth factor receptor (PDGFR) β in the liver showed that these fibrosis markers were substantially up-regulated in the liver of the Ath+HF group and repressed in the Ath+HF+BCAA group (Figure 1B). Quantitative RT-PCR (qRT-PCR) analysis showed that the expression of collagen 1a2, collagen 4a2, α-SMA, tissue inhibitor of metalloproteinase 2, TGF-β1, PDGFB, PDGFC, and PDGFRβ mRNA was significantly up-regulated in the Ath+HF group and their expression was repressed in the Ath+HF+BCAA group (Figure 2A). Western blotting analysis showed the up-regulation of the phosphorylated forms of mTOR (p-mTOR) and ribosomal protein S6 kinase (p-p70S6K) in the Ath+HF+BCAA group, confirming the activation of mammalian target of rapamycin complex 1 (mTORC1) signaling by BCAA supplementation (Figure 2B). Conversely, the expression of PDGFRβ and the phosphorylated form of extracellular signal-regulated kinase (p-ERK) was down-regulated in the Ath+HF+BCAA group compared with the Ath+HF group.