Observation of current-induced, long-lived persistent spin polarization in a topological insulator: A rechargeable spin battery
ABSTRACT
---
We report a current-induced, persistent, long-lived, and rewritable electron spin polarization in a 3D topological insulator.
No MeSH data available.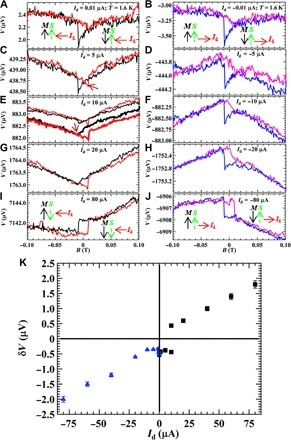 © Copyright Policy - open-access
License
getmorefigures.php?uid=PMC5392024&req=5
Mentions: Figure 3 shows spin potentiometric measurements at T = 1.6 K in another device ("C"; a 30-nm-thick BTS221 flake, with a four-terminal configuration shown in Fig. 2, A and B) at a series of DC bias currents Id increasing from relatively small to very large values (±80 μA), where we found the spin signal transitions from being largely Id-independent to linearly dependent on Id. At a small Id = ±0.01 μA, the spin signal δV is about −0.5 μV for both the positive and negative currents (Fig. 3, A and B), and the trend of the signal is qualitatively similar to those presented in Fig. 1, suggesting a channel spin polarization S along the +y direction and independent of Id. In contrast, at a large Id such as ±80 μA (Fig. 3, I and J), a qualitatively different behavior is observed. Upon reversing Id, the step-like change in the measured spin potential now reverses its trend, and spin signal δV reverses its sign (δV ~1.8 μV for Id = 80 μA and δV ~−2 μV for Id = −80 μA). Such a behavior that δV reverses upon reversing Id is more similar to that studied in previous spin potentiometric measurements on TIs, indicating an Id-induced and reversible helical spin polarization (7, 11, 14). As labeled by the arrows in Fig. 3 (I and J), the direction of S is locked to such a large Id in a way that is consistent with the spin helicity of TSS. At intermediate positive currents (Fig. 3, C and E), the voltage signal exhibits a "transitional" behavior, where the trend of the step-like change undergoes reversals (sometimes even during measurements taken at the same Id; see some examples marked by the brown arrows in Fig. 3, C and E). The dependence of the spin signal δV on Id is summarized in Fig. 3K, where two distinct behaviors are observed: (i) at /Id/ < 5 μA, δV is always negative and relatively constant, about −0.5 μV, independent of both the polarity and amplitude of Id; (ii) at /Id/ > 10 μA, δV reverses its sign with reversing Id and is largely linearly dependent on Id.