Comparison of independent screens on differentially vulnerable motor neurons reveals alpha-synuclein as a common modifier in motor neuron diseases
ABSTRACT
---
The term "motor neuron disease" encompasses a spectrum of disorders in which motor neurons are the primary pathological target. However, in both patients and animal models of these diseases, not all motor neurons are equally vulnerable, in that while some motor neurons are lost very early in disease, others remain comparatively intact, even at late stages. This creates a valuable system to investigate the factors that regulate motor neuron vulnerability. In this study, we aim to use this experimental paradigm to identify potential transcriptional modifiers. We have compared the transcriptome of motor neurons from healthy wild-type mice, which are differentially vulnerable in the childhood motor neuron disease Spinal Muscular Atrophy (SMA), and have identified 910 transcriptional changes. We have compared this data set with published microarray data sets on other differentially vulnerable motor neurons. These neurons were differentially vulnerable in the adult onset motor neuron disease Amyotrophic Lateral Sclerosis (ALS), but the screen was performed on the equivalent population of neurons from neurologically normal human, rat and mouse. This cross species comparison has generated a refined list of differentially expressed genes, including CELF5, Col5a2, PGEMN1, SNCA, Stmn1 and HOXa5, alongside a further enrichment for synaptic and axonal transcripts. As an in vivo validation, we demonstrate that the manipulation of a significant number of these transcripts can modify the neurodegenerative phenotype observed in a Drosophila line carrying an ALS causing mutation. Finally, we demonstrate that vector-mediated expression of alpha-synuclein (SNCA), a transcript decreased in selectively vulnerable motor neurons in all four screens, can extend life span, increase weight and decrease neuromuscular junction pathology in a mouse model of SMA. In summary, we have combined multiple data sets to identify transcripts, which are strong candidates for being phenotypic modifiers, and demonstrated SNCA is a modifier of pathology in motor neuron disease.
No MeSH data available.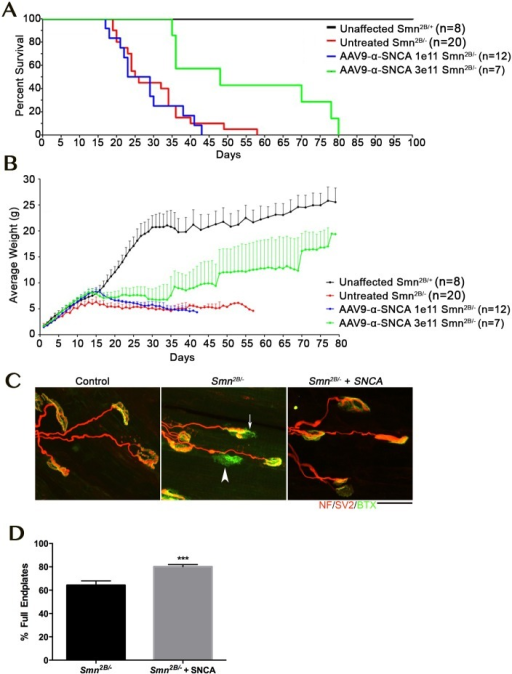 © Copyright Policy
License
getmorefigures.php?uid=PMC5391970&req=5
Mentions: Alpha-synuclein (SNCA) was consistently decreased in vulnerable motor neurons across all four screens. This was of particular interest as a decrease in SNCA levels have been reported in SMA patient spinal cord, patient fibroblasts and NSC-34 motor neuron-like cells [29]. There are also a number of studies indicating that, in certain scenarios, over expression of SNCA can be neuroprotective[30–33]. As SNCA is a strong candidate to modify neuronal pathology, we sought to further investigate the effects of SNCA over expression in models of motor neuron disease. Unfortunately, there is no homologue for SNCA, which makes the effect of over expression of SNCA in DVAP-P58S flies difficult to interpret. For this reason we turned to a mammalian model, and sought to determine the impact of SNCA transient expression in the Smn2B/- mouse model of SMA. To provide widespread expression of the SNCA transgene, an scAAV9-SNCA vector was developed. AAV9 has a broad tropism for many tissues within the periphery and the central nervous system, including astrocytes and neuronal lineages [34]. At postnatal day 1, a single injection of 1e11 or 3e11 viral particles of scAAV9-SNCA was delivered via an intracerebroventricular injection into the Smn2B/- mouse model of SMA. The lower dose was selected based upon the amount of vector that provides a robust phenotypic rescue using scAAV9-SMN[35]. Injection of 1e11 viral particles scAAV9-SNCA has no discernable effect on life span or weight gain, however, the higher dose of 3e11 viral particles resulted in an ~88% (23 day) increase in median life span and a significant increase in average body weight from approximately P20 onwards (Fig 4A and 4B). Since the initial transcriptomic screen was predicated upon the differential pathology observed at the NMJ, we next examined whether scAAV9-SNCA treatment improved the NMJ phenotype in SMA mice. Importantly, analysis of NMJs from P18 scAAV9-SNCA injected mice revealed a significant increase in the percentage of fully occupied endplates compared to untreated controls, indicative of a decrease in denervation and motor neuron pathology (Fig 4C and 4D).