Counting distance: Effects of egocentric distance on numerical perception
ABSTRACT
---
Numerical value is long known to be associated with a variety of magnitude representations, such as size, time and space. The present study focused on the interactive relations of numerical magnitude with a spatial factor which is dominant in everyday vision and is often overlooked, namely, egocentric distance, or depth. We hypothesized that digits denoting large magnitudes are associated with large perceived distances, and vice versa. While the relations of numerical value and size have been long documented, effects of egocentric distance on numeral perception have been scarcely investigated, presumably due to the difficulty to disentangle size and depth factors within three-dimensional visual displays. The current study aimed to assess the potential linkage between egocentric distance and number magnitude, while neutralizing any perceived and/or physical size parameters of target digits. In Experiment 1, participants conducted a numeral size-classification task ('bigger or smaller than 5'), to which they responded with a near-to-body or a far-from-body key. Results revealed shorter responses for small than for large numbers when responded with a key positioned close to the body, and for large than small numbers when responded with a key positioned far from the body (regardless of hand-key mapping). Experiment 2 used verbal stimuli denoting near/remote concepts as irrelevant primes to target digits, further demonstrating a priming effect of conceived distance on numerical value processing. Collectively, our results suggest that distance magnitudes are associatively linked to numerical magnitudes and may affect digit processing independently of the effects of visual size.
No MeSH data available.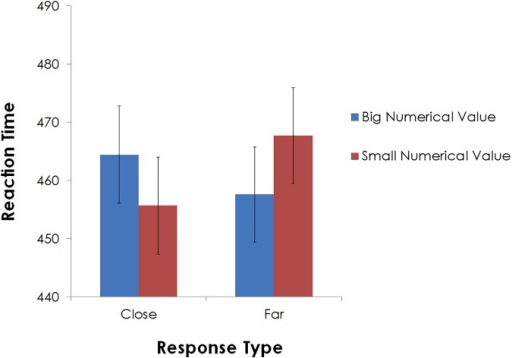 © Copyright Policy
License
getmorefigures.php?uid=PMC5391915&req=5
Mentions: Accuracy rate was very high, and yielded an average of 99%. Trials yielding extreme outlier responses (i.e., RTs that deviated from participants' mean RT by more than three standard deviations) were excluded from the RT analysis (less than 1%). Fig 3 presents participants' RTs as a function of prime type and numerical value. A two-way analysis of variance (ANOVA) with prime type ('near', 'far') and target numerical value (small, big) as factors revealed no significant main effects (all Fs < 1), however, a statistically significant interaction effect was obtained, F(1, 24) = 4.53, p < .05, η2p = .16. As in Experiment 1, the interaction revealed a congruency effect between conceived distance and numerical value, that is, shorter RTs for trials in which the two factors depicted magnitudes in the same direction (e.g., far, big numerical value), than in different directions (e.g., far, small numerical value) (none of the simple main effects were statistically significant, p>0.1). These findings corroborate on our earlier results, suggesting that distance is associated with numerical value, even when the former is represented on a rather abstract, conceptual level, rather than a visual and/or an action-related one.