Observation of a re-entrant phase transition in the molecular complex tris( μ 2 -3,5-diiso ­ propyl-1,2,4-triazolato- κ 2 N 1 : N 2 )trigold(I) under high pressure
ABSTRACT
---
We report a molecular crystal that exhibits four successive phase transitions under hydro­static pressure, driven by aurophilic interactions, with the ground-state structure re-emerging at high pressure. The effect of pressure on two polytypes of tris(μ2-3,5-diiso­propyl-1,2,4-triazolato-κ2N1:N2)trigold(I) (denoted Form-I and Form-II) has been analysed using luminescence spectroscopy, single-crystal X-ray diffraction and first-principles computation. A unique phase behaviour was observed in Form-I, with a complex sequence of phase transitions between 1 and 3.5 GPa. The ambient C2/c mother cell transforms to a P21/n phase above 1 GPa, followed by a P21/a phase above 2 GPa and a large-volume C2/c supercell at 2.70 GPa, with the previously observed P21/n phase then reappearing at higher pressure. The observation of crystallographically identical low- and high-pressure P21/n phases makes this a rare example of a re-entrant phase transformation. The phase behaviour has been characterized using detailed crystallographic theory and modelling, and rationalized in terms of molecular structural distortions. The dramatic changes in conformation are correlated with shifts of the luminescence maxima, from a band maximum at 14040 cm−1 at 2.40 GPa, decreasing steeply to 13550 cm−1 at 3 GPa. A similar study of Form-II displays more conventional crystallographic behaviour, indicating that the complex behaviour observed in Form-I is likely to be a direct consequence of the differences in crystal packing between the two polytypes.
No MeSH data available.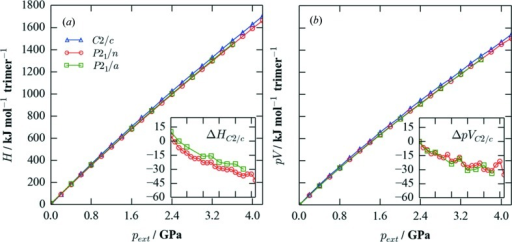 © Copyright Policy - open-access
License
getmorefigures.php?uid=PMC5391858&req=5
Mentions: Taking the unit cells obtained from the refinement of the ambient and high-pressure diffraction patterns as a starting point, the cell shape, volume and internal positions were optimized to a tolerance of 10−3 eV under applied hydro­static pressures from 0.0 to 4.2 GPa in steps of 0.2 and 0.4 GPa for the C2/c and P21/n, and P21/a phases, respectively. We note that this tolerance is approximately an order of magnitude tighter than the calculated enthalpy differences between the phases. Fig. 6 ▸ shows the calculated enthalpies, , where is the lattice internal energy, of the three phases as a function of pressure, relative to the enthalpy of the ambient C2/c phase at zero pressure. Application of pressure leads to a substantial increase in energy, with the enthalpies at 4.2 GPa being approximately 1700 kJ mol−1 per trimer higher than at zero applied pressure. A separate plot of the pV term shows that this, rather than differences in the (lattice) internal energy, , is the main contributor to the increase in enthalpy. However, whereas the absolute energies vary significantly, the per-trimer energy differences between the three forms (inset plots) are much smaller, on the order of a few tens of kJ mol−1. These calculations suggest the low-pressure C2/c phase to be the most stable at ambient pressure, while a small applied hydro­static pressure is sufficient to favour both the high-pressure P21/n and P21/a phases. This is largely due to the fact that the P21/n and P21/a phases both have a higher predicted density than the C2/c phase (Fig. 7 ▸), leading to a smaller pV contribution to the high-pressure enthalpy (Fig. 6 ▸). The calculated enthalpies predict that the two high-pressure phases are energetically close, but do not display the crossing expected to occur at around 2 GPa. Moreover, the calculations also predict that the C2/c and P21/n phases should be in equilibrium at around 0.2 GPa, which is considerably lower than the pressure of 1 GPa at which the phase transition is observed by diffraction.