Activated Cdc42-associated kinase 1 (ACK1) binds the sterile α motif (SAM) domain of the adaptor SLP-76 and phosphorylates proximal tyrosines
ABSTRACT
---
The adaptor protein Src homology 2 domain-containing leukocyte phosphoprotein of 76 kDa (SLP-76) plays a crucial role in T cell activation by linking antigen receptor (T cell receptor, TCR) signals to downstream pathways. At its N terminus, SLP-76 has three key tyrosines (Tyr-113, Tyr-128, and Tyr-145, "3Y") as well as a sterile α motif (SAM) domain whose function is unclear. We showed previously that the SAM domain has two binding regions that mediate dimer and oligomer formation. In this study, we have identified SAM domain-carrying non-receptor tyrosine kinase, activated Cdc42-associated tyrosine kinase 1 (ACK1; also known as Tnk2, tyrosine kinase non-receptor 2) as a novel binding partner of SLP-76. Co-precipitation, laser-scanning confocal microscopy, and in situ proximity analysis confirmed the binding of ACK1 to SLP-76. Further, the interaction was induced in response to the anti-TCR ligation and abrogated by the deletion of SLP-76 SAM domain (ΔSAM) or mutation of Tyr-113, Tyr-128, and Tyr-145 to phenylalanine (3Y3F). ACK1 induced phosphorylation of the SLP-76 N-terminal tyrosines (3Y) dependent on the SAM domain. Further, ACK1 promoted calcium flux and NFAT-AP1 promoter activity and decreased the motility of murine CD4+ primary T cells on ICAM-1-coated plates, an event reversed by a small molecule inhibitor of ACK1 (AIM-100). These findings identify ACK1 as a novel SLP-76-associated protein-tyrosine kinase that modulates early activation events in T cells.
No MeSH data available.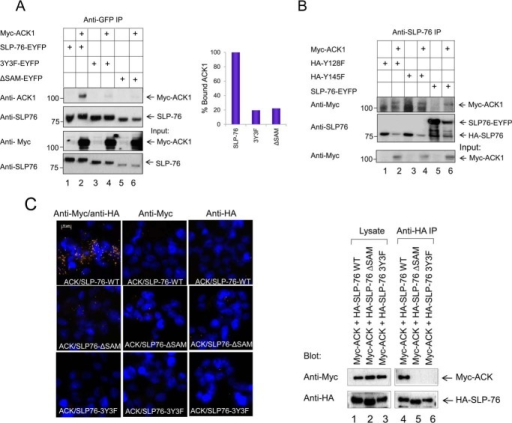 © Copyright Policy - open-access
License
getmorefigures.php?uid=PMC5391757&req=5
Mentions: SAM-containing proteins can bind other proteins and form homo- or heterodimers and may even form multimers (22, 35). To evaluate the possible interaction of ACK1 with endogenous SLP-76, Myc-tagged ACK1 was expressed in Jurkat T cells by transfection, followed by ligation with 2 or 4 μg/ml of soluble anti-CD3 for 5 min. ACK1 protein was precipitated with anti-Myc antibody (Fig. 1B). A small amount of endogenous SLP-76 was co-precipitated with anti-Myc (Fig. 1B, lane 1), which was markedly increased with anti-CD3 (Fig. 1B, lanes 2 and 3). As controls, anti-Myc detected Myc-ACK1 and anti-SLP-76 detected SLP-76 in cell lysates (Fig. 1B, bottom panels). These results indicated that endogenous SLP-76 could be co-precipitated with transfected ACK1, and the association was increased with anti-CD3 stimulation. We also observed binding in murine primary resting mouse T cells by precipitation using an anti-SLP-76 antibody followed by anti-ACK1 blotting (Fig. 1C). Purified CD4+ T cells were isolated from mouse spleen and activated with soluble anti-CD3 for 5 min. Anti-SLP-76 co-precipitated ACK1 in resting cells (Fig. 1C, left panel, lane 1) that was increased with anti-CD3 (Fig. 1C, left panel, lane 2, and right panel). Binding between SLP-76-EYFP and Myc-ACK1 could also be observed in transfected non-hematopoietic HEK293T cells (Fig. 2, A, lane 2, and B, lane 6). Additionally, in situ proximity hybridization (PLA) of ACK1 and SLP-76 gave a positive signal that was indicative of close proximity in HEK293T cells (Fig. 2C, top left panel, yellow dots). Together, these findings indicate, for the first time, that ACK1 and SLP-76 bind to each other in different cell lines, including Jurkat and primary T cells.