Milk, Fruit and Vegetable, and Total Antioxidant Intakes in Relation to Mortality Rates: Cohort Studies in Women and Men
ABSTRACT
---
High milk consumption might shorten life span through increased oxidative stress. We aimed to determine whether higher mortality rates with high milk consumption are modified by fruit and vegetable intake or total antioxidant intake (oxygen radical absorbance capacity). We used information from food frequency questionnaires completed by 61,420 women in a Swedish cohort (22,391 deaths from the 1987–1990 baseline onward), 36,714 women from a second survey (1997) of this cohort, and 45,280 Swedish men (15,478 deaths from the 1998 baseline onward). Compared with low consumption of milk (<1 glass/day) and high consumption of fruits/vegetables (≥5 servings/day), time-updated information revealed an adjusted hazard ratio for death of 2.79 (95% confidence interval (CI): 2.42, 3.21) in women who consumed ≥3 glasses of milk/day and <1 serving/day of fruit/vegetables and a hazard ratio of 1.60 (95% CI: 1.40, 1.82) in women who consumed the same amount of milk but ≥5 servings/day of fruits/vegetables. The same comparisons in men, based on a single food frequency questionnaire, displayed hazard ratios of 1.31 (95% CI: 1.14, 1.51) and 1.07 (95% CI: 0.97, 1.18), respectively. Total antioxidant consumption showed similar patterns as fruit/vegetable intakes. Dietary antioxidant intake, especially in women, seems to modify the elevated death rate associated with high milk consumption.
No MeSH data available.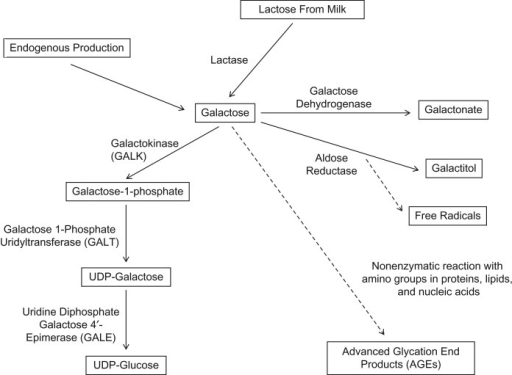 © Copyright Policy - cc-by-nc
License
getmorefigures.php?uid=PMC5391717&req=5
Mentions: Galactose is used in the endogenous production of human breast milk. Most lactose in human breast milk is synthesized from galactose taken up from the blood, and only one-third is made from endogenous synthesis (50). Liver glycogen in infants is formed mainly from breast milk–derived galactose (51), and it acts as a reservoir for subsequent hepatic glucose release to the circulation during times of fasting (52, 53). A lower female degradation of galactose might have been an evolutionary survival mechanism for the child. Specifically, the enzyme galactose-1-phosphate uridylyltransferase (GALT) in the Leloir breakdown pathway of galactose (Figure 4) has a higher activity in male animals than in female animals (7, 54, 55). GALT deficiency is also the main cause of galactosemia, an inborn error of metabolism resulting in early death without avoidance of galactose intake. With lower capacity of galactose degradation to glucose by the Leloir pathway, an alternative route is the polyol pathway, where galactose is converted to galactitol by aldose reductase, secondarily leading to free-radical formation (56, 57). In addition, galactose reacts nonenzymatically with amino groups in proteins and peptides, forming advanced glycation end-products (3). Although the exact mechanisms are not known, galactose-treated rodents, flies, and tissue culture cells also display evidence of lower-than-expected antioxidant enzyme activities, suggesting that the normal defenses might be compromised (2, 5, 58).Figure 4.