Blocking the recruitment of naive CD4 + T cells reverses immunosuppression in breast cancer
ABSTRACT
---
The origin of tumor-infiltrating Tregs, critical mediators of tumor immunosuppression, is unclear. Here, we show that tumor-infiltrating naive CD4+ T cells and Tregs in human breast cancer have overlapping TCR repertoires, while hardly overlap with circulating Tregs, suggesting that intratumoral Tregs mainly develop from naive T cells in situ rather than from recruited Tregs. Furthermore, the abundance of naive CD4+ T cells and Tregs is closely correlated, both indicating poor prognosis for breast cancer patients. Naive CD4+ T cells adhere to tumor slices in proportion to the abundance of CCL18-producing macrophages. Moreover, adoptively transferred human naive CD4+ T cells infiltrate human breast cancer orthotopic xenografts in a CCL18-dependent manner. In human breast cancer xenografts in humanized mice, blocking the recruitment of naive CD4+ T cells into tumor by knocking down the expression of PITPNM3, a CCL18 receptor, significantly reduces intratumoral Tregs and inhibits tumor progression. These findings suggest that breast tumor-infiltrating Tregs arise from chemotaxis of circulating naive CD4+ T cells that differentiate into Tregs in situ. Inhibiting naive CD4+ T cell recruitment into tumors by interfering with PITPNM3 recognition of CCL18 may be an attractive strategy for anticancer immunotherapy.
No MeSH data available.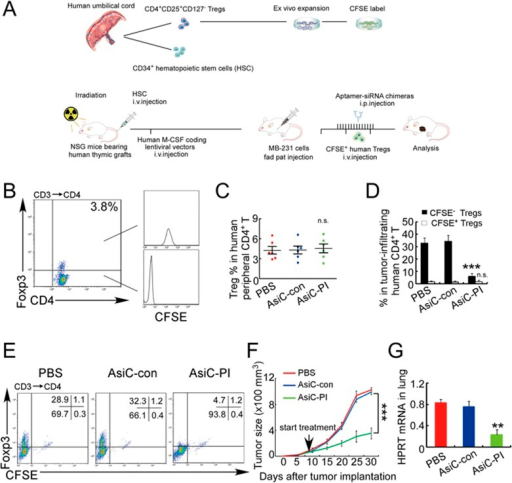 © Copyright Policy - open-access
License
getmorefigures.php?uid=PMC5385617&req=5
Mentions: Because human PB Tregs were rare in the tumor-bearing humanized mice, to better mimic human breast cancer and determine whether PB Tregs infiltrate the tumors, we adoptively transferred autologous Tregs, expanded ex vivo from CB as previously described28,29, 6 weeks after the transplant of hematopoietic stem cells (HSCs) at the time of concomitant tumor implantation and every 10 days thereafter in the humanized tumor model described above. The transferred Tregs were labeled with CFSE (Figure 7A). After transfer, Foxp3+ Tregs accounted for about 4% of human PB CD4+ T cells (Figure 7B and 7C). Most of the PB Tregs were CFSE labeled, indicating that they were mainly adoptively transferred. When the tumors became palpable, the mice were injected intraperitoneally with PBS, CD4-AsiC-con or CD4-AsiC-PI. AsiC treatment did not affect the number of PB Tregs (Figure 7C). In the control mice given PBS or CD4-AsiC-con, Tregs accounted for about 30% of TI CD4+ T cells and most of these were CFSE− (Figure 7D and 7E). The proportion of TI Tregs in the adoptively transferred mice was similar to that in the humanized mice that did not receive transferred Tregs (compare Figure 6F, Figure 7D-7E). These data, together with the paucity of CFSE-stained Tregs in the tumors from adoptively transferred mice, strongly suggest that TI Tregs were mainly derived from recruited naive CD4+ T cells, rather than from circulating Tregs. In fact, in the adoptively transferred tumor-bearing mice, knockdown of PITPNM3 by CD4-AsiC-PI in CD4+ T cells markedly reduced CFSE− TI Tregs, but had no effect on the small number of TI CFSE+ Tregs (Figure 7D and 7E). As before, CD4-AsiC-PI treatment dramatically reduced tumor growth and lung metastasis in the adoptively transferred tumor-bearing mice (Figure 7F and 7G). Together, these results suggest that Tregs are generated from naive CD4+ T cells responding via PITPNM3 to CCL18 produced in the tumor. They also suggest that interfering with PIPTNM3 or CCL18 could be used therapeutically to enhance anti-tumor immunity in breast cancer.