Blocking the recruitment of naive CD4 + T cells reverses immunosuppression in breast cancer
ABSTRACT
---
The origin of tumor-infiltrating Tregs, critical mediators of tumor immunosuppression, is unclear. Here, we show that tumor-infiltrating naive CD4+ T cells and Tregs in human breast cancer have overlapping TCR repertoires, while hardly overlap with circulating Tregs, suggesting that intratumoral Tregs mainly develop from naive T cells in situ rather than from recruited Tregs. Furthermore, the abundance of naive CD4+ T cells and Tregs is closely correlated, both indicating poor prognosis for breast cancer patients. Naive CD4+ T cells adhere to tumor slices in proportion to the abundance of CCL18-producing macrophages. Moreover, adoptively transferred human naive CD4+ T cells infiltrate human breast cancer orthotopic xenografts in a CCL18-dependent manner. In human breast cancer xenografts in humanized mice, blocking the recruitment of naive CD4+ T cells into tumor by knocking down the expression of PITPNM3, a CCL18 receptor, significantly reduces intratumoral Tregs and inhibits tumor progression. These findings suggest that breast tumor-infiltrating Tregs arise from chemotaxis of circulating naive CD4+ T cells that differentiate into Tregs in situ. Inhibiting naive CD4+ T cell recruitment into tumors by interfering with PITPNM3 recognition of CCL18 may be an attractive strategy for anticancer immunotherapy.
No MeSH data available.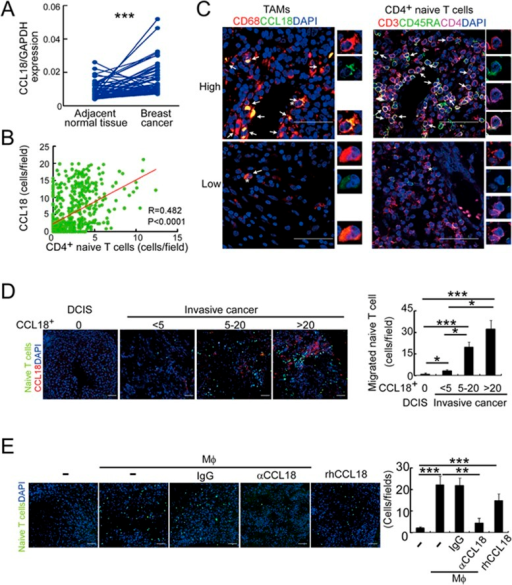 © Copyright Policy - open-access
License
getmorefigures.php?uid=PMC5385617&req=5
Mentions: Our data suggest that naive CD4+ T cells are recruited from the blood to breast tumors, where they can differentiate into immunosuppressive Tregs. Next we wanted to know the mechanism responsible for naive CD4+ T cell recruitment. As T cell migration is orchestrated by responses to chemokine gradients, we first compared the relative mRNA expression of a panel of chemokines to which naive T cells respond — CCL3, 4, 18, 19 and 21 — in 52 breast cancers vs paired adjacent normal breast tissues. Of these chemokines, only CCL18 mRNA was significantly higher in breast cancer than the paired adjacent normal tissue (Figure 4A and Supplementary information, Figure S7A). In five independent breast cancer online data sets, CCL18 mRNA was increased in the tumor relative to normal tissue and significantly increased in two data sets (Supplementary information, Table S4). TAMs abundantly express CCL1821, a chemokine toward which naive T cells preferentially migrate22. In our samples, the mRNAs of CCL22 and CCL28, two chemokines to which Tregs can respond4,10, did not increase and CCL28 even decreased in tumor (Supplementary information, Figure S7A). Significant changes in CCL22 and CCL28 in the online breast cancer data sets also showed decreased tumor expression (Supplementary information, Table S4), suggesting that these chemokines are unlikely to play an important role in Treg recruitment to breast cancer. Based on expression data, CCL18 is an attractive candidate chemokine for recruiting naive CD4+ T cells to breast tumors.