Blocking the recruitment of naive CD4 + T cells reverses immunosuppression in breast cancer
ABSTRACT
---
The origin of tumor-infiltrating Tregs, critical mediators of tumor immunosuppression, is unclear. Here, we show that tumor-infiltrating naive CD4+ T cells and Tregs in human breast cancer have overlapping TCR repertoires, while hardly overlap with circulating Tregs, suggesting that intratumoral Tregs mainly develop from naive T cells in situ rather than from recruited Tregs. Furthermore, the abundance of naive CD4+ T cells and Tregs is closely correlated, both indicating poor prognosis for breast cancer patients. Naive CD4+ T cells adhere to tumor slices in proportion to the abundance of CCL18-producing macrophages. Moreover, adoptively transferred human naive CD4+ T cells infiltrate human breast cancer orthotopic xenografts in a CCL18-dependent manner. In human breast cancer xenografts in humanized mice, blocking the recruitment of naive CD4+ T cells into tumor by knocking down the expression of PITPNM3, a CCL18 receptor, significantly reduces intratumoral Tregs and inhibits tumor progression. These findings suggest that breast tumor-infiltrating Tregs arise from chemotaxis of circulating naive CD4+ T cells that differentiate into Tregs in situ. Inhibiting naive CD4+ T cell recruitment into tumors by interfering with PITPNM3 recognition of CCL18 may be an attractive strategy for anticancer immunotherapy.
No MeSH data available.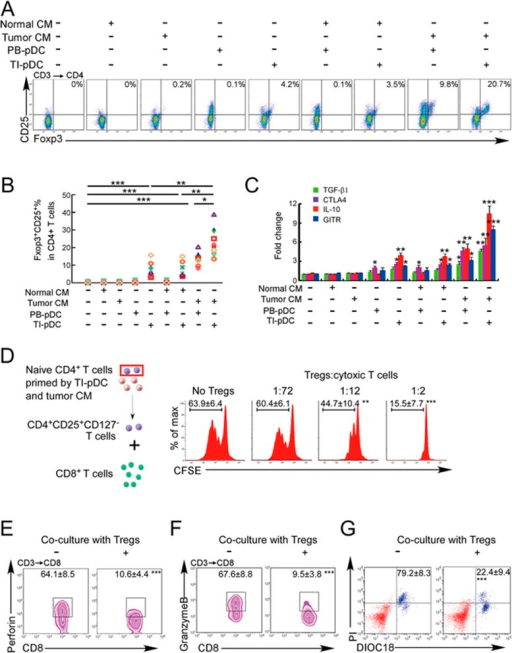 © Copyright Policy - open-access
License
getmorefigures.php?uid=PMC5385617&req=5
Mentions: Our data so far suggest that naive CD4+ T cells may differentiate into Tregs within breast tumors. Dendritic cells (DCs) have been shown to induce naive T cell conversion into Tregs in the presence of cancer cell-secreted immunomodulators19,20. To determine whether naive CD4+ T cells can develop into Tregs in the tumor microenvironment13, we co-cultured naive CD4+ T cells, isolated from the PB of breast cancer patients, with autologous plasmacytoid DCs (pDCs), isolated from the blood or breast cancer tissues in normal culture medium or medium that was supplemented with 30% conditioned medium (CM) from autologous cancer tissue slices (Figure 3A and 3B). TI pDCs, but not PB pDCs, converted 7.5% ± 1.7% of naive CD4+ T cells to CD25+Foxp3+ Tregs in unsupplemented medium. Tumor CM on its own without DCs did not induce Treg differentiation of naive CD4+ T cells, but PB pDCs caused Treg differentiation when tumor CM was added. However, the greatest effect, 23.2% ± 3.4% Tregs, was seen when both TI pDCs and tumor CM were added. The co-cultures that increased the numbers of Tregs, defined by CD25 and Foxp3 expression, also increased the mRNA expression of Treg-associated genes, TGFB1, CTLA4, IL10 and GITR by quantitative reverse transcription (qRT)-PCR (Figure 3C). Increases in expression of these genes were in proportion to the generation of CD25+Foxp3+ cells in the cultures, being greatest for naive cells cultured in the presence of both TI pDCs and CM. We observed similar results when myeloid DCs were substituted for pDCs (Supplementary information, Figure S5).