Visualization of aging-associated chromatin alterations with an engineered TALE system
ABSTRACT
---
Visualization of specific genomic loci in live cells is a prerequisite for the investigation of dynamic changes in chromatin architecture during diverse biological processes, such as cellular aging. However, current precision genomic imaging methods are hampered by the lack of fluorescent probes with high specificity and signal-to-noise contrast. We find that conventional transcription activator-like effectors (TALEs) tend to form protein aggregates, thereby compromising their performance in imaging applications. Through screening, we found that fusing thioredoxin with TALEs prevented aggregate formation, unlocking the full power of TALE-based genomic imaging. Using thioredoxin-fused TALEs (TTALEs), we achieved high-quality imaging at various genomic loci and observed aging-associated (epi) genomic alterations at telomeres and centromeres in human and mouse premature aging models. Importantly, we identified attrition of ribosomal DNA repeats as a molecular marker for human aging. Our study establishes a simple and robust imaging method for precisely monitoring chromatin dynamics in vitro and in vivo.
No MeSH data available.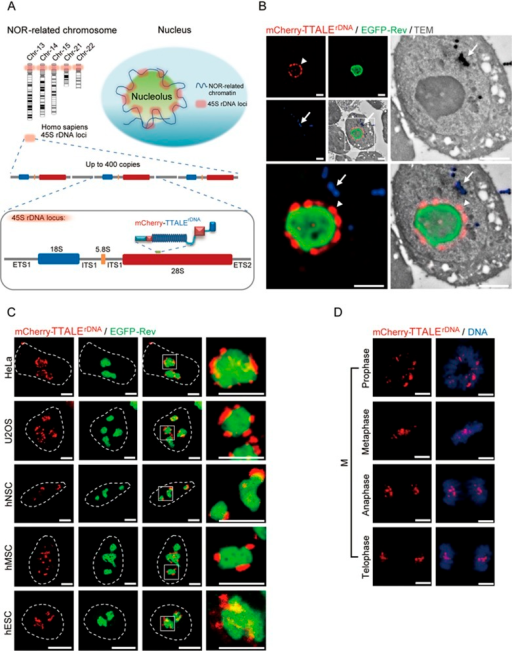 © Copyright Policy - open-access
License
getmorefigures.php?uid=PMC5385610&req=5
Mentions: In the human genome, nucleolar organizer region (NOR)-related ribosomal DNAs (NOR-rDNAs) are composed of up to 400 repetitive DNA sequences45. Human 45S rDNA loci encoding 18S, 5.8S, and 28S rRNAs are organized as clusters within NORs. To visualize and monitor NOR-rDNAs, we generated a TTALE targeting a 19-bp DNA sequence (5′-TACCCTACTGATGATGTGT-3′) from 28S rDNA repeats (TTALErDNA; Figure 5A). In MSCs, TTALErDNA exhibited a punctate staining pattern predominantly around nucleoli, whereas a conventional TALE targeting the same sequence labeled cytosolic aggregates (Supplementary information, Figure S6A and S6B). Signals from 3D-FISH probes completely overlapped with TTALErDNA signals at the endogenous 28S rDNA loci (Supplementary information, Figure S6D). Combining mCherry-TTALErDNA, immunostaining with EGFP-Rev (a nucleolus-specific HIV protein46), nucleolin, and fibrillarin, and structured illumination microscopy-transmission electron microscopy (SIM-TEM) imaging with ultrahigh resolution, we further observed that the 28S rDNA loci were predominantly localized along the surface of the nucleolus or occasionally outside the nucleolus similar to pseudo-NORs47,48, and were rarely found inside the nucleolus (Figures 5B, Supplementary information, Figure S6C, S6D, and S6E). We further validated the TTALErDNA-mediated high-quality imaging in diverse human cell lines (Figure 5C) and human oocytes (Supplementary information, Figure S6F), and at different mitotic phases in HeLa cells (Figure 5D). To simultaneously visualize telomeres, centromeres, and 28S rDNA sequences, hMSCs were co-transfected with mCherry-TTALEtelo, YFP-TTALEcentro, and CFP-TTALErDNA. Our results demonstrate that the TTALE system is compatible with multiplex imaging of different genomic loci at the single-cell level (Supplementary information, Figure S6G). In addition to non-gene loci, we further demonstrated that TTALEs can be used for gene-coding genomic loci using MUC4 as an example in interphase hMSCs and at different mitotic phases in HeLa cells (Supplementary information, Figure S6H-S6K)15,16,49,50,51,52.