Defective Gpsm2/G α i3 signalling disrupts stereocilia development and growth cone actin dynamics in Chudley-McCullough syndrome
ABSTRACT
---
Mutations in GPSM2 cause Chudley-McCullough syndrome (CMCS), an autosomal recessive neurological disorder characterized by early-onset sensorineural deafness and brain anomalies. Here, we show that mutation of the mouse orthologue of GPSM2 affects actin-rich stereocilia elongation in auditory and vestibular hair cells, causing deafness and balance defects. The G-protein subunit Gαi3, a well-documented partner of Gpsm2, participates in the elongation process, and its absence also causes hearing deficits. We show that Gpsm2 defines an ∼200 nm nanodomain at the tips of stereocilia and this localization requires the presence of Gαi3, myosin 15 and whirlin. Using single-molecule tracking, we report that loss of Gpsm2 leads to decreased outgrowth and a disruption of actin dynamics in neuronal growth cones. Our results elucidate the aetiology of CMCS and highlight a new molecular role for Gpsm2/Gαi3 in the regulation of actin dynamics in epithelial and neuronal tissues.
No MeSH data available.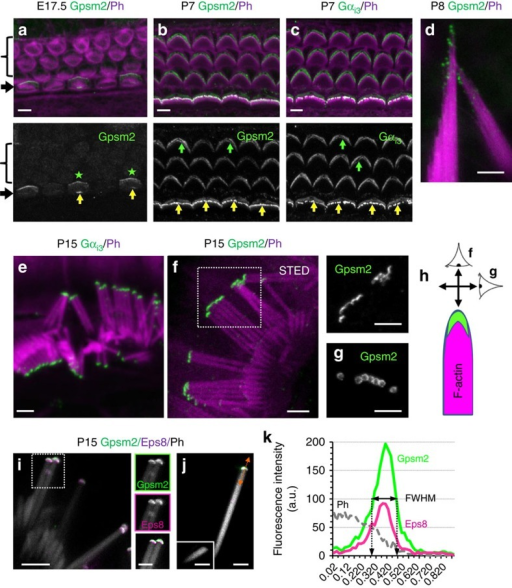 © Copyright Policy - open-access
License
getmorefigures.php?uid=PMC5385604&req=5
Mentions: We evaluated the localization of Gpsm2 and Gαi3 during the development of stereocilia hair bundles using previously characterized specific antibodies6. Gpsm2 was localized at the tip of the nascent hair bundle at embryonic day 17.5 (E17.5), the earliest phase of its formation (Fig. 1a, yellow arrows). Consistent with previous observations, the apical crescent-shaped accumulation of Gpsm2 was also present (Fig. 1a, stars; refs 6, 8). By postnatal day 7 (P7), when stereocilia are rapidly elongating, Gpsm2 and Gαi3 were enriched at the tips of the tallest row of inner hair cell (IHC) stereocilia, the actual sensory receptors receiving 95% of the fibres of the auditory nerve that project to the brain (Fig. 1b,c), but also in vestibular HCs of the ampulla (Fig. 1d). At P15, the enrichment is maintained in the tallest row, whereas we could not detect fluorescence in the middle and small rows (Fig. 1e,f). At this stage, the apical crescent-shaped staining became fragmented or absent, suggesting a gradual loss of these proteins from this zone. Multicolour STimulated Emission Depletion (STED) nanoscopy was used to probe the stereocilia tip compartment and revealed that Gpsm2 was concentrated into a circular cap-like structure (Fig. 1f–h), similar to what was described for myosin 15 (refs 12, 17, 27), above the actin core labelled with phalloidin. Multicolour STED revealed that both Gpsm2 and Eps8 domains mostly overlapped (Fig. 1i). To evaluate the size of the tip domain, we mechanically isolated stereocilia after immunocytochemistry, to obtain perfectly flat structures (Fig. 1j,k). Using fluorescence intensity line-scans along individual long stereocilia labelled with Gpsm2 and Eps8 antibodies and using the full-width at half-maximum (FWHM), we estimated that the tip domain extended ∼200 nm axially at the stereocilia tip (Gpsm2 FWHM=198±59 nm, n=10; Eps8 FWHM=200±63 nm, n=10). These results reveal a narrow stereocilia tip compartment of ∼200 nm where actin filament polymerization is regulated during hair bundle development.