Lkb1 inactivation drives lung cancer lineage switching governed by Polycomb Repressive Complex 2
ABSTRACT
---
Adenosquamous lung tumours, which are extremely poor prognosis, may result from cellular plasticity. Here, we demonstrate lineage switching of KRAS+ lung adenocarcinomas (ADC) to squamous cell carcinoma (SCC) through deletion of Lkb1 (Stk11) in autochthonous and transplant models. Chromatin analysis reveals loss of H3K27me3 and gain of H3K27ac and H3K4me3 at squamous lineage genes, including Sox2, ΔNp63 and Ngfr. SCC lesions have higher levels of the H3K27 methyltransferase EZH2 than the ADC lesions, but there is a clear lack of the essential Polycomb Repressive Complex 2 (PRC2) subunit EED in the SCC lesions. The pattern of high EZH2, but low H3K27me3 mark, is also prevalent in human lung SCC and SCC regions within ADSCC tumours. Using FACS-isolated populations, we demonstrate that bronchioalveolar stem cells and club cells are the likely cells-of-origin for SCC transitioned tumours. These findings shed light on the epigenetics and cellular origins of lineage-specific lung tumours.
No MeSH data available.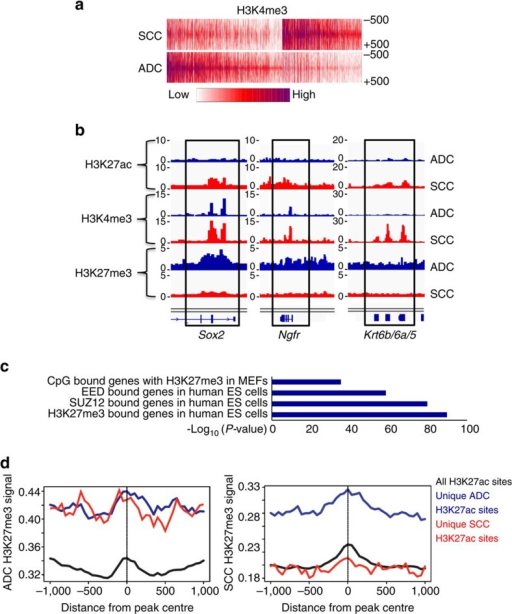 © Copyright Policy - open-access
License
getmorefigures.php?uid=PMC5385585&req=5
Mentions: To characterize the chromatin landscapes of KRAS/Lkb1 tumours, we performed chromatin immunoprecipitation (ChIP) on microdissected tumours confirmed to be either ADC or SCC by histology and qPCR (Supplementary Fig. 5a). The two activating marks, histone H3 lysine 4 tri-methylation (H3K4me3) and histone H3 lysine 27 acetylation (H3K27ac), and the PRC2-derived silencing mark, histone H3 lysine 27 tri-methylation (H3K27me3) were immunoprecipitated, followed by sequencing the chromatin bound DNA (ChIP-seq). ADC and SCC tumours could be clearly distinguished by differential H3K4me3 enrichment (Fig. 5a). Of the most significantly differential enrichment on H3K4me3 and/or H3K27ac marks between SCC and ADC tumours (Supplementary Fig. 5c and Supplementary Tables 1–4), we found much higher load of H3K27ac and H3K4me3 marks in the SCC tumour compared to the ADC tumour on the squamous genes Sox2, ΔNp63, Ngfr and Krt5/6 (Fig. 5b and Supplementary Fig. 5a). Furthermore, we observed a significantly lower level of H3K27me3 mark in Sox2, Ngfr and Krt5/6 loci compared to those in ADC tumours, consistent with de-repression of these squamous loci in SCC tumours (Fig. 5b). The differentially enriched regions for active histone marks also included the loci for the neutrophil chemoatractants Cxcl3/5, and the interferon-response induced Ifitm1/2/3, which were higher in the SCC tumours (Supplementary Fig. 5a). For ADC, the known expressed genes Scgb1a1, Foxa2 and SftpB had activating marks which were lost is SCC (Supplementary Fig. 5b). We also used the ROSE algorithm41 to call super-enhancers, many of which were shared between ADC and SCC, indicating that the tumours share some epigenetic memory (Supplementary Tables 5 and 6). For ADC, a unique super-enhancer was called at Scgl1a1, while Ifitm3 was a unique super-enhancer for SCC (Supplementary Tables 5 and 6). We next ran GREAT42 on the significantly enriched H3K4me3 loci in SCC tumours and found that the genes adjacent to these loci are enriched for H3K27me3, methylated CpG islands and PRC2 components in human embryonic stem cells and murine embryonic fibroblasts, suggesting that the activated loci in SCC tumours are normally repressed by PRC2 in other cell types (Fig. 5c). A closer examination of the H3K27ac-enriched regions in each tumour type indicated that unlike the H3K27ac-marked loci that were common to all samples, which were devoid of H3K27me3, the uniquely SCC- or ADC-enriched loci were very often bivalently marked with H3K27me3 and H3K37ac in ADC, and became monovalently marked with H3K27ac in SCC due to a loss of PRC2-mediated gene repression (Sox2 is an example) (Fig. 5d).