Lkb1 inactivation drives lung cancer lineage switching governed by Polycomb Repressive Complex 2
ABSTRACT
---
Adenosquamous lung tumours, which are extremely poor prognosis, may result from cellular plasticity. Here, we demonstrate lineage switching of KRAS+ lung adenocarcinomas (ADC) to squamous cell carcinoma (SCC) through deletion of Lkb1 (Stk11) in autochthonous and transplant models. Chromatin analysis reveals loss of H3K27me3 and gain of H3K27ac and H3K4me3 at squamous lineage genes, including Sox2, ΔNp63 and Ngfr. SCC lesions have higher levels of the H3K27 methyltransferase EZH2 than the ADC lesions, but there is a clear lack of the essential Polycomb Repressive Complex 2 (PRC2) subunit EED in the SCC lesions. The pattern of high EZH2, but low H3K27me3 mark, is also prevalent in human lung SCC and SCC regions within ADSCC tumours. Using FACS-isolated populations, we demonstrate that bronchioalveolar stem cells and club cells are the likely cells-of-origin for SCC transitioned tumours. These findings shed light on the epigenetics and cellular origins of lineage-specific lung tumours.
No MeSH data available.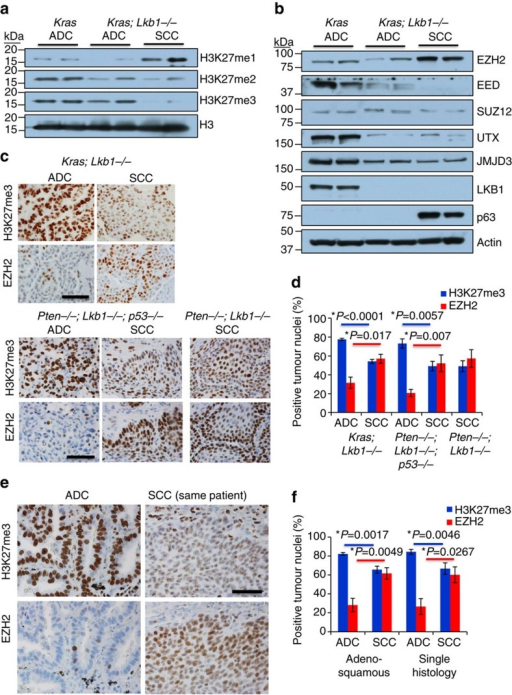 © Copyright Policy - open-access
License
getmorefigures.php?uid=PMC5385585&req=5
Mentions: We hypothesized that the switch from ADC to SCC could be controlled in part through epigenetic mechanisms. The decreased, yet not absent, expression of TTF1 in the SCC lesions could be indicative of epigenetic memory of prior TTF1 positivity before the squamous differentiation process occurred, as was observed in other studies30. To examine the possibility that an epigenetic mechanism such as PRC gene repression was involved in the ADC-SCC transition, we performed western blots for the common methylation marks catalysed by PRC, H3K27me1, H3K27me2 and H3K27me3, on whole tumour extracts from KRAS-induced ADCs (no tamoxifen), KRAS/Lkb1 ADCs and KRAS/Lkb1 SCCs (both tamoxifen at 10 weeks post FlpO). When compared to KRAS ADC or KRAS/Lkb1 ADC, there was a marked increase in histone H3 lysine 27 mono-methylation (H3K27me1) accompanied by a decrease in H3K27me3 in the KRAS/Lkb1 SCC lesions (Fig. 3a). We next examined expression of the components of the PRC2, the protein complex that catalyses the H3K27me3 mark, by western blotting. Interestingly, although SCC lesions have higher levels of the methyltransferase EZH2 than the ADC lesions, there is a clear lack of the essential PRC2 subunit EED in the SCC lesions (Fig. 3b). In a published data set from KRAS ADC, KRAS/Lkb1 ADC and KRAS/Lkb1 SCC31, transcriptional levels of EED were not significantly different, suggesting regulation of protein stability. To explore this inverse correlation between EZH2 and H3K27me3 expression, we performed immunostaining for the two markers on serial tumour sections from KRAS/Lkb1 adenosquamous tumours, Pten/Lkb1/p53 adenosquamous tumours and Pten/Lkb1 squamous tumours (Fig. 3c). Consistently, we observed that ADC regions had sparse EZH2 staining and robust H3K27me3 staining. In contrast, squamous lesions on the same slides showed higher levels of EZH2 staining, and lower, but not absent, H3K27me3 staining (Fig. 3d and Supplementary Fig. 3a). We performed similar staining on human tumours, including six confirmed cases of adenosquamous cancer (Fig. 3e). Again, the pattern of higher EZH2 and slightly lower, but not completely absent, H3K27me3 was present in squamous lesions as compared to ADC lesions, which were H3K27me3 high and had lower levels of EZH2 (Fig. 3f and Supplementary Fig. 3b). While analysing these sections, we noted that normal airway and alveolar epithelium shared the ADC staining pattern of high H3K27me3 and low EZH2, while the oesophagus, which is the closest stratified squamous organ to the lung, had increased EZH2 staining and lower H3K27me3 (Supplementary Fig. 3b). This observation implies that normal lung epithelium may be maintained in a glandular state by PRC2 gene repression, and that loss of H3K27me3 gene repression may de-repress a programme predisposed to the squamous cell sate.