Lkb1 inactivation drives lung cancer lineage switching governed by Polycomb Repressive Complex 2
ABSTRACT
---
Adenosquamous lung tumours, which are extremely poor prognosis, may result from cellular plasticity. Here, we demonstrate lineage switching of KRAS+ lung adenocarcinomas (ADC) to squamous cell carcinoma (SCC) through deletion of Lkb1 (Stk11) in autochthonous and transplant models. Chromatin analysis reveals loss of H3K27me3 and gain of H3K27ac and H3K4me3 at squamous lineage genes, including Sox2, ΔNp63 and Ngfr. SCC lesions have higher levels of the H3K27 methyltransferase EZH2 than the ADC lesions, but there is a clear lack of the essential Polycomb Repressive Complex 2 (PRC2) subunit EED in the SCC lesions. The pattern of high EZH2, but low H3K27me3 mark, is also prevalent in human lung SCC and SCC regions within ADSCC tumours. Using FACS-isolated populations, we demonstrate that bronchioalveolar stem cells and club cells are the likely cells-of-origin for SCC transitioned tumours. These findings shed light on the epigenetics and cellular origins of lineage-specific lung tumours.
No MeSH data available.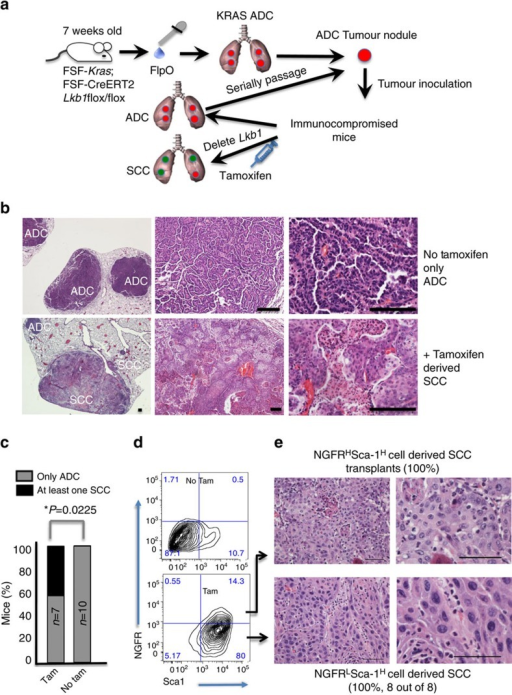 © Copyright Policy - open-access
License
getmorefigures.php?uid=PMC5385585&req=5
Mentions: Our first set of experiments demonstrated that Lkb1 deletion in cells that had KRAS activation long before was sufficient to produce tumours with squamous characteristics. It was tempting to speculate that this was evidence of a true transition from a KRAS+ ADC cellular state to a KRAS+/Lkb1- squamous state. However, because the two genetic manipulations were performed on cells that remained within the same mouse during the entirety of the process, the possibility remained that Lkb1 deletion was allowing growth of a latent population of squamous-predisposed KRAS+ cells. To address this issue, we isolated KRAS+ lung ADC cells prior to tamoxifen treatment and transplanted them into immunocompromised mouse recipients (Fig. 2a). Cohorts of mice received either tamoxifen or placebo were aged until signs of tumour distress, and were then assessed for tumour histology. The tamoxifen naïve cohort uniformly presented with ADC, which could be serially transplanted and never transitioned to SCC (Fig. 2b). In contrast, upon tamoxifen administration 2 weeks after transplant, the tumours in mice treated with tamoxifen took on squamous characteristics, with 40% of mice having at least one lesion that was completely SCC at the time of killing (P=0.0225 Tam versus no Tam, Fig. 2c). In our previous studies, we observed that KRAS tumour propagating cells (TPCs) were present in both Sca1+ and Sca1- compartments, and a purely squamous model generated by bialleleic inactivation of Lkb1 and Pten (Lkb1/Pten) harboured Sca1+ and NGFR+ TPCs37. To explore these populations in the transplanted tumours, we collected tumours from each mouse, dissociated and analysed EpCAM+/CD31−/CD45− cells for expression of NGFR and Sca1. We observed that KRAS transplant tumours had very few Sca1+/NGFR+ cells and were indistinguishable from adeno-Cre induced KRAS tumours (P=0.368; Fig. 2d and Supplementary Fig. 2a,b). By contrast, tamoxifen-treated mice harboured tumours with high levels of Sca1 and NGFR, and the population of Sca1+/NGFR+ cells was the same proportion of tumour as found in the pure Lkb1/Pten SCC tumours (P=0.004 Tam versus no Tam, P=0.720 Tam versus Lkb1/Pten). We also confirmed cell surface NGFR staining in the tamoxifen-treated mouse tumours by IHC (Supplementary Fig. 2c). Lastly, we isolated cells from squamous transitioned lesions for transplant, and found that both Sca1HighNGFRHigh and Sca1HighNGFRLow tumour cells could successfully transplant squamous disease (Fig. 2e). Together these data demonstrate that purely ADC lesions derived from transplanted KRAS+ cells can transition to SCC, and that tumours can acquire the SCC TPC expression profile of Sca1+/NGFR+ upon Lkb1 deletion. Once the squamous transition has happened, the phenotype perpetuates.