Targeted activation of diverse CRISPR-Cas systems for mammalian genome editing via proximal CRISPR targeting
ABSTRACT
---
Bacterial CRISPR–Cas systems comprise diverse effector endonucleases with different targeting ranges, specificities and enzymatic properties, but many of them are inactive in mammalian cells and are thus precluded from genome-editing applications. Here we show that the type II-B FnCas9 from Francisella novicida possesses novel properties, but its nuclease function is frequently inhibited at many genomic loci in living human cells. Moreover, we develop a proximal CRISPR (termed proxy-CRISPR) targeting method that restores FnCas9 nuclease activity in a target-specific manner. We further demonstrate that this proxy-CRISPR strategy is applicable to diverse CRISPR–Cas systems, including type II-C Cas9 and type V Cpf1 systems, and can facilitate precise gene editing even between identical genomic sites within the same genome. Our findings provide a novel strategy to enable use of diverse otherwise inactive CRISPR–Cas systems for genome-editing applications and a potential path to modulate the impact of chromatin microenvironments on genome modification.
No MeSH data available.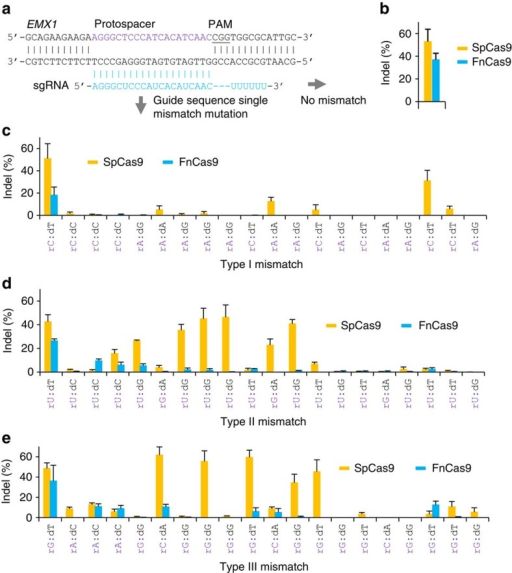 © Copyright Policy - open-access
License
getmorefigures.php?uid=PMC5385574&req=5
Mentions: While the specificity of SpCas9 has been extensively studied, little is known about FnCas9. To assess FnCas9 specificity, we compared FnCas9 with SpCas9 on the same target site within the human EMX1 locus (Fig. 2a) by systematically altering the sgRNA guide sequence to mimic off-target cleavages as reported previously13. When the sgRNA guide sequence was perfectly matched with the target DNA, the activity of FnCas9 on the target was ∼70% of that of SpCas9, as measured by insertions and/or deletions (indels) (Fig. 2b). By mutating each guide position sequentially to create the most disruptive single mismatches between an RNA base and a DNA base (rA:dA, rA:dG, rC:dC and rC:dT)13, we found that FnCas9 was much less tolerant to such single mismatches than SpCas9. Specifically, FnCas9 can only tolerate a mismatch on the 5′-end position distal to the PAM, whereas SpCas9 can tolerate the mismatch on six positions, one of which was proximal to the PAM and a high level (31%) of indels was induced on the mismatched target. Furthermore, on the 5′-end mismatch position, the FnCas9 nuclease activity was only 35% of the SpCas9 activity (Fig. 2c). We also mutated each sgRNA guide position sequentially to create less disruptive single mismatches between an RNA base and a DNA base (rG:dA, rU:dG, rU:dC, rU:dT; and rC:dA, rG:dG, rA:dC, rG:dT) and found that the tolerance to such more stable single mismatches increased only moderately for FnCas9 but markedly for SpCas9 (Fig. 2d,e), with FnCas9 averaging 3.8% indels and SpCas9 averaging 16.6% indels per mismatch, a fourfold differential between these two nucleases. Taken together, these results suggest that FnCas9 has potential to provide a higher specificity for genome-editing applications.