Demonstration of nanoimprinted hyperlens array for high-throughput sub-diffraction imaging
ABSTRACT
---
Overcoming the resolution limit of conventional optics is regarded as the most important issue in optical imaging science and technology. Although hyperlenses, super-resolution imaging devices based on highly anisotropic dispersion relations that allow the access of high-wavevector components, have recently achieved far-field sub-diffraction imaging in real-time, the previously demonstrated devices have suffered from the extreme difficulties of both the fabrication process and the non-artificial objects placement. This results in restrictions on the practical applications of the hyperlens devices. While implementing large-scale hyperlens arrays in conventional microscopy is desirable to solve such issues, it has not been feasible to fabricate such large-scale hyperlens array with the previously used nanofabrication methods. Here, we suggest a scalable and reliable fabrication process of a large-scale hyperlens device based on direct pattern transfer techniques. We fabricate a 5 cm × 5 cm size hyperlenses array and experimentally demonstrate that it can resolve sub-diffraction features down to 160 nm under 410 nm wavelength visible light. The array-based hyperlens device will provide a simple solution for much more practical far-field and real-time super-resolution imaging which can be widely used in optics, biology, medical science, nanotechnology and other closely related interdisciplinary fields.
No MeSH data available.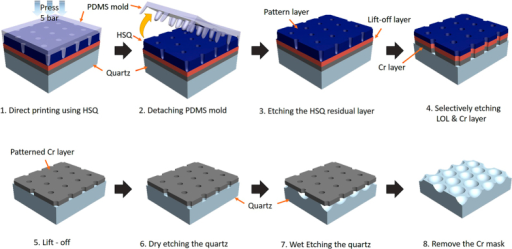 © Copyright Policy - open-access
License
getmorefigures.php?uid=PMC5385565&req=5
Mentions: First of all, we fabricate a quartz master stamp of HAHS patterns. The overall fabrication procedure of the quartz master stamp is shown in Fig. 2. First, a quartz substrate with a Cr layer and a lift-off layer (LOL) are prepared as a mask layer for the selective quartz etching process34. A 100 nm thick layer of Cr is deposited on the quartz substrate using a thermal evaporator, and the LOL is coated onto the Cr-layered quartz substrate. For the direct printing process, a soft polymer mold with a hexagonal array of pillar patterns of 1 μm pitch is fabricated using poly dimethylsiloxane (PDMS), which is a polymeric organosilicon compound with a low surface energy35. In order to fabricate the hexagonal array of hole patterns on the quartz substrate, hydrogen silsesquioxane (HSQ) is used for its feasibility of solution processing and its simple UV curing process36. The hexagonal array of hole patterns is fabricated on the Cr-layered quartz substrate and the LOL by a direct printing technique at 0.5 MPa for 5 minutes. To use the HSQ patterns as a mask layer for the LOL and the Cr layer, a residual layer of the HSQ patterns is etched by a reactive ion etching (RIE) process under the following conditions: CF4, 18 sccm; O2, 2 sccm; and a 3.33 Pa pressure and 350 W of power applied for 1 minute37. Using the HSQ patterns as a mask layer, the lift-off layer is etched selectively using the RIE process under the following conditions: O2, 20 sccm, and a 2 Pa pressure with 150 W of power applied for 2 minutes38. At the end of the LOL etching process, the Cr layer is etched selectively by an inductively coupled plasma (ICP) process which is set to 1 Pa of pressure, 800 W of ICP power, 50 W of bias power, 10 sccm of O2 gas, and 50 sccm of Cl2 gas39. Next, the HSQ layer and the LOL are removed by a lift-off process. Likewise, the quartz substrate is etched by an ICP process using the Cr layer as a mask. A quartz substrate is vertically etched using the ICP process to fabricate the hemisphere-shaped quartz. Then, the quartz substrate is wet-etched selectively by a buffered oxide etchant (BOE) at a ratio of 1 part BOE to 6 parts deionized water, followed by removal of Cr layer by a Cr etchant solution. Finally, we fabricated the quartz master stamp of the HAHS patterns.