Mechanistic insights into ectodomain shedding: susceptibility of CADM1 adhesion molecule is determined by alternative splicing and O -glycosylation
ABSTRACT
---
Ectodomain shedding (shedding) is a post-translational modification, which liberates the extracellular domain of membrane proteins through juxtamembrane processing executed mainly by the ADAM (a disintegrin and metalloprotease) family of metalloproteases. Because shedding alters characteristics of cells in a rapid and irreversible manner, it should be strictly regulated. However, the molecular mechanisms determining membrane protein susceptibility to shedding (shedding susceptibility) are largely unknown. Here we report that alternative splicing can give rise to both shedding-susceptible and shedding-resistant CADM1 (cell adhesion molecule 1) variant proteins. We further show that O-glycans adjacent to the shedding cleavage site interfere with CADM1 shedding, and the only 33-bp alternative exon confers shedding susceptibility to CADM1 by inserting five non-glycosylatable amino acids between interfering O-glycans and the shedding cleavage site. These results demonstrate that shedding susceptibility of membrane protein can be determined at two different levels of its biosynthesis pathway, alternative splicing and O-glycosylation.
No MeSH data available.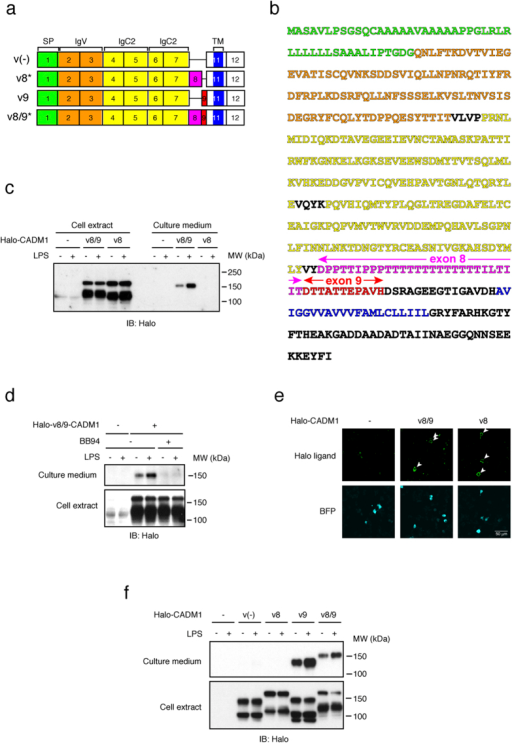 © Copyright Policy - open-access
License
getmorefigures.php?uid=PMC5385562&req=5
Mentions: To confirm that the candidate shedding targets identified in this study are shed in LPS-stimulated Raw 264.7 cells, we focused upon CADM1 (also known as SynCAM1 (synaptic cell adhesion molecule 1) and TSLC1 (tumor suppressor in lung cancer 1)), a member of the immunoglobulin superfamily cell adhesion molecules1516, since shedding of CADM1 has been reported previously17181920. CADM1 is encoded by 12 exons in the mouse, and 6 splice variants are generated through the combination of alternative exons 8/9/102122. As shown in Fig. 1a, the constitutive exons 6 and 7 encode the extracellular membrane-proximal Ig-like C2 domain, while the constitutive exon 11 encodes the transmembrane domain. Accordingly, alternative exons 8/9/10 encode the stalk region of CADM1, where shedding should occur. Thus, we amplified the coding sequence of CADM1 from a cDNA library of Raw 264.7 cells to evaluate the shedding of CADM1 variants expressed in the cells. We obtained two splice variants of CADM1, v8 and v8/9. V8 CADM1 contains exon 8 between the constitutive exons 7 and 11, while v8/9 CADM1 contains both exons 8 and 9 (Fig. 1a,b). We did not obtain any CADM1 variants containing exon 10, a minor exon. To examine the shedding of v8 and v8/9 CADM1 individually, Raw 264.7 cells expressing N-terminally Halo-tagged CADM1 variants were treated with or without LPS, and the cell extracts and culture media were subjected to Western blotting using an anti-Halo antibody. Unpredictably, Halo-tagged, soluble CADM1 with an apparent molecular weight corresponding to the entire extracellular domain was only detected in the culture medium of v8/9 CADM1 expressing cells, even though both CADM1 variant proteins were equally detected in the cell extracts (Fig. 1c). These observations indicate that v8/9 CADM1 is shedding-susceptible, while v8 CADM1 is shedding-resistant in Raw 264.7 cells. We found that v8/9 CADM1 is significantly more sensitive to shedding than v8 CADM1 in human small cell lung carcinoma SBC-5 cells and canine epithelial MDCK cells (Supplementary Fig. 2). The release of soluble v8/9 CADM1 was substantially increased by LPS and completely suppressed by BB94 (Fig. 1c,d), indicating that v8/9 CADM1 is shed by metalloprotease(s) in an LPS-activated manner.