Genetic dissection of seed oil and protein content and identification of networks associated with oil content in Brassica napus
ABSTRACT
---
High-density linkage maps can improve the precision of QTL localization. A high-density SNP-based linkage map containing 3207 markers covering 3072.7 cM of the Brassica napus genome was constructed in the KenC-8 × N53-2 (KNDH) population. A total of 67 and 38 QTLs for seed oil and protein content were identified with an average confidence interval of 5.26 and 4.38 cM, which could explain up to 22.24% and 27.48% of the phenotypic variation, respectively. Thirty-eight associated genomic regions from BSA overlapped with and/or narrowed the SOC-QTLs, further confirming the QTL mapping results based on the high-density linkage map. Potential candidates related to acyl-lipid and seed storage underlying SOC and SPC, respectively, were identified and analyzed, among which six were checked and showed expression differences between the two parents during different embryonic developmental periods. A large primary carbohydrate pathway based on potential candidates underlying SOC- and SPC-QTLs, and interaction networks based on potential candidates underlying SOC-QTLs, was constructed to dissect the complex mechanism based on metabolic and gene regulatory features, respectively. Accurate QTL mapping and potential candidates identified based on high-density linkage map and BSA analyses provide new insights into the complex genetic mechanism of oil and protein accumulation in the seeds of rapeseed.
No MeSH data available.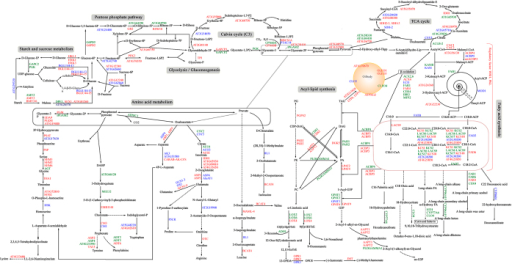 © Copyright Policy - open-access
License
getmorefigures.php?uid=PMC5385559&req=5
Mentions: To investigate the genetic basis of oil and protein accumulation in the seeds of B. napus, a magnificent metabolic pathway was constructed with pyruvate as the centric junction based on potential candidates underlying SOC and SPC-QTLs (Fig. 5). The pathway was involved in almost all primary carbohydrate metabolism, including starch and sucrose metabolism, the pentose phosphate pathway, glycolysis/gluconeogenesis, the Calvin cycle, the TCA cycle, FA synthesis, acyl-lipid metabolism, cutin, suberin and wax biosynthesis and amino acid metabolism. There were 167 and 98 orthologues identified in the SOC- and SPC-QTL regions, respectively, which were involved in this enormous pathway, 58 of which could be identified in both traits. IPGAM2, which encodes the 2,3-bisphosphoglycerate-independent phosphoglycerate mutase that catalyzes the formation of glycerate-2P40, was identified in overlapping CIs of qOC-C5-11 for SOC and the QTL qPC-C5-5 for SPC. During glycolysis/gluconeogenesis, some orthologues of key rate-limiting enzymes, such as HKL, PFK, GAPCP and PGK, which are involved in a series of catalyzing the conversion of glucose into pyruvate, were candidates in the co-localized CIs or major QTLs. The Calvin cycle carries out carbon fixation and is an important process for photosynthesis. The TCA cycle is of central importance to many biochemical pathways, and it provides the precursors of certain amino acids and the NADH used in numerous other biochemical reactions through the oxidation of acetyl-CoA derived from carbohydrates, oil and proteins. More than half of the orthologues involved in these two key metabolic pathways could be detected in SOC- and SPC-QTL regions. These results suggested that primary carbohydrate metabolism indeed plays a basic role of providing the initial material for protein synthesis and oil accumulation during embryonic development. To further dissect the mechanism of oil accumulation in seeds, the interaction of potential candidates from SOC-QTL regions was analyzed based on A. thaliana orthologues. The primary results revealed that the whole network incorporated 5817 nodes and 38887 edges (Figure S7). Annotation and clustering elicited an interaction network associated with lipid metabolism (Fig. 6). Some biologic processes, such as protein, secondary metabolism, photosystems, amino acid metabolism, cell size or cycle, and signaling pathways, participated in the regulation of lipid metabolism through some pivotal genes, such as CAC2, SNC4, ACX2 and PLDGAMMA1, which could be expressed during the embryo stage of the plant41.