Molecular basis for the behavioral effects of the odorant degrading enzyme Esterase 6 in Drosophila
ABSTRACT
---
Previous electrophysiological and behavioural studies implicate esterase 6 in the processing of the pheromone cis-vaccenyl acetate and various food odorants that affect aggregation and reproductive behaviours. Here we show esterase 6 has relatively high activity against many of the short-mid chain food esters, but negligible activity against cis-vaccenyl acetate. The crystal structure of esterase 6 confirms its substrate-binding site can accommodate many short-mid chain food esters but not cis-vaccenyl acetate. Immunohistochemical assays show esterase 6 is expressed in non-neuronal cells in the third antennal segment that could be accessory or epidermal cells surrounding numerous olfactory sensilla, including basiconics involved in food odorant detection. Esterase 6 is also produced in trichoid sensilla, but not in the same cell types as the cis-vaccenyl acetate binding protein LUSH. Our data support a model in which esterase 6 acts as a direct odorant degrading enzyme for many bioactive food esters, but not cis-vaccenyl acetate.
No MeSH data available.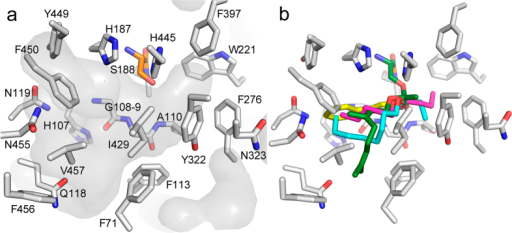 © Copyright Policy - open-access
License
getmorefigures.php?uid=PMC5385555&req=5
Mentions: Given that EST6-1 is ~97% identical to EST6-WT, and the mutations distinguishing them are all remote from the active site, it is highly likely that the structures will be essentially identical in this region. Nevertheless, for analysis of the substrate binding site, a model of EST6-WT was produced using the empirical structure of EST6-1 and the FoldX force field, which has been developed to allow accurate modeling of point mutations, among other things40. As noted above, the conserved catalytic triad of EST6 consists of Ser188, His445 and Asp319, while the backbone NH groups of Gly108, Gly109 and Ala189 create the oxyanion hole (Fig. 2c). His187 is adjacent to the catalytic serine and as with the other three structures its side chain extends into the active site; in the others it has been suggested to affect substrate specificity26. EST6 has an asymmetrical binding pocket with a very small, hydrophobic and buried sub-site consisting of Ala110, Trp221, Phe276, Tyr322, Phe397 and His445 that could accommodate the carboxyl group. Opposite this, there is a larger cavity (the putative alcohol leaving group site) that extends into the active site exit/entrance and is slightly less hydrophobic, consisting of Gln70, Phe71, Phe113, Gly114, Gln118, Asn119, Ile429, Tyr449, Phe450, Asn455, Phe456 and Val457 (Fig. 3a).