Metabolomic characterisation of the effects of oncogenic PIK3CA transformation in a breast epithelial cell line
ABSTRACT
---
Somatic mutations in PIK3CA are frequently found in a number of human cancers, including breast cancer, altering cellular physiology and tumour sensitivity to chemotherapy. This renders PIK3CA an attractive molecular target for early detection and personalised therapy. Using 1H Nuclear Magnetic Resonance spectroscopy (NMR) and Gas Chromatography – Mass Spectrometery (GC-MS) together with 13C stable isotope-labelled glucose and glutamine as metabolic tracers, we probed the phenotypic changes in metabolism following a single copy knock-in of mutant PIK3CA (H1047R) in the MCF10A cell line, an important cell model for studying oncogenic transformation in breast tissues. We observed effects in several metabolic pathways, including a decrease in glycerophosphocholine level together with increases in glutaminolysis, de novo fatty acid synthesis and pyruvate entry into the tricarboxylic acid cycle. Our findings highlight altered glyceroplipid metabolism and lipogenesis, as key metabolic phenotypes of mutant PIK3CA transformation that are recapitulated in the MCF10A cellular model.
No MeSH data available.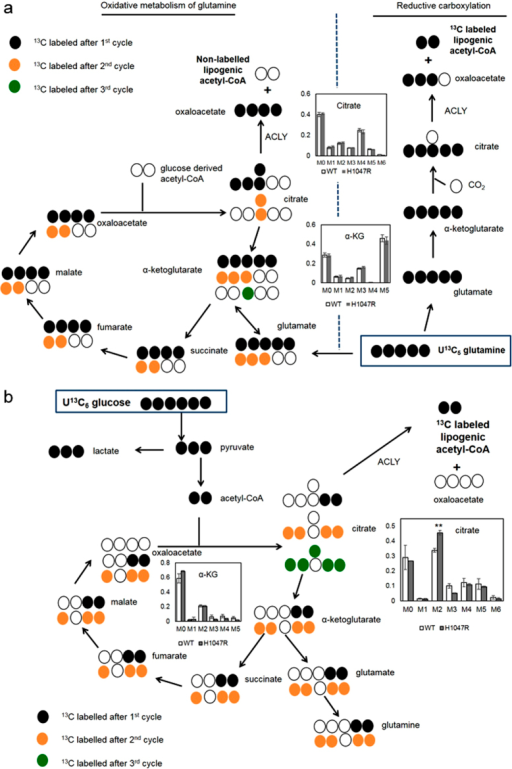 © Copyright Policy - open-access
License
getmorefigures.php?uid=PMC5385542&req=5
Mentions: GC-MS profiling of the intracellular metabolites from the U-13C6 glucose and U-13C5 glutamine-labelled cultures enabled us to systematically compare the relative abundance of metabolites between the PIK3CA mutant and the non-transformed cells, to determine the 13C mass isotopomer distribution, and to apportion the overall molecular carbons derived from glucose and glutamine for each metabolite. When examining the relative abundance data, we summed up the raw intensities of individual mass isotopomers of each aqueous metabolites and found the relative quantities of glycolytic intermediates (dihydroxyacetone phosphate, PEP, 3PG) and TCA cycle intermediates (αKG, fumarate, malate, glutamate) to be consistently higher (p < 0.05) in the mutant cell samples (Fig. 2, Table S1), possibly indicating that the metabolic demand for energy generation is higher in the PIK3CA-transformed cells. At the same time we found glutamine to be an important metabolic precursor to TCA cycle intermediates. While glucose and glutamine each contributed around equally to the citrate carbon skeleton (around 30% each), glutamine accounted for over 40% of the malate and fumarate carbons versus less than 30% derived from glucose (Figures S3 and S4). Together with increased pool size in metabolites associated with glutaminolysis (glutamate, αKG, fumarate, malate), these data indicate that glutamine is a more important carbon donor than glucose in maintaining TCA cycle intermediate pools in mutant MCF10A cells. Also, we observed that the carbon flow was predominantly in the oxidative direction of the TCA cycle as opposed to reductive carboxylation – as evident by the higher level of glutamine derived citrate labelled M4 compared to citrate labelled M5 (Fig. 3a). Whilst all five carbons from U-13C5 glutamine are incorporated into M5 citrate isotopomers under reductive carboxylation, M4 labelled citrate would be derived after U-13C5 glutamine has undergone one turn of the TCA cycle. Increased extracellular glutamine uptake and glutamate production could be used to fuel higher TCA activities in the mutant PIK3CA MCF10A cells. Furthermore, by closely inspecting the mass isotopomer distributions of individual metabolites we detected sizeable and significant shifts in the means by which 13C glucose carbons were incorporated into citrate (Fig. 3b). In particular, whilst the overall citrate pool remained unaltered in this model the citrate M2 label derived from U-13C6 glucose tracer increased by around one third (p < 0.005), whereas citrate M3 label decreased by one half (p < 0.05) in the PIK3CA mutant cells. The synthesis of citrate is normally catalysed by citrate synthase, which utilises four-carbon oxaloacetate and two-carbon acetyl-CoA as substrates. Mitochondrial acetyl-CoA is predominately derived from pyruvate via pyruvate dehydrogenase activity whereas oxaloacetate can be formed by carboxylation of pyruvate or oxidation of malate. Importantly, pyruvate dehydrogenase contributes to citrate M2 labels (13C6 glucose 13C3 pyruvate 13C2 acetyl-CoA 13C2 citrate) and pyruvate carboxylase contributes to citrate M3 labels (13C6 glucose 13C3 pyruvate 13C3 oxaloacetate 13C3 citrate). The increase in M2 citrate labels accompanied by the decrease in M3 citrate labels indicated that pyruvate entry into citrate via pyruvate dehydrogenase was increased relative to pyruvate carboxylase flux in the PIK3CA mutant MCF10A cells.