Metabolomic characterisation of the effects of oncogenic PIK3CA transformation in a breast epithelial cell line
ABSTRACT
---
Somatic mutations in PIK3CA are frequently found in a number of human cancers, including breast cancer, altering cellular physiology and tumour sensitivity to chemotherapy. This renders PIK3CA an attractive molecular target for early detection and personalised therapy. Using 1H Nuclear Magnetic Resonance spectroscopy (NMR) and Gas Chromatography – Mass Spectrometery (GC-MS) together with 13C stable isotope-labelled glucose and glutamine as metabolic tracers, we probed the phenotypic changes in metabolism following a single copy knock-in of mutant PIK3CA (H1047R) in the MCF10A cell line, an important cell model for studying oncogenic transformation in breast tissues. We observed effects in several metabolic pathways, including a decrease in glycerophosphocholine level together with increases in glutaminolysis, de novo fatty acid synthesis and pyruvate entry into the tricarboxylic acid cycle. Our findings highlight altered glyceroplipid metabolism and lipogenesis, as key metabolic phenotypes of mutant PIK3CA transformation that are recapitulated in the MCF10A cellular model.
No MeSH data available.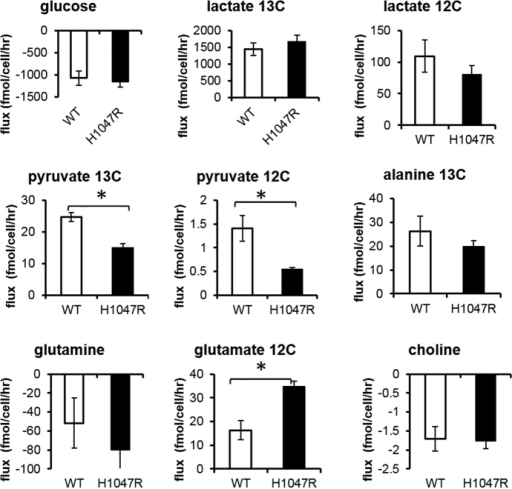 © Copyright Policy - open-access
License
getmorefigures.php?uid=PMC5385542&req=5
Mentions: In culture, metabolite concentrations in the extracellular environment could trigger metabolic feedback2526 and regulate important functional phenotypes2728, and are thus valuable physiological indicators. We employed 1H NMR spectroscopy to analyse the spent culture media from the U-13C-glucose labelling experiment, which enabled us to examine the consumption and release profiles of key metabolites, including the uptake of glucose, glutamine and choline, and the production of pyruvate, lactate, and glutamate (Fig. 1, Tables S3 and S4). We noticed that extracellular pyruvate release was significantly decreased by ~40% (p = 0.01) in the PIK3CA mutant cells compared to the parental wild type cells. Pyruvate was predominantly an intermediate metabolite of glucose metabolism, with over 90% of the methyl carbon of pyruvate found to be glucose-derived in this cell model (Fig. 1). However, despite a decrease in pyruvate release in the PIK3CA mutant cells, both glucose consumption and glucose-derived lactate release remained unaffected, suggesting that any alteration of the fate of pyruvate was limited to either the fraction entering mitochondria or pyruvate converted to alanine. Furthermore, glutamate release and glutamine uptake were also affected in the PIK3CA mutant cells. Non-glucose-derived glutamate release, as assessed by the C4 glutamate proton resonance, doubled (p = 0.02), while glutamine uptake recorded an approximately 50% increase (pairwise t-test p value < 0.05) in the PIK3CA mutant cells compared to the wild type parental line, signifying up-regulation of glutamine utilisation and metabolism. Glutamine, once imported into the cells is converted to αKG via glutamate to replenish substrates in the TCA cycle, and glutaminolysis has been reported to support growth and survival in rapidly proliferating tumour cells29. Overall, our data on extracellular pyruvate, glutamine and glutamate suggest that metabolic substrate entry into the TCA cycle might have been altered in the transformed PIK3CA mutant cells. In addition, we were also able to measure uptake of extracellular choline in the culture media, and found no significant differences between the PIK3CA mutant and the wild type MCF10A parental cells.