Loss of Polycomb Group Protein Pcgf1 Severely Compromises Proper Differentiation of Embryonic Stem Cells
ABSTRACT
---
The Polycomb repressive complex 1 (PRC1) is essential for fate decisions of embryonic stem (ES) cells. Emerging evidence suggests that six major variants of PRC1 complex, defined by the mutually exclusive presence of Pcgf subunit, regulate distinct biological processes, yet very little is known about the mechanism by which each version of PRC1 instructs and maintains cell fate. Here, we disrupted the Pcgf1, also known as Nspc1 and one of six Pcgf paralogs, in mouse ES cells by the CRISPR/Cas9 technology. We showed that although these mutant cells were viable and retained normal self-renewal, they displayed severe defects in differentiation in vitro. To gain a better understanding of the role of Pcgf1 in transcriptional control of differentiation, we analysed mRNA profiles from Pcgf1 deficient cells using RNA-seq. Interestingly, we found that Pcgf1 positively regulated expression of essential transcription factors involved in ectoderm and mesoderm differentiation, revealing an unexpected function of Pcgf1 in gene activation during ES cell lineage specification. Chromatin immunoprecipitation experiments demonstrated that Pcgf1 deletion caused a decrease in Ring1B and its associated H2AK119ub1 mark binding to target genes. Altogether, our results suggested an unexpected function of Pcgf1 in gene activation during ES cell maintenance.
No MeSH data available.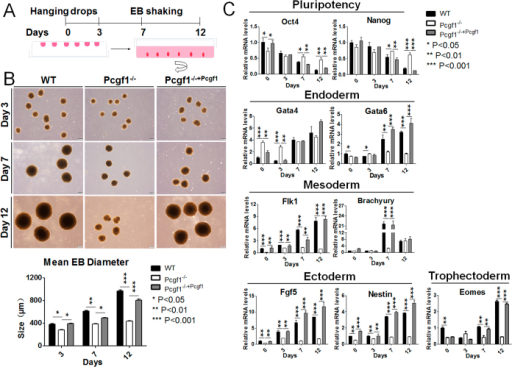 © Copyright Policy - open-access
License
getmorefigures.php?uid=PMC5385539&req=5
Mentions: Majority of PcG components has been identified as necessary for proper ES cell differentiation27. We next examined the differentiation properties of Pcgf1−/− ES cells. We first generated embryoid bodies (EBs) in hanging drops at the first three days and subsequently maintained them in rotating conditions in the absence of LIF (Fig. 3A), and examined EBs morphology by microscopy. EBs mimic, to some extent, early embryonic development and are often utilized as an in vitro differentiation assay to test ES cell pluripotency28. Our results showed that ES cells retained the ability to differentiate into EBs. From days 3–12, Pcgf1−/− EBs were macroscopically very similar to wild-type EBs; however, these mutant EBs were smaller than their wild-type counterparts. We randomly chose 20 EBs at 3, 7 or 12-day culture and scored their relative diameters microscopically (Fig. 3B). Our data indicated that Pcgf1−/− ES cells formed EBs with an average size half that of the wild-type. These proliferation defects in the Pcgf1−/− EBs suggested a delayed differentiation of Pcgf1 deficient ES cells. Of note, lentiviral expression of FLAG-tagged Pcgf1 in Pcgf1−/− entirely rescued normal EB size (Fig. 3B). RT-qPCR analysis of 12-day EBs demonstrated that the expression of ES cell marker genes Oct4 and Nanog were dramatically decreased during the process of wild-type EB differentiation (Fig. 3C). Consistent with their aberrant EB formation, however, the Pcgf1−/− EBs maintained high levels of Oct4 and Nanog mRNA over the 12 days of culture, displayed severe misregulation of the differentiation marker genes in comparison to the wild-type. Although all lineage genes were upregulated after EB induction, the mesoderm- and ectoderm-specific genes (Flk1, Brachyury, Fgf5 and Nestin) were markedly downregulated in EBs derived from Pcgf1 knockout ES cells (Fig. 3C). In particular, we detected significant decreased Flk1 expression in undifferentiated Pcgf1−/− ES cells and during EB culture, indicating that Pcgf1 activates Flk1 gene expression which is consistent with our RNA-seq analysis (Supplementary Table 2). Interestingly, the endoderm differentiation might not completely be disturbed in the absence of Pcgf1 because Gata4 was almost normally induced in EBs derived from knockout ES cells (Fig. 3C). It has been reported that Ring1B represses the expression of Gata4 via direct binding to its promoter regions29. Moreover, the data in this manuscript demonstrated that Pcgf1 is required for the ordered chromatin recruitment of Ring1B (see the proposed model below). Therefore, we propose that Pcgf1 displays specificity toward endoderm formation through modulating Ring1B activity. Notably, trophectoderm marker Eomes was also reduced in knockout ES-derived EBs (Fig. 3C). Remarkably, lentiviral expression of FLAG-tagged Pcgf1 was able to restore the pattern of expression of differentiation markers to levels similar to those in control cells. Collectively, these data suggest that Pcgf1 deletion impairs ES cell differentiation in vitro, likely by preserving expression of high levels of Oct4 and Nanog, which in turn perturb the differentiation process.