Genetic architecture of gene expression underlying variation in host response to porcine reproductive and respiratory syndrome virus infection
ABSTRACT
---
It has been shown that inter-individual variation in host response to porcine reproductive and respiratory syndrome (PRRS) has a heritable component, yet little is known about the underlying genetic architecture of gene expression in response to PRRS virus (PRRSV) infection. Here, we integrated genome-wide genotype, gene expression, viremia level, and weight gain data to identify genetic polymorphisms that are associated with variation in inter-individual gene expression and response to PRRSV infection in pigs. RNA-seq analysis of peripheral blood samples collected just prior to experimental challenge (day 0) and at 4, 7, 11 and 14 days post infection from 44 pigs revealed 6,430 differentially expressed genes at one or more time points post infection compared to the day 0 baseline. We mapped genetic polymorphisms that were associated with inter-individual differences in expression at each day and found evidence of cis-acting expression quantitative trait loci (cis-eQTL) for 869 expressed genes (qval < 0.05). Associations between cis-eQTL markers and host response phenotypes using 383 pigs suggest that host genotype-dependent differences in expression of GBP5, GBP6, CCHCR1 and CMPK2 affect viremia levels or weight gain in response to PRRSV infection.
No MeSH data available.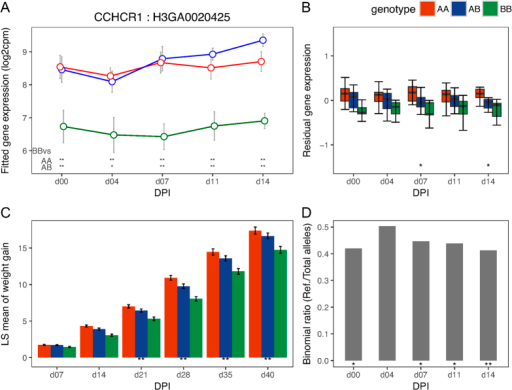 © Copyright Policy - open-access
License
getmorefigures.php?uid=PMC5385538&req=5
Mentions: To validate the cis-eQTL SNPs identified above, we tested for evidence of allele-specific expression (ASE) at their cis-genes after first correcting for bias associated with mapping reads that contain the non-reference allele to the reference genome (see Methods). We found strong evidence of ASE (p < 0.01) for all cis-eQTL SNPs for GBP5 at almost all DPI (including day 0), with the WUR SNP among the most significant (p < 1e-06) cis-eQTL SNPs (Fig. 2). The other gene in the same GWAS region, GBP6, showed strong evidence of ASE (p < 0.01) at all time-points post infection (Fig. 3). The CD1D gene did not show evidence of ASE at any DPI. The gene CCHCR1 (Fig. 4) showed evidence of ASE across multiple DPI (p = 0.03 at day 0; p = 0.04 at 7 DPI; p = 0.05 at 11 DPI; p = 0.005 at 14 DPI), while CMPK2 (Fig. 5) showed evidence of ASE at 4 DPI alone (p = 0.05). The other candidate genes (FCER1A, FCRL6, ICE2, PPT2) could not be tested for ASE due to inadequate read depth at their exonic SNPs. Details of the ASE test results are provided in Supplementary Table S5. We thus narrowed the list of candidate genes that underlie variation in host response to PRRSV infection within the top GWAS regions for VL and WG traits down to those validated with ASE, i.e., GBP5, GBP6, CCHCR1 and CMPK2. The DE, eQTL, phenotype associations, and ASE for these final candidate genes for VL and WG are shown in Figs 2, 3, 4, 5, with detailed statistics provided in Supplementary Table S6. For GBP5, GBP6 and CCHCR1, the susceptibility allele (allele associated with higher VL and/or lower WG) was associated with lower expression at their respective cis-eQTLs and genes, whereas for CMPK2, the susceptibility allele showed the opposite trend in expression. In general, for VL, differences among genotypes were observed at the same and/or subsequent DPIs as when the significant eQTL was observed whereas for WG, the differences were not immediately apparent as can be expected.