Interaction between the exchanged Mn 2+ and Yb 3+ ions confined in zeolite-Y and their luminescence behaviours
ABSTRACT
---
Luminescent zeolites exchanged with two distinct and interacted emissive ions are vital but less-studied for the potential applications in white light emitting diodes, solar cells, optical codes, biomedicine and so on. Typical transition metal ion Mn2+ and lanthanide ion Yb3+ are adopted as a case study via their characteristic transitions and the interaction between them. The option is considered with that the former with d-d transition has a large gap between the first excited state 4T1 and the ground state 6A1 (normally >17,000 cm−1) while the latter with f-f transition has no metastable excited state above 10,000 cm−1, which requires the vicinity of these two ions for energy transfer. The results of various characterizations, including BET measurement, photoluminescence spectroscopy, solid-state NMR, and X-ray absorption spectroscopy, etc., show that Yb3+ would preferably enter into the zeolite-Y pores and introduction of Mn2+ would cause aggregation of each other. Herein, cation-cation repulsion may play a significant role for the high valence of Mn2+ and Yb3+ when exchanging the original cations with +1 valence. Energy transfer phenomena between Mn2+ and Yb3+ occur only at elevated contents in the confined pores of zeolite. The research would benefit the design of zeolite composite opto-functional materials.
No MeSH data available.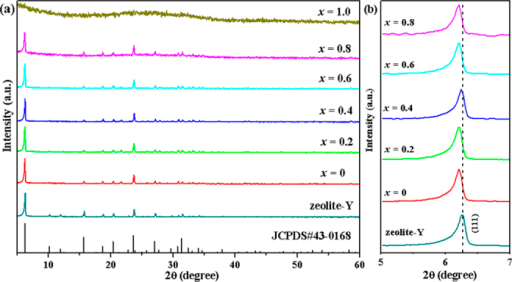 © Copyright Policy - open-access
License
getmorefigures.php?uid=PMC5385532&req=5
Mentions: Figure 1(a) displays the XRD patterns of 0.2Yb, xMn/zeolite-Y (x = 0, 0.2, 0.4, 0.6, 0.8, 1.0; and it denotes the molar concentrations of Mn2+ ion in solution prior to exchange) samples. It can be seen that all the samples are in good agreement with the standard data of zeolite-Y (JCPDS#43-0168), except for the amorphous 0.2Yb,1.0Mn/zeolite-Y sample, suggesting the porous zeolite structure is maintained in all 0.2Yb, xMn/zeolite-Y (x ≤ 0.8) samples., The gradually shift to the lower angles for the (111) diffraction peak of 0.2Yb, xMn/zeolite-Y (x ≤ 0.8) at around 2θ = 6.2°, as seen in Fig. 1(b), indicates that Yb3+ and Mn2+ are successfully encapsulated in zeolite-Y and they enlarge the crystal lattice. Moreover, the diffraction peaks at around 10° and 12° becomes weak when Yb3+ and Mn2+ are incorporated and finally disappear with the increasing of Mn2+ contents. The result confirms that some ions entered the α cages of zeolite-Y3132. With the increase of exchanged-ions contents, the crystallinity of 0.2Yb,xMn/zeolite-Y samples is also calculated, which is shown in Fig. S1. When the concentration of Mn2+ in 0.2Yb, xMn/zeolite-Y samples reaches 1.0 mol/L, the framework of zeolite-Y has collapsed and the sample turns to be glassy state. It can be inferred that the introduction of high contents of [MnCl] lowers the melting point of zeolites.