A new strategy to measure intercellular adhesion forces in mature cell-cell contacts
ABSTRACT
---
Intercellular adhesion plays a major role in tissue development and homeostasis. Yet, technologies to measure mature cell-cell contacts are not available. We introduce a methodology based on fluidic probe force microscopy to assess cell-cell adhesion forces after formation of mature intercellular contacts in cell monolayers. With this method we quantify that L929 fibroblasts exhibit negligible cell-cell adhesion in monolayers whereas human endothelial cells from the umbilical artery (HUAECs) exert strong intercellular adhesion forces per cell. We use a new in vitro model based on the overexpression of Muscle Segment Homeobox 1 (MSX1) to induce Endothelial-to-Mesenchymal Transition (EndMT), a process involved in cardiovascular development and disease. We reveal how intercellular adhesion forces in monolayer decrease significantly at an early stage of EndMT and we show that cells undergo stiffening and flattening at this stage. This new biomechanical insight complements and expands the established standard biomolecular analyses. Our study thus introduces a novel tool for the assessment of mature intercellular adhesion forces in a physiological setting that will be of relevance to biological processes in developmental biology, tissue regeneration and diseases like cancer and fibrosis.
No MeSH data available.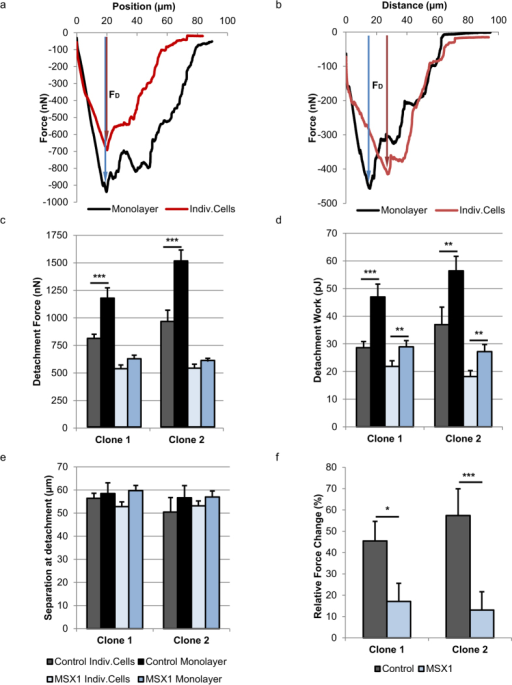 © Copyright Policy - open-access
License
getmorefigures.php?uid=PMC5385528&req=5
Mentions: We have biomechanically characterised the cell-cell interactions using FluidFM technology, by analysing the detachment force curves of individual cells and cells in monolayer (Fig. 4a,b; Supplementary Videos SV3 and SV4; Supplementary Fig. S2). Both control and MSX1-overexpressing cells, either in monolayer and individual cell state, showed multiple detachment events visible in the retraction force curves as small force peaks. They indicated the progressive detachment of the mature cell adhesions from the substrate and rupture of the mature intercellular junctions. Concatenating rupture events until the complete detachment of the cell indicated that during the detachment process the cell is still active, despite the fact that cells could not be recovered afterwards. From these force curves we calculated the maximum detachment force (FD) of cells in the different conditions and used it as the main indicator of cell adhesion force (Fig. 4c). While control cells showed a very remarkable and significant increase in detachment of cells in monolayer compared to single cells, MSX1-overexpressing cells did not show any significant increase. Based on these values, we calculated the cell-cell adhesion forces as explained before (equation (1), Fig. 1a–d). The calculated intercellular forces were 365 nN for control cells and 90 nN for MSX1-overexpressing cells in clone 1; and 550 nN and 70 nN, respectively, in clone 2. According to equation (2), this corresponded to a relative force change of 45% in control cells and 17% in MSX1-overexpressing cells, in clone 1, and 57% and 13%, respectively, in clone 2 (Fig. 4f). By contrast, the separation at the point of detachment, which indicates to a certain extent the distance required for detachment, did not vary significantly (Fig. 4e). This parameter is strongly dependent on the cell size and stiffness, and is according to our results little influenced by the cell-cell contacts. The detachment work, being the area demarcated by the force curve, is also influenced by the size and stiffness of cells. Still, cell-cell interactions had a noticeable influence on this parameter, because the intercellular adhesion forces contribute to the transitory detachment forces and the widening of the force curve. As a result, a significant increase in detachment work between cells in monolayer and individual cells was visible in control and MSX1-overexpressing cells, although this increase was more moderate in the latter (Fig. 4d). Altogether, these data indicate that cell-cell adhesion strength decreases significantly during early stages of the EndMT process, which directly correlates with the disassembly of intercellular contacts which is known to occur during EndMT.