EpCAM Intracellular Domain Promotes Porcine Cell Reprogramming by Upregulation of Pluripotent Gene Expression via Beta-catenin Signaling
ABSTRACT
---
Previous study showed that expression of epithelial cell adhesion molecule (EpCAM) was significantly upregulated in porcine induced pluripotent stem cells (piPSCs). However, the regulatory mechanism and the downstream target genes of EpCAM were not well investigated. In this study, we found that EpCAM was undetectable in fibroblasts, but highly expressed in piPSCs. Promoter of EpCAM was upregulated by zygotic activated factors LIN28, and ESRRB, but repressed by maternal factors OCT4 and SOX2. Knocking down EpCAM by shRNA significantly reduced the pluripotent gene expression. Conversely, overexpression of EpCAM significantly increased the number of alkaline phosphatase positive colonies and elevated the expression of endogenous pluripotent genes. As a key surface-to-nucleus factor, EpCAM releases its intercellular domain (EpICD) by a two-step proteolytic processing sequentially. Blocking the proteolytic processing by inhibitors TAPI-1 and DAPT could reduce the intracellular level of EpICD and lower expressions of OCT4, SOX2, LIN28, and ESRRB. We noticed that increasing intracellular EpICD only was unable to improve activity of EpCAM targeted genes, but by blocking GSK-3 signaling and stabilizing beta-catenin signaling, EpICD could then significantly stimulate the promoter activity. These results showed that EpCAM intracellular domain required beta-catenin signaling to enhance porcine cell reprogramming.
No MeSH data available.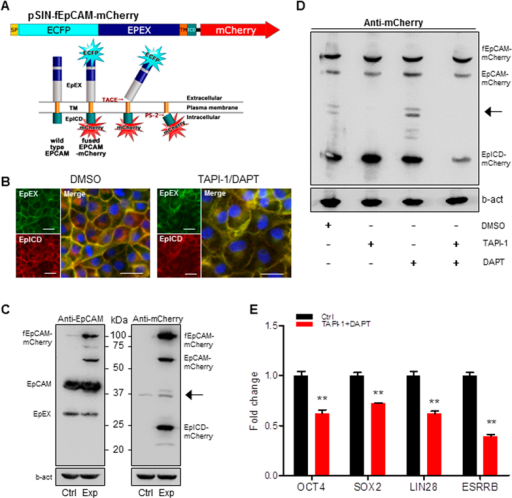 © Copyright Policy - open-access
License
getmorefigures.php?uid=PMC5385527&req=5
Mentions: To monitor EpCAM protein processing, the protein was double labeled with ECFP in N-terminal and mCherry in C-terminal. The N-terminal domain EpEX (green) and C-terminal domain EpICD (red) can be cleavage sequentially by TACE/ADAM17 and PS-2 (Fig. 5A). The pSIN-fEpCAM-mCherry vector was transfected into pig (PEF and PK15), mouse (NIH3T3 and P19), and human (293 T and Hela) cells, respectively. The fEpCAM-mCherry fusion protein was highly expressed in epithelial and pluripotent cells, but low expression in fibroblasts (Fig. S2). Results of transfection of pSIN-fEpCAM-mCherry into PK-15 cells showed that EpICD (red) was released from cytoplasm membrane and translocated to nuclei in control (DMSO) cells. However, the cleavage of EpICD was blocked by addition of protease inhibitors TAPI-1 and DAPT since the fEpCAM-mCherry fusion protein was remained in cytoplasm membrane (yellow) (Fig. 5B). Western blotting assay showed that endogenous EpCAM and ectopically expressed fEpCAM-mCherry were detected by anti-EpCAM antibody presenting an approximate 39 kDa protein band of matured EpCAM and EpEX, and the ectopically expressed EpICD-mCherry was detected by anti-mCherry antibody (Fig. 5C). When fEpCAM-mCherry expressed PK-15 cells were treated with gamma-secretase complex inhibitor DAPT, the EpICD fraction was decreased and the partially degraded extracellular domain fraction was accumulated, which was undetectable in the treatment of TAPI-1, a TACE/ADAM17 inhibitor that prevents proteolytic cleavage of the EpCAM extracellular domain. However, when application of both TAPI-1 and DAPT, the level of EpICD in nuclear extract was significantly reduced, indicating that both factors block the cleavage of EpCAM (Fig. 5D). We then investigated the cleavage and function of EpICD in porcine iPS cells. Results of addition of TAPI-1 and DAPT in DOX-iPSCs cells showed that expression of pluripotent factors, including OCT4, SOX2, LIN28, and ESRRB, was significantly reduced (Fig. 5E), showing the similar result that EpCAM expression was knocked down by shRNAs (Fig. 3G). This observation indicates that EpICD is a core transcription activator to upregulate expression of porcine pluripotent factors.