Coupled variability in primary sensory areas and the hippocampus during spontaneous activity
ABSTRACT
---
The cerebral cortex is an anatomically divided and functionally specialized structure. It includes distinct areas, which work on different states over time. The structural features of spiking activity in sensory cortices have been characterized during spontaneous and evoked activity. However, the coordination among cortical and sub-cortical neurons during spontaneous activity across different states remains poorly characterized. We addressed this issue by studying the temporal coupling of spiking variability recorded from primary sensory cortices and hippocampus of anesthetized or freely behaving rats. During spontaneous activity, spiking variability was highly correlated across primary cortical sensory areas at both small and large spatial scales, whereas the cortico-hippocampal correlation was modest. This general pattern of spiking variability was observed under urethane anesthesia, as well as during waking, slow-wave sleep and rapid-eye-movement sleep, and was unchanged by novel stimulation. These results support the notion that primary sensory areas are strongly coupled during spontaneous activity.
No MeSH data available.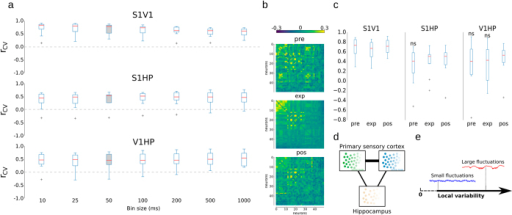 © Copyright Policy - open-access
License
getmorefigures.php?uid=PMC5385523&req=5
Mentions: There is robust evidence regarding changes in cortical variability across different behavioral states10161833. However, the temporal coupling in variability, and in cortico-cortical and cortico-hippocampal activity, during different behavioral states remains unknown. Thus, segmentation of the data according to the three major behavioral states studied was also performed: waking (WK), slow wave sleep (SWS), and rapid eye movement sleep (REM)16. This analysis indicated that the cortical spiking activity during wakefulness had significantly higher variability coupling than that observed during both sleep states (Fig. 2d; p ≪ 0.01). In addition, cortico-hippocampal coupling (both S1-HP and V1-HP) was also smaller than that observed between cortical areas. Importantly, the group data analysis (total of single units isolated 685, #S1 = 209, #V1 = 227, and #HP = 249; see Table S1) showed that coupling among primary sensory areas (S1V1) was significant (Fig. 2e; Wilcoxon, pS1V1 = 0.012, pS1HP = 0.036 and pV1HP = 0.025), and higher (Fig. 2e; Kruskal-Wallis, p = 0.036) than the coupling between primary sensory areas and HP for longer periods of time (Table S1), across different time-scales (Kruskal-Wallis p < 0.01; Fig. 3a). There was also significant coupling among the brain areas studied (Fig. 2f) across behavioral states (Wilcoxon, p < 0.05), except for V1HP during SWS (p = 0.067). Analysis of the same brain area pair across behavioral states (#animals: nWK = 8, nSWS = 8, and nREM = 7), demonstrated a significant difference only in S1-HP between WK and SWS (p = 0.046) and a trend in S1-V1 between WK and SWS states (p = 0.115).