Olanzapine, but not clozapine, increases glutamate release in the prefrontal cortex of freely moving mice by inhibiting D-aspartate oxidase activity
ABSTRACT
---
D-aspartate levels in the brain are regulated by the catabolic enzyme D-aspartate oxidase (DDO). D-aspartate activates NMDA receptors, and influences brain connectivity and behaviors relevant to schizophrenia in animal models. In addition, recent evidence reported a significant reduction of D-aspartate levels in the post-mortem brain of schizophrenia-affected patients, associated to higher DDO activity. In the present work, microdialysis experiments in freely moving mice revealed that exogenously administered D-aspartate efficiently cross the blood brain barrier and stimulates L-glutamate efflux in the prefrontal cortex (PFC). Consistently, D-aspartate was able to evoke L-glutamate release in a preparation of cortical synaptosomes through presynaptic stimulation of NMDA, mGlu5 and AMPA/kainate receptors. In support of a potential therapeutic relevance of D-aspartate metabolism in schizophrenia, in vitro enzymatic assays revealed that the second-generation antipsychotic olanzapine, differently to clozapine, chlorpromazine, haloperidol, bupropion, fluoxetine and amitriptyline, inhibits the human DDO activity. In line with in vitro evidence, chronic systemic administration of olanzapine induces a significant extracellular release of D-aspartate and L-glutamate in the PFC of freely moving mice, which is suppressed in Ddo knockout animals. These results suggest that the second-generation antipsychotic olanzapine, through the inhibition of DDO activity, increases L-glutamate release in the PFC of treated mice.
No MeSH data available.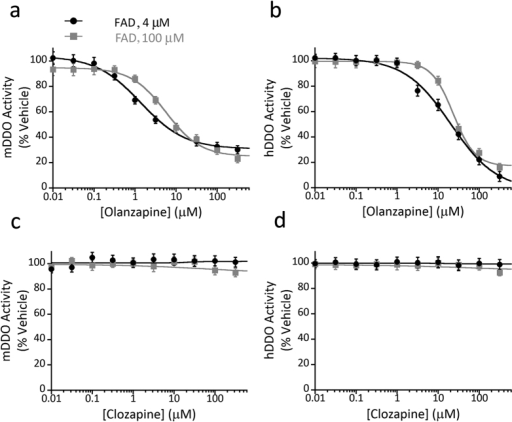 © Copyright Policy - open-access
License
getmorefigures.php?uid=PMC5385520&req=5
Mentions: Before assessing whether olanzapine could affect DDO also in living mice, we preliminary tested in vitro the efficacy of this second-generation antipsychotic in inhibiting the recombinant mouse DDO (mDDO) activity. In this experiment, we used as a negative control another second-generation antipsychotic, clozapine, which was ineffective against hDDO (Table 1). Moreover, to evaluate whether the observed effect of olanzapine was due to the low concentration of FAD cofactor in the reaction mixture, we repeated the inhibition assays on both recombinant hDDO and mDDO using either a saturating (100 μM) or a lower, physiological (4 μM) concentration of exogenous FAD. A similar specific inhibition effect exerted by olanzapine was evident in both the conditions tested on the human and the murine enzyme. Indeed, at increasing concentrations of olanzapine, DDO activity decreased according to a classical sigmoidal dose-response curve (Fig. 3a,b). The regression equation allowed to estimate an IC50 value in the low micromolar range (mDDO: 5.6 ± 0.8 μM, hDDO: 23.4 ± 1.6 μM). Notably, using the lower concentration of FAD (4 μM) in the assay mixtures, a 4-fold increase of the potency of olanzapine on mDDO was observed (IC50 = 1.4 ± 0.2 μM; Fig. 3a), whereas the potency on hDDO was not affected (IC50 = 23.1 ± 3.2 μM, Fig. 3b). On the other hand, at both FAD concentrations (4 and 100 μM), the enzymatic activity of both mDDO and hDDO was unaffected by clozapine at all concentrations tested (Fig. 3c,d).