Mycobacterium llatzerense , a waterborne Mycobacterium , that resists phagocytosis by Acanthamoeba castellanii
ABSTRACT
---
Nontuberculous mycobacteria (NTM) are environmental bacteria increasingly associated to public health problems. In water systems, free-living amoebae (FLA) feed on bacteria by phagocytosis, but several bacteria, including many NTM, are resistant to this predation. Thus, FLA can be seen as a training ground for pathogenic bacteria. Mycobacterium llatzerense was previously described as frequently associated with FLA in a drinking water network. The present study aimed to characterize the interactions between M. llatzerense and FLA. M. llatzerense was internalised by phagocytosis and featured lipid inclusions, suggesting a subversion of host resources. Moreover, M. llatzerense survived and even multiplied in presence of A. castellanii. Using a genomic-based comparative approach, twelve genes involved in phagocytosis interference, described in M. tuberculosis, were identified in the M. llatzerense genome sequenced in this study. Transcriptomic analyses showed that ten genes were significantly upregulated during the first hours of the infection, which could partly explain M. llatzerense resistance. Additionally, M. llatzerense was shown to actively inhibit phagosome acidification. In conclusion, M. llatzerense presents a high degree of resistance to phagocytosis, likely explaining its frequent occurrence within FLA in drinking water networks. It underscores that NTM should be carefully monitored in water networks to prevent human health concerns.
No MeSH data available.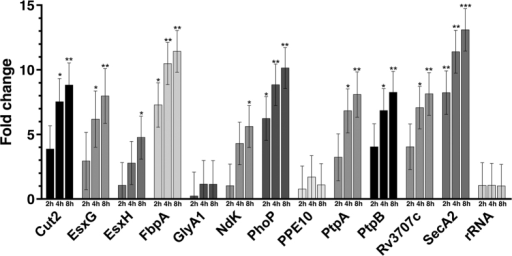 © Copyright Policy - open-access
License
getmorefigures.php?uid=PMC5385496&req=5
Mentions: In order to investigate the potential role of these genes in M. llatzerense resistance to A. castellanii, their expressions were quantified by qRT-PCR at 0 h, 2 h, 4 h and 8 h post infection, corresponding to the early stage of M. llatzerense internalisation (Fig. 5). Overall, M. llatzerense internalisation significantly impacted the global transcriptional profile of selected genes (ANOVA, F = 85.608, df = 1–7, P = 0.001). After 2 h, only three of the selected genes were significantly upregulated, corresponding to secA2 (8.23 folds), fbpA (7.28 folds) and phoP (6.23 folds). After 4 h, significant upregulations of transcription levels were observed for 8 other genes, namely cut2, esxG, fbpA, phoP, ptpA, ptpB, rv3707c and secA2. After 8 h, all genes except glyA1 and ppe10 were significantly upregulated. Only genes that were upregulated after 2 h reached more than 10-times fold changes (fbpA, phoP and secA2; Fig. 5). In contrast, glyA1 and ppe10 did not show any significant change in transcription levels throughout the experiment. The early response of M. llatzerense to phagocytosis by A. castellanii is reflected by the stimulation of fbpA, phoP and secA2 transcription. After 4 hours of infection, M. llatzerense transcriptional response to internalisation was prominent, while a late response is observed after 8 h through the significant upregulation of esxH and ndK. Taken together, the transcriptional increase of conserved virulence factors, shared between M. tuberculosis and M. llatzerense, is in favour of their involvement in the resistance to A. castellanii phagocytosis.