Overexpression of the ATPase Inhibitory Factor 1 Favors a Non-metastatic Phenotype in Breast Cancer
ABSTRACT
---
Partial suppression of mitochondrial oxidative phosphorylation and the concurrent activation of aerobic glycolysis is a hallmark of proliferating cancer cells. Overexpression of the ATPase inhibitory factor 1 (IF1), an in vivo inhibitor of the mitochondrial ATP synthase, is observed in most prevalent human carcinomas favoring metabolic rewiring to an enhanced glycolysis and cancer progression. Consistently, a high expression of IF1 in hepatocarcinomas and in carcinomas of the lung, bladder, and stomach and in gliomas is a biomarker of bad patient prognosis. In contrast to these findings, we have previously reported that a high expression level of IF1 in breast carcinomas is indicative of less chance to develop metastatic disease. This finding is especially relevant in the bad prognosis group of patients bearing triple-negative breast carcinomas. To investigate the molecular mechanisms that underlie the differential behavior of IF1 in breast cancer progression, we have developed the triple-negative BT549 breast cancer cell line that overexpresses IF1 stably. When compared to controls, IF1-cells partially shut down respiration and enhance aerobic glycolysis. Transcriptomic analysis suggested that migration and invasion were specifically inhibited in IF1-overexpressing breast cancer cells. Analysis of gene expression by qPCR and western blotting indicate that IF1 overexpression supports the maintenance of components of the extracellular matrix (ECM) and E-cadherin concurrently with the downregulation of components and signaling pathways involved in epithelial to mesenchymal transition. The overexpression of IF1 in breast cancer cells has no effect in the rates of cellular proliferation and in the cell death response to staurosporine and hydrogen peroxide. However, the overexpression of IF1 significantly diminishes the ability of the cells to grow in soft agar and to migrate and invade when compared to control cells. Overall, the results indicate that IF1 overexpression despite favoring a metabolic phenotype prone to cancer progression in the specific case of breast cancer cells also promotes the maintenance of the ECM impeding metastatic disease. These findings hence provide a mechanistic explanation to the better prognosis of breast cancer patients bearing tumors with high expression level of IF1.
No MeSH data available.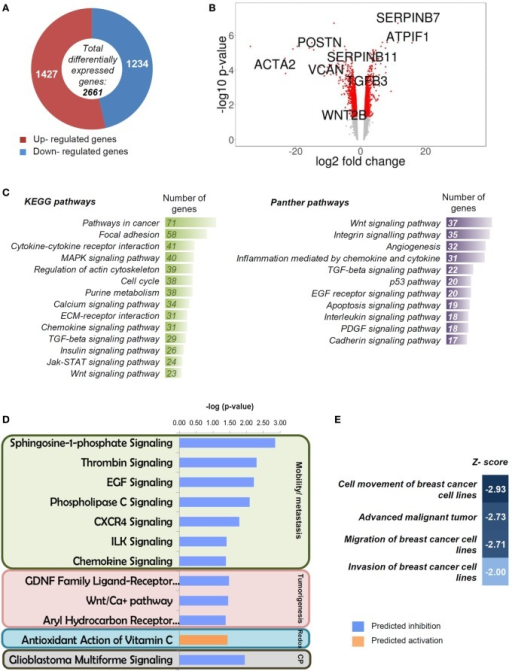 © Copyright Policy
License
getmorefigures.php?uid=PMC5385467&req=5
Mentions: Analysis of the transcriptome of control (empty vector) and IF1-overexpressing breast cancer cells rendered 2,661 genes differentially expressed (p ≤ 0.05; fold change ≥1.5; LIMMA analysis) (Figure 3A; Table S1 in Supplementary Material). From the global list of significant genes (Table S1 in Supplementary Material), 1,427 were upregulated and 1,234 were downregulated (Figure 3A). A volcano plot that combines the statistical significance with the magnitude of change illustrates the distribution of the IF1-regulated genes further emphasizing some of the genes that display large magnitude of significant change (Figure 3B). Consistently, the ATPIF1 gene was found significantly overexpressed in the transcriptome of IF1-cells (Figure 3B). A pathway enrichment analysis using the GeneCodis tool (42) against KEGG and Panther pathways databases highlighted that most of the affected pathways on IF1-cells were related to cancer (Figure 3C). In the case of KEGG database, the affected pathways revealed association with the ECM (focal adhesion, ECM–receptor interaction, and regulation of actin cytoskeleton), intercellular communication (cytokine–cytokine receptor interaction and MAPK signaling, calcium signaling, and chemokine signaling pathways), and cell cycle (Figure 3C). In the case of Panther database, similar groups appeared with the addition of angiogenesis and apoptosis (Figure 3C). Moreover, we performed an additional enrichment analysis with IPA ingenuity tool in order to complement the information with a prediction of the activation/repression status of the affected pathways. The results obtained pointed out that the majority of the canonical pathways affected in IF1-cells were related to cancer (Figure 3D) and, more specifically, to cellular mobility/metastasis and tumorigenesis in agreement with the previous enrichment analysis. Remarkably, these functions were predicted to be inhibited in IF1-cells when compared to controls (Figure 3D). Moreover, the IPA analysis of diseases and functions highlighted that migration and invasion of breast cancer cells were specifically inhibited in IF1-overexpressing cells (Figure 3E). Overall, these results suggest that IF1 overexpression could favor the generation of a cellular phenotype with less mobility and invasiveness, which could underpin the lower metastasis and better prognosis of breast cancer patients bearing tumors with high expression level of the protein.