( − )-Epigallocatechin Gallate Targets Notch to Attenuate the Inflammatory Response in the Immediate Early Stage in Human Macrophages
ABSTRACT
---
Inflammation plays important roles at different stages of diabetes mellitus, tumorigenesis, and cardiovascular diseases. (−)-Epigallocatechin gallate (EGCG) can attenuate inflammatory responses effectively. However, the immediate early mechanism of EGCG in inflammation remains unclear. Here, we showed that EGCG attenuated the inflammatory response in the immediate early stage of EGCG treatment by shutting off Notch signaling and that the effect did not involve the 67-kDa laminin receptor, the common receptor for EGCG. EGCG eliminated mature Notch from the cell membrane and the nuclear Notch intercellular domain, the active form of Notch, within 2 min by rapid degradation via the proteasome pathway. Transcription of the Notch target gene was downregulated simultaneously. Knockdown of Notch 1/2 expression by RNA interference impaired the downregulation of the inflammatory response elicited by EGCG. Further study showed that EGCG inhibited lipopolysaccharide-induced inflammation and turned off Notch signaling in human primary macrophages. Taken together, our results show that EGCG targets Notch to regulate the inflammatory response in the immediate early stage.
No MeSH data available.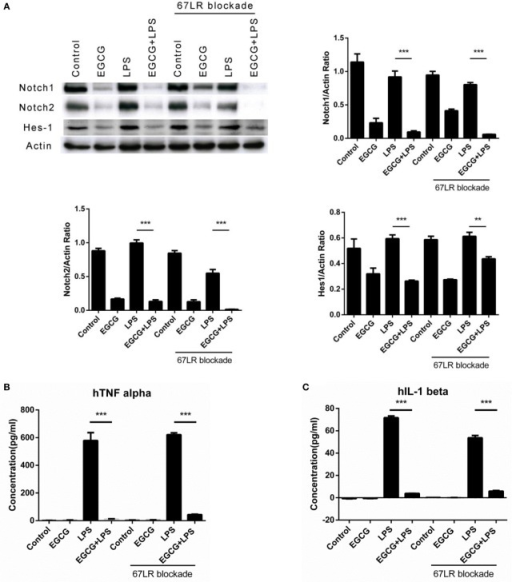 © Copyright Policy
License
getmorefigures.php?uid=PMC5385462&req=5
Mentions: 67-kDa laminin receptor has been proposed to be a cell surface target for EGCG to mediate its biologic activity (11). Scholars have reported that EGCG downregulates the inflammatory response in mouse macrophages via 67LR (28). However, those studies confirmed the effects at long time points (typically >6 h). To ascertain whether 67LR mediated the effects of EGCG on Notch and inflammation in the immediate early stage in THP-1-derived human macrophages, cells were pretreated for 1 h with the anti-67LR antibody MLuC5 (5 μg/mL), which is known to block the interaction between EGCG and 67LR. MluC5 blockade did not affect the suppression of Notch by EGCG (Figure 4A) or expression of the typical Notch-regulated protein Hes1 (Figure 4A). The effects of EGCG on the NF-κB (Figure S3A in Supplementary Material) and MAPK (Figure S3B in Supplementary Material) pathways were unaltered by MluC5 blockade 30 min after EGCG addition. To study the inflammatory effects of EGCG at the immediate early stage, MLuC5-treated macrophages were pretreated for 30 min with EGCG before LPS exposure. Production of TNF-α and IL-1β in culture supernatants from human macrophages induced by LPS was inhibited markedly by EGCG treatment in anti-67LR antibody-treated cells and control cells (Figures 4B,C). To determine the influence of 67LR blockade on the inflammation-attenuated effects of EGCG in human macrophages, we examined the inflammatory cytokines released in culture supernatants 3 h after LPS treatment using a human inflammation antibody array (RayBio). Expression of 27 of 40 inflammatory factors induced by LPS stimulation, as well as TNF-α and IL-1β (Figures 4B,C; Table S3 in Supplementary Material), was reduced significantly (p < 0.05, p < 0.01, or p < 0.001) by EGCG when macrophages were blocked by MluC5 (Figures 4D,E). These results were comparable to those of the non-blocking experiments (Figures 1C,D; Table S3 in Supplementary Material). The expression of major inflammatory cytokines downregulated by EGCG, such as TNF-α, IL-1β, IL-6, IL-8, IL-10, MCP-1, IL-6sR, CCL5/RANTES, and TIMP-2, was not affected by MluC5 pretreatment.