( − )-Epigallocatechin Gallate Targets Notch to Attenuate the Inflammatory Response in the Immediate Early Stage in Human Macrophages
ABSTRACT
---
Inflammation plays important roles at different stages of diabetes mellitus, tumorigenesis, and cardiovascular diseases. (−)-Epigallocatechin gallate (EGCG) can attenuate inflammatory responses effectively. However, the immediate early mechanism of EGCG in inflammation remains unclear. Here, we showed that EGCG attenuated the inflammatory response in the immediate early stage of EGCG treatment by shutting off Notch signaling and that the effect did not involve the 67-kDa laminin receptor, the common receptor for EGCG. EGCG eliminated mature Notch from the cell membrane and the nuclear Notch intercellular domain, the active form of Notch, within 2 min by rapid degradation via the proteasome pathway. Transcription of the Notch target gene was downregulated simultaneously. Knockdown of Notch 1/2 expression by RNA interference impaired the downregulation of the inflammatory response elicited by EGCG. Further study showed that EGCG inhibited lipopolysaccharide-induced inflammation and turned off Notch signaling in human primary macrophages. Taken together, our results show that EGCG targets Notch to regulate the inflammatory response in the immediate early stage.
No MeSH data available.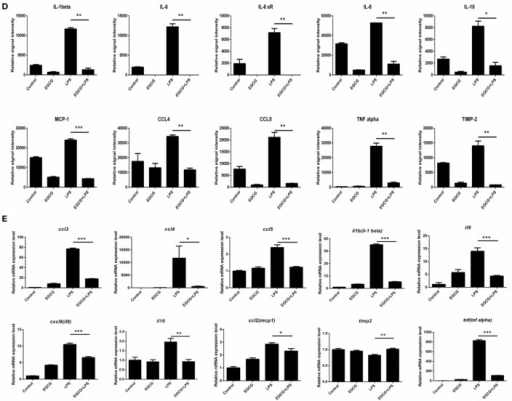 © Copyright Policy
License
getmorefigures.php?uid=PMC5385462&req=5
Mentions: Lipopolysaccharide stimulated the release of TNF-α (Figure 1A) and IL-1β (Figure 1B) significantly (p < 0.001), and EGCG attenuated release of these cytokines (Figures 1A,B) in human macrophages. To determine the effects of EGCG on inflammation in macrophages, we examined expression of inflammatory cytokines in human macrophages in culture supernatants collected 3 h post-LPS treatment under identical experimental conditions using a human inflammation antibody array (RayBio). Expression of all inflammatory cytokines was increased significantly (p < 0.05, p < 0.01, or p < 0.001) by LPS stimulation, as well as by TNF-α and IL-1β (Figures 1C,D). Expression of 24 of 40 inflammatory factors induced by LPS was reduced significantly (p < 0.05, p < 0.01, or p < 0.001) by EGCG, including IL-1β, IL-6, IL-8, IL-10, monocyte chemotactic protein 1 (MCP-1), macrophage inflammatory protein 1-alpha (MIP-1α), MIP-1β, IL-12-p70, regulated on activation, normal T cell expressed and secreted, TNF-α, and TIMP-2 (Figures 1C,D; Table S2 in Supplementary Material). With regard to expression of the other 16 cytokines, the EGCG-treated sample showed downregulation, but this value was not significant (0.05 < p < 0.45) compared with that obtained for the LPS sample (Figures 1C,D). These results suggested that EGCG inhibited the release of inflammatory cytokines in the medium in THP-1-derived human macrophages during the immediate early stage of inflammation induced by LPS.