Targeted therapy for soft tissue sarcomas in adolescents and young adults
ABSTRACT
---
Soft tissue sarcomas (STSs) are a heterogeneous group of tumors originating from the mesenchyme. Even though they affect individuals in all age groups, the prevalence of subtypes of STSs changes significantly from childhood through adolescence into adulthood. The mainstay of therapy is surgery, with or without the addition of chemotherapy and/or radiation therapy. These treatment modalities are associated, in many cases, with significant morbidity and, given the heterogeneity of tumor histologies encompassed by the term "STS", have not uniformly improved outcomes. Moreover, some subgroups of STSs appear to be more, and others less, responsive to conventional chemotherapy agents. Over the last two decades, our understanding of the biology of STSs is slowly increasing, allowing for the development of more targeted therapies. We review the new treatment modalities that have been tested on patients with STSs, with a special focus on adolescents and young adults, a group of patients that is often underrepresented in clinical trials and has not received the dedicated attention it deserves, given the significant differences in biology and treatment response in comparison to children and adults.
No MeSH data available.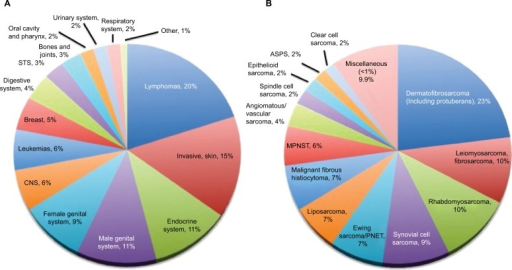 © Copyright Policy
License 1 - License 2


getmorefigures.php?uid=PMC5384699&req=5

Mentions: A multitude of diverse tumor histologies are grouped together within the class of STSs. Based on WHO recommendations, STSs are divided as follows: adipocytic tumors, fibroblastic/myofibroblastic, so-called fibrohistiocytic tumors, smooth muscle tumors, pericytic (perivascular) tumors, skeletal muscle tumors, vascular tumors of soft tissue, chondro-osseous tumors, GIST, nerve sheath tumors, tumors of uncertain differentiation, and undifferentiated/unclassified sarcomas.1 With increasing understanding of the molecular drivers of cancer, these histologic distinctions have undergone numerous changes over the past several decades. Following this trend, tumors are increasingly being classified based on molecular characteristics rather than histopathologic appearance, starting with the 2002 classification and then further more in the 2013 updated version.1,5 RMS is a prime example of this trend, as it has been classified historically as either embryonal or alveolar based on histopathology but more recently as either translocation positive or translocation negative, based on the presence or absence of a fusion transcript involving the FOXO1 gene. This change reflects recent data suggesting that this molecular characteristic more accurately predicts disease biology and outcomes, with translocation-negative patients usually having less aggressive disease and better outcomes regardless of histopathologic classification.6–9 In comparison to RMS, many NRSTSs are still lacking clearly defined molecular characteristics. NRSTSs in adults are usually classified based on the aforementioned WHO classification, but ICCC is traditionally used for the classification of childhood tumors. This classification system is used in the SEER program, and some of the STS tumors are not represented in this ICCC classification, because they do not appear in young children, even though they do occur in the AYA population, further complicating our ability to estimate STS incidence in the AYA population. Because of the diverse classification schemes and the overlapping age ranges in different epidemiologic studies, the exact distribution of STS subtypes in this age group is not known, but we have endeavored to compile the best available data, leaving out such entities as GIST and Kaposi's sarcoma (Figure 1).