Judgments of warmth and competence in a computerized paradigm: Little evidence of proposed impression formation asymmetries
ABSTRACT
---
Much of what we know concerning impression formation is based on experimental methods where the participant receives a list of traits or behaviors and is asked to make trait judgments or meta-cognitive judgments. The present study aimed to put some well-known effects from the impression formation literature to a test in a more dynamic computerized environment, more akin to many real world impression formation scenarios. In three studies participants were introduced to multiple target persons. They were given information about the target persons' behavior, one at a time, while making ratings of their warmth and competence, and their probability of performing related behaviors in the future. In neither of the studies the negativity effect of warmth or the positivity effect of competence were reproduced.
No MeSH data available.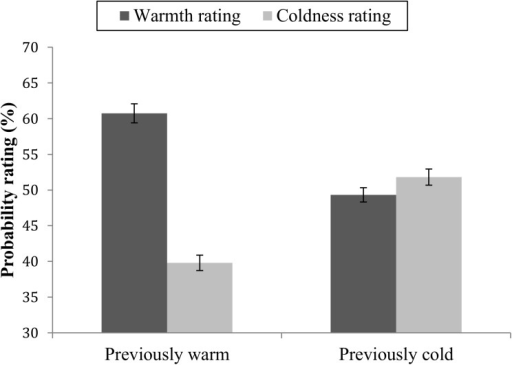 © Copyright Policy
License
getmorefigures.php?uid=PMC5384683&req=5
Mentions: The design was balanced so that each participant had met four warm, four cold, four competent and four incompetent targets. But due to incomplete balancing, not all participants were exposed to all four possible warmth and competence level combinations. Forty-eight participants were exposed to all four combinations (warm and competent, warm and incompetent, cold and competent, cold and incompetent), whereas the remaining twenty-four participants were exposed to two of the four combinations (twelve participants were exposed to warm and incompetent targets and to cold and competent targets, the other twelve to warm and competent targets and to cold and incompetent targets. To probe for undesired consequence of the imbalance, we ran a missing values analysis, and tested whether the missing values were a random subset of the data. The results suggest that the data was missing completely at random (Little's MCAR χ2 = .28). To account for these missing values in the dataset in analysis of both warmth and competence and possible interaction effects, a factorial linear mixed model was chosen to analyze how probability ratings were influenced by the behavioral information. For modelling purposes rating-dimension (warmth or competence), previous warmth behavior (warm vs cold) and previous competence behavior (competent vs incompetent) was treated as repeated factors, and the error covariance matrix was unstructured. Probability ratings of targets' future behaviors were analyzed separately for the competence and warmth ratings. For the warmth ratings there was a main effect of rating valence where targets overall were rated as more likely to perform positive (warm and competent) than negative (cold and incompetent) behaviors F(1,74.17) = 54.25, < .001.There was no main effect of target warmth, F(1,65.40) = 0.17, p = .675, or competence; F(1,65.73) = 0.02, p = .877. The expected warmth × rating valence interaction effect was significant F(1,67.77) = 59.01, p < .001 (Fig 7). The two-way interaction effect was not qualified by a three-way warmth × competence × rating valence effect; F(1,71.74) = 0.94, p = .333. Pairwise comparisons showed that differences in probability ratings of future warm and future cold behaviors were large for targets who had previously showed warmth (Mdiff = 20.92, SE = 2.04, p < .001). Differences in probability ratings were not significant among the cold targets (MDiff = -2.49, SE = 1.89, p = .193). When studying the ratings among participants who had rated all target combinations, the absolute size of the difference in warm vs cold ratings (M = 19.72, SD = 21.26) was significantly larger for the warm than the cold targets, t(47) = 6.42, p < .001. Mirroring the results from study 1, information about warm behaviors had a strong influence on probability ratings, while information about cold behaviors had less influence on the judgments of future behavior.