Judgments of warmth and competence in a computerized paradigm: Little evidence of proposed impression formation asymmetries
ABSTRACT
---
Much of what we know concerning impression formation is based on experimental methods where the participant receives a list of traits or behaviors and is asked to make trait judgments or meta-cognitive judgments. The present study aimed to put some well-known effects from the impression formation literature to a test in a more dynamic computerized environment, more akin to many real world impression formation scenarios. In three studies participants were introduced to multiple target persons. They were given information about the target persons' behavior, one at a time, while making ratings of their warmth and competence, and their probability of performing related behaviors in the future. In neither of the studies the negativity effect of warmth or the positivity effect of competence were reproduced.
No MeSH data available.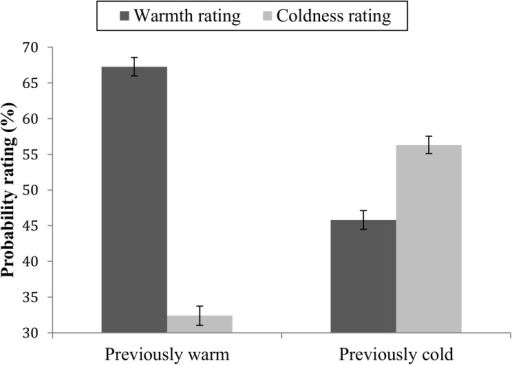 © Copyright Policy
License
getmorefigures.php?uid=PMC5384683&req=5
Mentions: Probability ratings for future warm and cold behaviors were analyzed in a 2 × 2 repeated measures ANOVA with target warmth (previously warm vs. previously cold target based on past behaviors) and warmth rating (future warm vs. future cold behaviors) as within-group factors and probability ratings as the dependent variable. There was no main effect of target warmth: F(1,71) = 2.74, p = .102, η2 = 0.03. There was a main effect of warmth rating: F(1,71) = 69.36, p < .001, η2 = 0.49, where warm behaviors (M = 56.53, SE = 0.80) overall were rated as more likely than cold behaviors (M = 44.35, SE = 0.92). The target warmth × warmth rating interaction was significant: F(1,71) = 161.22, p < .001, η2 = 0.69 (Fig 2). In order to test whether warm or cold previous behaviors had more influence on probability ratings of future behaviors, pairwise comparisons were calculated to study the mean difference in warm vs. cold ratings between warm and cold targets. The analysis showed that warm targets were rated as much more likely to perform warm (M = 67.26, SE = 1.29) than cold (M = 32.39, SE = 1.35) behaviors, MDiff = 34.87, SE = 2.40, p < .001. Cold targets were rated as more likely to perform cold future behaviors (M = 56.30, SE = 1.21) than warm behaviors (M = 45.79, SE = 1.31), MDiff = -10.50, SE = 2.21). The mean difference in probability ratings were significantly larger for warm than cold targets: M = 24.36, SD = 24.82, (t(71) = 8.32, p < .001). This shows that information about previous warm behaviors influenced ratings of future behaviors more than information about previous cold behaviors.