Fetal de novo mutations and preterm birth
ABSTRACT
---
Preterm birth (PTB) affects ~12% of pregnancies in the US. Despite its high mortality and morbidity, the molecular etiology underlying PTB has been unclear. Numerous studies have been devoted to identifying genetic factors in maternal and fetal genomes, but so far few genomic loci have been associated with PTB. By analyzing whole-genome sequencing data from 816 trio families, for the first time, we observed the role of fetal de novo mutations in PTB. We observed a significant increase in de novo mutation burden in PTB fetal genomes. Our genomic analyses further revealed that affected genes by PTB de novo mutations were dosage sensitive, intolerant to genomic deletions, and their mouse orthologs were likely developmentally essential. These genes were significantly involved in early fetal brain development, which was further supported by our analysis of copy number variants identified from an independent PTB cohort. Our study indicates a new mechanism in PTB occurrence independently contributed from fetal genomes, and thus opens a new avenue for future PTB research.
No MeSH data available.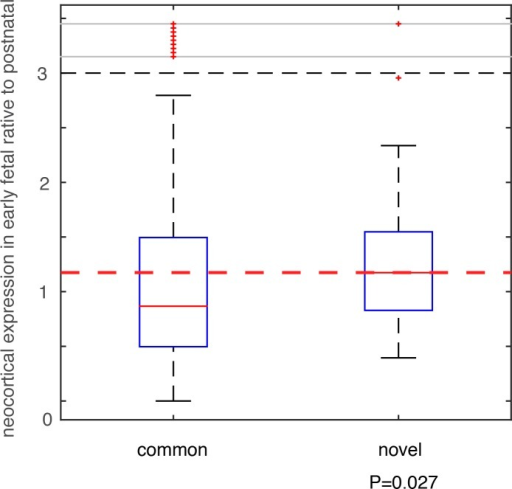 © Copyright Policy
License
getmorefigures.php?uid=PMC5384656&req=5
Mentions: We compared these deletion and duplication CNVRs with those collected in the DGV database (Database of Genomic Variants), which is thus far the most comprehensive database collecting and curating known structural variants in the human genome[32]. All CNVs in DGV (392,583 CNV regions) were from non-diseased individuals. Among the 74 deletion CNVRs in this additional PTB cohort, 64 had been included in DGV, and 10 were novel (see Methods and Materials, and S6 Table). For the 57 duplication CNVRs, 56 were included in DGV, with only one novel (involving only one gene MYO9A, S6 Table). Therefore, we focused on the 10 PTB-specific novel deletion events. For genes affected by these deletion events, we analyzed their brain expression as we described above for the de novo mutations. Specifically, for each gene, we calculated the fold change (β) of its mean expression in PCWs 8–10, 12, 13 (early fetal development) relative to its mean expression in postnatal months 4, 10 and 12 (Fig 4). Therefore, a larger β value indicates a stronger expression propensity towards early fetal brain development. For genes affected by the 10 PTB-specific novel deletion events, we consistently observed a substantial increase in their expression propensity towards early fetal brain development (β>1, P = 0.027, Wilcoxon rank-sum test, Fig 5), whereas genes affected by the 64 common deletion events (shared with the DGV control cohort) exhibited a strong bias towards postnatal expression (β<1, Fig 5). Such an observed contrast between the PTB-specific and non-specific CNVs provides additional evidence for our observation implicating de novo mutations, and indicating that abnormalities in early fetal brain development may be causally associated with PTB.