Fetal de novo mutations and preterm birth
ABSTRACT
---
Preterm birth (PTB) affects ~12% of pregnancies in the US. Despite its high mortality and morbidity, the molecular etiology underlying PTB has been unclear. Numerous studies have been devoted to identifying genetic factors in maternal and fetal genomes, but so far few genomic loci have been associated with PTB. By analyzing whole-genome sequencing data from 816 trio families, for the first time, we observed the role of fetal de novo mutations in PTB. We observed a significant increase in de novo mutation burden in PTB fetal genomes. Our genomic analyses further revealed that affected genes by PTB de novo mutations were dosage sensitive, intolerant to genomic deletions, and their mouse orthologs were likely developmentally essential. These genes were significantly involved in early fetal brain development, which was further supported by our analysis of copy number variants identified from an independent PTB cohort. Our study indicates a new mechanism in PTB occurrence independently contributed from fetal genomes, and thus opens a new avenue for future PTB research.
No MeSH data available.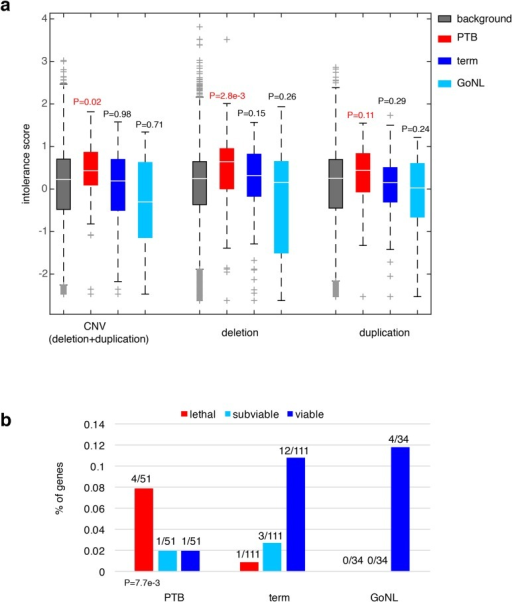 © Copyright Policy
License
getmorefigures.php?uid=PMC5384656&req=5
Mentions: We sought to understand the consequences of ablating these affected genes in PTB. We first considered their dosage effects based on a recent study, where gene intolerance to copy number variation (CNV) was quantified from a cohort of ~60,000 human exomes[26]. Previous studies have shown that essential or haploinsufficient genes are intolerant to CNVs, whereas genes in recessive disorders are more tolerant[26]. For the 51 genes we observed to be adversely affected by PTB de novo mutations, their CNV intolerance showed a substantial elevation from the genome background (P = 0.02, Wilcoxon rank-sum test, Fig 3A); however, the increase was not observed among the 111 genes identified from the term group of infants (P = 0.98, Wilcoxon rank-sum test, Fig 3A). For further confirmation, we analyzed the published GoNL control cohort[19], where de novo mutations were identified by whole-genome sequencing of 250 Dutch parent-offspring families (with no known diseases). Applying the same procedure described above, we identified 34 genes affected by deleterious GoNL de novo mutations. Again, this set of GoNL genes showed no increase in CNV intolerance (P = 0.71, Wilcoxon rank-sum test, Fig 3A), confirming the dosage sensitivity of the identified PTB genes. In addition to being referenced with the genome background, direct comparisons among the PTB, term and GoNL groups also confirmed the significant increase in CNV intolerance in the PTB group (P = 0.05 between PTB and term groups, and P = 6.5e-3 between PTB and GoNL groups, Wilcoxon rank-sum test). Dividing CNV events into deletion and duplication events, the original study further quantified gene intolerance to deletions or duplications, and found that across the human genome, deletion intolerance is significantly correlated with duplication intolerance[26]. However, for this set of PTB genes, this was not the case. These PTB genes showed remarkable increased deletion intolerance (P = 2.8e-3, Wilcoxon rank-sum test, Fig 3A), but not duplication intolerance (P = 0.11, Wilcoxon rank-sum test, Fig 3A). This observation suggests that the aforementioned CNV intolerance should be specifically explained by their deletion intolerance. Again, the same signal was not observed in term infant genes or GoNL genes (both deletion and duplication intolerances), confirming the deleterious effects by specifically ablating the identified PTB genes.