Fetal de novo mutations and preterm birth
ABSTRACT
---
Preterm birth (PTB) affects ~12% of pregnancies in the US. Despite its high mortality and morbidity, the molecular etiology underlying PTB has been unclear. Numerous studies have been devoted to identifying genetic factors in maternal and fetal genomes, but so far few genomic loci have been associated with PTB. By analyzing whole-genome sequencing data from 816 trio families, for the first time, we observed the role of fetal de novo mutations in PTB. We observed a significant increase in de novo mutation burden in PTB fetal genomes. Our genomic analyses further revealed that affected genes by PTB de novo mutations were dosage sensitive, intolerant to genomic deletions, and their mouse orthologs were likely developmentally essential. These genes were significantly involved in early fetal brain development, which was further supported by our analysis of copy number variants identified from an independent PTB cohort. Our study indicates a new mechanism in PTB occurrence independently contributed from fetal genomes, and thus opens a new avenue for future PTB research.
No MeSH data available.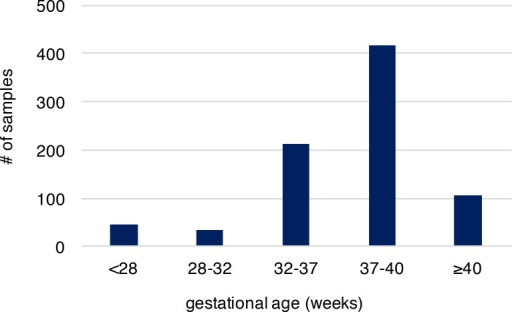 © Copyright Policy
License
getmorefigures.php?uid=PMC5384656&req=5
Mentions: We analyzed recently published whole-genome sequencing (WGS) data (with coverage ~60X), where de novo mutations were identified from whole blood samples of 816 parent-offspring trios to reveal associated genomic features[20]. Parents in these trios described are in good general health, not of high body mass index, without history of drug and alcohol abuse during pregnancy, nor exposure to hazardous chemicals. All members of these trios including the infants had no known chromosomal abnormalities, genetic diseases and specifically the infants had no gross structural anatomic anomalies[20]. Provision of gestational age (personal communication with Dr. Wendy Wong) associated with these published sequence data allowed us to explore the molecular basis of PTB, which was not systematically examined in the original study. Overall, 36,441 autosomal de novo mutations were identified in infants of the 816 trio families (only one sibling was studied when a family had a monozygotic twin pair), including 35,793 single nucleotide variants (SNVs) and 648 small insertions/deletions (indels). The high-quality of these de novo mutations was established in the original study[20]. Among the infants of the 816 trios, 292 were PTB (gestational age < 37 weeks, S1 Table), and the remaining 524 were term births (gestational age ≥ 37 weeks, S1 Table). Distribution of gestational age of PTB and term births is shown in Fig 1, where the mean gestational age of PTB and the non-PTB is 33.1 and 39.1 weeks, respectively, with the minimum of 22.7 weeks (S2 Table). We posited that if the occurrence of de novo mutations in fetal genomes is a significant contributor to PTB, two predictions follow: (1) PTB infants are expected to have increased de novo mutation burden relative to term infants; (2) the affected genes are significantly involved in prenatal, rather than postnatal, development. We tested these two predictions.