An ID2-dependent mechanism for VHL inactivation in cancer
ABSTRACT
---
Mechanisms that maintain cancer stem cells are crucial to tumor progression. The ID2 protein underpins cancer hallmarks including the cancer stem cell state. HIFα transcription factors, most notably HIF2α, are expressed in and required for maintenance of cancer stem cells (CSCs). However, the pathways that are engaged by ID2 or drive HIF2α accumulation in CSCs have remained unclear. We report that DYRK1A and DYRK1B kinases phosphorylate ID2 on Threonine-27 (T27). Hypoxia down regulates this phosphorylation via inactivation of DYRK1, whose activity is stimulated in normoxia by the oxygen sensing prolyl hydroxylase PHD1. ID2 binds to the VHL ubiquitin ligase complex, displaces VHL-associated Cullin-2, and impairs HIF2α ubiquitylation and degradation. Phosphorylation of ID2-T27 by DYRK1 blocks ID2-VHL interaction and preserves HIF2α ubiquitylation. In glioblastoma ID2 positively modulates HIF2α activity. Conversely, elevated expression of DYRK1 phosphorylates ID2- T27, leading to HIF2α destabilization, loss of glioma stemness, inhibition of tumor growth, and a more favorable outcome for patients with glioblastoma.
No MeSH data available.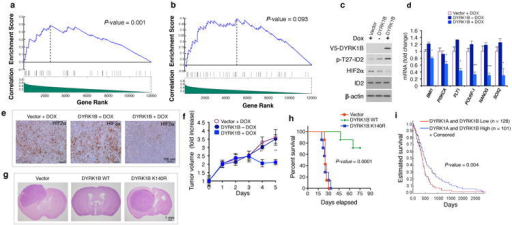 © Copyright Policy
License
getmorefigures.php?uid=PMC5384647&req=5
Mentions: To ask whether activation of ID2 enhances HIF2α transcriptional activity in an unbiased fashion, we used CINDy, an algorithm for high-fidelity reconstruction of post-translational causal dependencies to interrogate whether ID2 can affect the activity of HIF2α on its targets in the context of GBM25. When applied to a collection of 548 TCGA-derived GBM samples, ID2 activity emerged as the modulator of the transcriptional connection between HIF2α and its activated target genes (Fig. 5a, b). The activity of ID2 is estimated by the VIPER algorithm, a computational tool designed to infer protein activity from gene expression data26. When GBM samples were divided into two groups based on ID2 activity, samples with higher ID2 activity showed significantly stronger correlation between HIF2α and its targets than a set of random genes (p=0.001, Fig. 5a). This positive correlation was absent in the cohort of GBM with low ID2 activity (p=0.093, Fig. 5b). Consistent with these observations, we detected a marked reduction of HIF2α protein following acute deletion of the ID2 gene in a mouse model of malignant glioma (Extended Data Fig. 8a)9. We interrogated the effect of DYRK1 expression in mouse models of human glioma. Tetracycline-induced expression of DYRK1B at levels comparable to normal brain (Extended Data Fig. 8b), down-regulated HIF2α in glioma cells in vitro and in sub-cutaneous xenografts and reduced the expression of the HIF2α targets that promote stem cell functions (Fig. 5c-e). Expression of DYRK1B also inhibited tumor cell proliferation in vivo, resulting in tumor reduction (Fig. 5f, Extended Data Fig. 8c, d). Next, we evaluated the antitumor effects of DYRK1B WT or the kinase inactive K140R mutant in an orthotopic model of glioma (Extended Data Fig. 8e). Animals bearing glioma cells that expressed WT DYRK1B manifested significantly increased survival and tumor latency relative to mice bearing DYRK1B-K140R or vector transduced cells (Fig. 5g, h). Two out of seven mice in the DYRK1B WT group developed tumors that failed to express exogenous DYRK1B (Extended Data Fig. 8f). This result suggests that active DYRK1 kinase is incompatible with tumor growth in this glioma model. Finally, higher DYRK1A and DYRK1B predicted a more favorable clinical outcome for GBM patients, thus supporting the clinical significance of DYRK1 activity in glioma (Fig. 5i, Extended Data Fig. 9a).