Comparative venom gland transcriptomics of Naja kaouthia (monocled cobra) from Malaysia and Thailand: elucidating geographical venom variation and insights into sequence novelty
ABSTRACT
---
Background: The monocled cobra (Naja kaouthia) is a medically important venomous snake in Southeast Asia. Its venom has been shown to vary geographically in relation to venom composition and neurotoxic activity, indicating vast diversity of the toxin genes within the species. To investigate the polygenic trait of the venom and its locale-specific variation, we profiled and compared the venom gland transcriptomes of N. kaouthia from Malaysia (NK-M) and Thailand (NK-T) applying next-generation sequencing (NGS) technology.
Methods: The transcriptomes were sequenced on the Illumina HiSeq platform, assembled and followed by transcript clustering and annotations for gene expression and function. Pairwise or multiple sequence alignments were conducted on the toxin genes expressed. Substitution rates were studied for the major toxins co-expressed in NK-M and NK-T.
Results and discussion: The toxin transcripts showed high redundancy (41–82% of the total mRNA expression) and comprised 23 gene families expressed in NK-M and NK-T, respectively (22 gene families were co-expressed). Among the venom genes, three-finger toxins (3FTxs) predominated in the expression, with multiple sequences noted. Comparative analysis and selection study revealed that 3FTxs are genetically conserved between the geographical specimens whilst demonstrating distinct differential expression patterns, implying gene up-regulation for selected principal toxins, or alternatively, enhanced transcript degradation or lack of transcription of certain traits. One of the striking features that elucidates the inter-geographical venom variation is the up-regulation of α-neurotoxins (constitutes ∼80.0% of toxin's fragments per kilobase of exon model per million mapped reads (FPKM)), particularly the long-chain α-elapitoxin-Nk2a (48.3%) in NK-T but only 1.7% was noted in NK-M. Instead, short neurotoxin isoforms were up-regulated in NK-M (46.4%). Another distinct transcriptional pattern observed is the exclusively and abundantly expressed cytotoxin CTX-3 in NK-T. The findings suggested correlation with the geographical variation in proteome and toxicity of the venom, and support the call for optimising antivenom production and use in the region. Besides, the current study uncovered full and partial sequences of numerous toxin genes from N. kaouthia which have not been reported hitherto; these include N. kaouthia-specific l-amino acid oxidase (LAAO), snake venom serine protease (SVSP), cystatin, acetylcholinesterase (AChE), hyaluronidase (HYA), waprin, phospholipase B (PLB), aminopeptidase (AP), neprilysin, etc. Taken together, the findings further enrich the snake toxin database and provide deeper insights into the genetic diversity of cobra venom toxins.
No MeSH data available.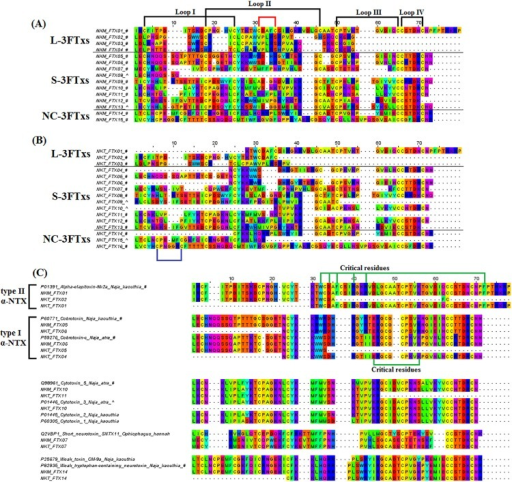 © Copyright Policy
License
getmorefigures.php?uid=PMC5384570&req=5
Mentions: Three-finger toxins typically constitute the main bulk of toxins in elapid venoms, in particular venoms of the cobras, king cobra and some sea snakes (Tan et al., 2015b; Tan & Tan, 2015). The mini-proteins fold in a similar pattern, with three β-stranded loops extending from a central core containing four to five conserved disulphide bridges (Hedge et al., 2009). In spite of the structural similarity, 3FTxs exhibit a wide range of pharmacological activities and they are conventionally classified further into different subtypes (Chanda et al., 2013; Kini & Doley, 2010). The orthologues of 3FTx genes may have been existent in the ancestral state prior to the divergence of different caenophidian lineage and venom-gene expansion (Reyes-Velasco et al., 2015), but adaptation and differential expression pattern follow in the different lineages over long evolutionary time. While 3FTx genes are highly expressed (>80%) in most elapids such as king cobra (Tan et al., 2015a; Vonk et al., 2013) and the monocled cobra as shown here, some studies have reported the transcription of 3FTx genes (albeit at very low levels) in the venom gland of some viperids and colubrids (Aird et al., 2013; Pawlak et al., 2006; Rokyta et al., 2012), or even in the rictal gland of python (Reyes-Velasco et al., 2015), but generally there is lesser isoform variability in these species. Our transcriptomic results showed that 3FTxs were highly and diversely expressed in both N. kaouthia venom glands, with a total of 15 and 16 transcripts identified in NK-M and NK-T, respectively. These transcripts were further classified into long-chain (L-3FTx, represented by LNTX: NK-M, four transcripts; NK-T, three transcripts), short-chain (S-3FTx, including SNTX, CTX and muscarinic toxin-like proteins (MLTPs): NK-M, nine transcripts; NK-T, 10 transcripts) and non-conventional (NC) 3FTxs (NC-3FTx, including weak toxins (WTXs): NK-M, two transcripts; NK-T, three transcripts), according to the classification system based on the number and position of disulphide bonds (Kini & Doley, 2010) (Data S2A and S2B; Fig. 2).