Stability of a Benzyl Amine Based CO 2 CaptureAdsorbent in View of Regeneration Strategies
ABSTRACT
---
Inthis work, the chemical and thermal stability of a primary amine-functionalizedion-exchange resin (Lewatit VP OC 1065) is studied in view of thepotential options of regenerating this sorbent in a CO2 removal application. The adsorbent was treated continuously in thepresence of air, different O2/CO2/N2 mixtures, concentrated CO2, and steam, and then the remainingCO2 adsorption capacity was measured. Elemental analysis,BET/BJH analysis, Fourier transform infrared spectroscopy, and thermogravimetricanalysis were applied to characterize adsorbent properties. This materialwas found to be thermally and hydrothermally stable at high temperatures.However, significant oxidative degradation occurred already at moderatetemperatures (above 70 °C). Temperatures above 120 °C leadto degradation in concentrated dry CO2. Adding moistureto the concentrated CO2 stream improves the CO2-induced stability. Adsorbent regeneration with nitrogen strippingis studied with various parameters, focusing on minimizing the molesof purge gas required per mole of CO2 desorbed.
No MeSH data available.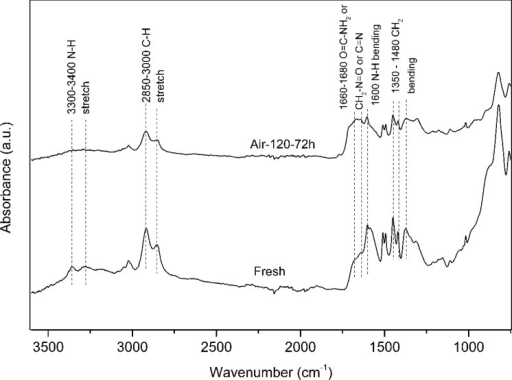 © Copyright Policy
License
getmorefigures.php?uid=PMC5384483&req=5
Mentions: Figure 5 shows theFTIR spectra of IER before and after exposure to 120 °C for 72h in dry air. All the samples have been desorbed in a flow of N2 at 100 °C for 1 h in advance to measuring the FTIR spectra,in order to eliminate the C=O signal due to carbamate. Aftertreatment in oxidizing conditions, it was found that the intensityof the bands in the ranges of 1350–1480, 1600, 2850–3000,and 3300–3400 cm–1, which belong to the alkaneC–H bending, amide N–H deformation of primary amine,C–H stretching, and N–H stretching, decrease.38,46 After oxidative degradation, the decrease of the intensity of C–Hband is more pronounced than that of the N–H stretching bond.Similar changes of a reduction of FTIR peak intensity of the bandin C–H stretching range can be observed in studies with othersupported amine sorbents, such as AEAPDMS-NFC25 and TP600S,38 treated for15 h in humid air at 90 °C and for 12 h at 100 °C in air,respectively. Furthermore, a new peak in the range of 1660–1680cm–1 was observed after oxidative degradation, whichis consistent with the findings of other studies in the field of oxidativedegradation.29,38 However, different types of specieswere related to this range according to different papers. Callejaet al.47 found an additional peak at 1667cm–1 on their amine grafted SBA-15 after dryingin air at 110 °C for 85 h and associated this with C=Nspecies. Meanwhile, Srikanth et al.38 testedone type of SAS with SiO2 supported on TEPA, which lost55% of its original CO2 adsorption capacity after exposurein air at 100 °C for 12 h, exhibiting an extra peak at 1670 cm–1 upon degradation. It was proposed in Srikanth'sstudy that there are two species corresponding to this peak. One isnitrite (N=O) formed by oxidation of the primary amine. Theother is carbonyl C=O resulting from amide species, of whichthe band is overlapping with the nitrites N=O band. In thepresent work, both the NH2 and the CH2 spectradecline, which may point to the formation of species in line withSrikanth's study. The formation of nitrite and amide is inagreement with the increased oxygen content, see Table 1. In summary, the decrease ofintensity in the ranges of 1350–1480, 1600, 2850–3000,and 3300–3400 cm–1 together with the increasein the range of 1660–1680 cm–1 clearly showsthe change on the surface groups in the degraded sorbent.