Diabetic Cardiomyopathy: An Immunometabolic Perspective
ABSTRACT
---
The heart possesses a remarkable inherent capability to adapt itself to a wide array of genetic and extrinsic factors to maintain contractile function. Failure to sustain its compensatory responses results in cardiac dysfunction, leading to cardiomyopathy. Diabetic cardiomyopathy (DCM) is characterized by left ventricular hypertrophy and reduced diastolic function, with or without concurrent systolic dysfunction in the absence of hypertension and coronary artery disease. Changes in substrate metabolism, oxidative stress, endoplasmic reticulum stress, formation of extracellular matrix proteins, and advanced glycation end products constitute the early stage in DCM. These early events are followed by steatosis (accumulation of lipid droplets) in cardiomyocytes, which is followed by apoptosis, changes in immune responses with a consequent increase in fibrosis, remodeling of cardiomyocytes, and the resultant decrease in cardiac function. The heart is an omnivore, metabolically flexible, and consumes the highest amount of ATP in the body. Altered myocardial substrate and energy metabolism initiate the development of DCM. Diabetic hearts shift away from the utilization of glucose, rely almost completely on fatty acids (FAs) as the energy source, and become metabolically inflexible. Oxidation of FAs is metabolically inefficient as it consumes more energy. In addition to metabolic inflexibility and energy inefficiency, the diabetic heart suffers from impaired calcium handling with consequent alteration of relaxation–contraction dynamics leading to diastolic and systolic dysfunction. Sarcoplasmic reticulum (SR) plays a key role in excitation–contraction coupling as Ca2+ is transported into the SR by the SERCA2a (sarcoplasmic/endoplasmic reticulum calcium-ATPase 2a) during cardiac relaxation. Diabetic cardiomyocytes display decreased SERCA2a activity and leaky Ca2+ release channel resulting in reduced SR calcium load. The diabetic heart also suffers from marked downregulation of novel cardioprotective microRNAs (miRNAs) discovered recently. Since immune responses and substrate energy metabolism are critically altered in diabetes, the present review will focus on immunometabolism and miRNAs.
No MeSH data available.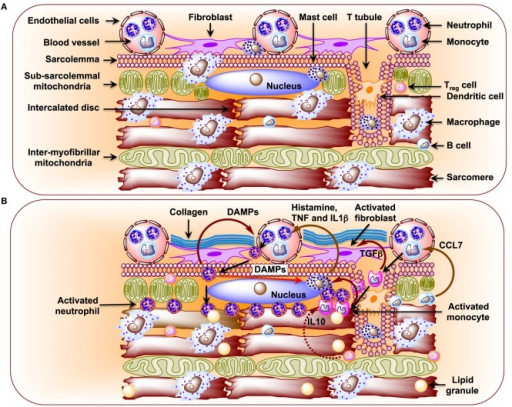 © Copyright Policy
License
getmorefigures.php?uid=PMC5384479&req=5
Mentions: Metabolic disturbances induce subcellular low-grade inflammation in the heart (125). Inflammation is a key pathogenic feature of lipid excess and diabetes. The innate immune system comprising of neutrophils, dendritic cells, macrophages, mast cells, and eosinophils also induces chronic metabolic inflammation (126, 127). Myocardial inflammation is implicated in the development of DCM (128–131). Nuclear factor kappa-light-chain-enhancer of activated B cells (NF-κB), a primary regulator of inflammatory responses, is activated in the heart upon exposure to FAs or glucose (132, 133). NF-κB induces not only the expression of pro-inflammatory cytokines, such as tumor necrosis factor alpha (TNFα), interleukin 6 (IL6), pro-IL1β, and pro-IL18, but it also induces the expression of NLR family pyrin domain-containing 3 (NLRP3) inflammasome (134). Activated RAGE also triggers an inflammatory response by heterodimerizing with TLR-4 leading to the production of pro-IL1β, Pro-IL18, and NLRP3 (135). Activated NLRP3 inflammasome activates caspase-1 and mediates the processing and release of pro-inflammatory cytokines IL1β and IL18 resulting in inflammatory cell infiltration and amplification of the inflammatory response (125, 136–138). Likewise, depletion of NLRP3 attenuates inflammation and cardiomyopathy in T2DM rats (137). Of note, activated inflammasomes play critical roles in the pathogenesis of HF (139). Resident immune cells in the resting heart include the following: macrophages, residing near endothelial cells or within the interstitial space (140–143); mast cells that are responsible for early triggers of immune responses (144); a small number of adaptive immune cells: B cells and regulatory T (TReg) cell subsets (142, 145, 146); and dendritic cells that test sample antigens (142, 147) (Figure 2A). The differential expression of major histocompatibility complex (MHC) class II and CC chemokine receptor 2 (CCR2) distinguishes three different subsets of cardiac macrophages: MHC class IIhigh (CCR2−), MHC class IIlow (CCR2−), and CCR2+ macrophages. The first two are the preponderant macrophages in the heart, derived from embryogenic progenitors and renewed through in situ proliferation, rather than through monocyte input. By contrast, CCR2+ macrophages derive from and replenished by circulating blood monocytes, which comprise of Ly6Chigh and Ly6Clow (148–150). Studies in Ccr2 knockout mice (lacking circulating monocytes) reveal increased cardiac pathology (151, 152). The loss of Ly6Chigh monocytes prevents hypertension-induced cardiac fibrosis and improves cardiac function after MI (141, 153, 154). Monnerat et al. suggest that diabetes enhances IL1β production from cardiac MHC IIhigh pro-inflammatory macrophages through activation of TLR2–NLRP3 inflammasome axis (155). The increased level of IL1β leads to a reduction in potassium current and an increase in calcium sparks in cardiomyocytes, which cause cardiac arrhythmias (156). By contrast, M2-like macrophages (CD206+F4/80+CD11b+) exert profound functions on tissue repair in heart depending on IL4 secretion (156). Recent studies implicate TNFβ producing B cells as a major contributor to myocardial fibrosis (153, 157). Antigen and cytokine stimulation are known to differentiate naive T cells into distinct T cell subpopulations that include T helper cells and CD4+CD25+FOXP3+ TReg cells (158). TReg cells comprise a subset of CD4+ lymphocytes that suppress activation, proliferation, and effector responses of both innate and adaptive immune cells (159–161). As opposed to B cells, depletion of TReg cells aggravates myocardial fibrosis and adoptive transfer of exogenous TReg cells into these mice attenuates the extent of myocardial fibrosis (158). The following pro-inflammatory changes with oxidative stress and decreased cardiac function were detected in STZ-induced rat model of T1DM (162): (i) significant increases in myocardial intercellular adhesion molecule 1 and vascular cell adhesion molecule 1, (ii) increased expression of beta2-leukotrienes-integrins+ (CD18+, CD11a+, CD11b+), (iii) increased expression of TNFα, and (iv) IL1β (Figure 2B). Treatment of STZ-induced DCM rats with irbesartan (AT-1 receptor antagonist) has been reported to improve cardiac functions by attenuating cardiac inflammation (IL1β, TNFα, and TGFβ) and restoration of MMP activity with consequent decrease in fibrosis (107). Similar results were reported after neutralization of TNFα (163) or genetic deletion of neurokinin receptor B (164) in rodent models of T1DM. Subsequently, several studies confirmed the pro-inflammatory phenotypes in diabetic rodent heart (165–167). As opposed to metabolic responses, immune responses in T1DM and T2DM are comparable as both of them show consistent activation of pro-inflammatory transcription factor NF-κB. Cytokines (i) increase formation of peroxynitrite, which play critical roles in cardiac dysfunction (168), (ii) exert direct effects on the function of SR as well as on the regulation of SR calcium ATPase expression (168, 169), and (iii) increase fibrosis (170). Treatment of rats and humans with statins (171), renin angiotensin aldosterone system (RAAS) inhibitors (107), metformin (172), and thiazolidinediones (173) reduces inflammation in the heart and improve cardiac function.