Toward a mild dehydroformylation using base-metal catalysis † † Electronic supplementary information (ESI) available. See DOI: 10.1039/c6sc04607j Click here for additional data file.
ABSTRACT
---
Dehydroformylation, or the reaction of aldehydes to produce alkenes, hydrogen gas, and carbon monoxide, is a powerful transformation that is underdeveloped despite the high industrial importance of the reverse reaction, hydroformylation. Interestingly, nature routinely performs a related transformation, oxidative dehydroformylation, in the biosynthesis of cholesterol and related sterols under mild conditions using base-metal catalysts. In contrast, chemists have recently developed a non-oxidative dehydroformylation method; however, it requires high temperatures and a precious-metal catalyst. Careful study of both approaches has informed our efforts to design a base-metal catalyzed, mild dehydroformylation method that incorporates benefits from each while avoiding several of their respective disadvantages. Importantly, we show that cooperative base metal catalysis presents a powerful, mechanistically unique approach to reactions which are difficult to achieve using conventional catalyst design.
No MeSH data available.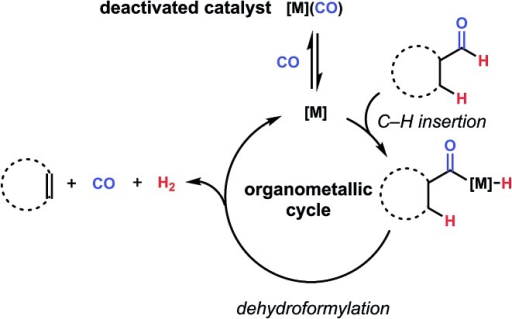 © Copyright Policy - open-access
License
getmorefigures.php?uid=PMC5384452&req=5
Mentions: By contrast, the reverse reaction, dehydroformylation, or the formal loss of a unit of H2 and CO to form olefins from aldehydes, has been relatively unexplored in the literature until recently.4 Reports of the reaction do exist as early as the 1960's, often using rhodium, ruthenium, or palladium, and usually at high temperature and/or with low selectivity for the olefin over other products.5–8 While the rarity of this reaction might seem surprising given the ubiquity of hydroformylation, this can be ascribed to the presence of several challenges, including inherent endothermicity and potential for side reactivity such as hydrogenation of the product alkenes.9 Another barrier is provided by examining the microscopic reverse of the hydroformylation mechanism. Namely, a low valent, electron rich metal complex is desirable for oxidative addition into C–H bonds, such as the acyl-hydride bond.10 However, upon elimination of CO, an electron-deficient ligand is introduced into the system, which can bind the coordinatively unsaturated intermediate and hinder its insertion into another C–H bond (Fig. 2). Many previously reported dehydroformylation methods require forcing conditions to either scavenge or expel carbon monoxide from solution, suggesting that this consideration is a serious limiter of reaction efficiency.4,11 Similarly, studies on aldehyde isomerization, which proceeds through the reversible, final CO insertion/C–H reductive elimination steps of hydroformylation, have identified carbonyl-bound catalyst as a key deactivation pathway.12 Recognizing this as a significant opportunity for catalyst design, we set out to identify current progress towards dehydroformylation to inform our own efforts in the area.