BMP6 Regulates Proliferation and Apoptosis of Human Sertoli Cells Via Smad2/3 and Cyclin D1 Pathway and DACH1 and TFAP2A Activation
ABSTRACT
---
Sertoli cells are essential for regulating normal spermatogenesis. However, the mechanisms underlying human Sertoli cell development remain largely elusive. Here we examined the function and signaling pathways of BMP6 in regulating human Sertoli cells. RT-PCR, immunocytochemistry and Western blots revealed that BMP6 and its multiple receptors were expressed in human Sertoli cells. CCK-8 and EDU assays showed that BMP6 promoted the proliferation of Sertoli cells. Conversely, BMP6 siRNAs inhibited the division of these cells. Annexin V/PI assay indicated that BMP6 reduced the apoptosis in human Sertoli cells, whereas BMP6 knockdown assumed reverse effects. BMP6 enhanced the expression levels of ZO1, SCF, GDNF and AR in human Sertoli cells, and ELISA assay showed an increase of SCF by BMP6 and a reduction by BMP6 siRNAs. Notably, Smad2/3 phosphorylation and cyclin D1 were enhanced by BMP6 and decreased by BMP6 siRNAs in human Sertoli cells. The levels of DACH1 and TFAP2A were increased by BMP6 and reduced by BMP6 siRNAs, and the growth of human Sertoli cells was inhibited by these siRNAs. Collectively, these results suggest that BMP6 regulates the proliferation and apoptosis of human Sertoli cells via activating the Smad2/3/cyclin D1 and DACH1 and TFAP2A pathway.
No MeSH data available.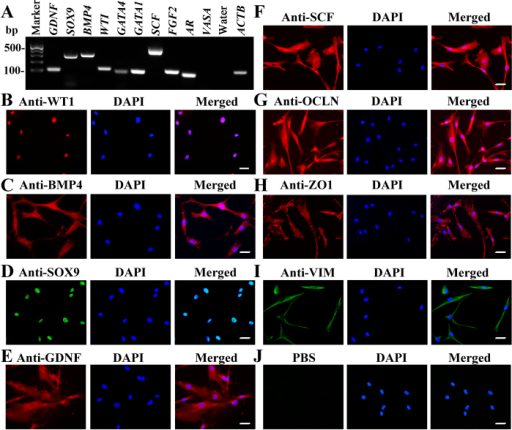 © Copyright Policy - open-access
License
getmorefigures.php?uid=PMC5384448&req=5
Mentions: The isolated human cells from OA patients were identified by a number of various markers for Sertoli cells at both transcriptional and translational levels. RT-PCR showed that GDNF, SOX9, BMP4, WT1, GATA4, GATA1, SCF, FGF2 and AR were expressed in the isolated cells (Fig. 1A), whereas VASA was undetected in these cells (Fig. 1A). PCR with water but without cDNA served as a negative control, and PCR with ACTB was used as loading controls for total RNA (Fig. 1A). The purity of isolated human cells was determined using immunocytochemistry. As shown in Fig. 1B–I, more than 96% of the cells were positive for WT1 (Fig. 1B), BMP4 (Fig. 1C), SOX9 (Fig. 1D), GDNF (Fig. 1E), SCF (Fig. 1F), OCLN (Fig. 1G), ZO1 (Fig. 1H), and VIM (Fig. 1I). Replacement of primary antibodies with PBS served as a negative control, and no immunostaining was observed in these cells (Fig. 1J). Considered together, these results suggest that the isolated cells were human Sertoli cells phenotypically.