A de novo missense mutation of GABRB2 causes early myoclonic encephalopathy
ABSTRACT
---
Background: Early myoclonic encephalopathy (EME), a disease with a devastating prognosis, is characterised by neonatal onset of seizures and massive myoclonus accompanied by a continuous suppression-burst EEG pattern. Three genes are associated with EMEs that have metabolic features. Here, we report a pathogenic mutation of an ion channel as a cause of EME for the first time.
Methods: Sequencing was performed for 214 patients with epileptic seizures using a gene panel with 109 genes that are known or suspected to cause epileptic seizures. Functional assessments were demonstrated by using electrophysiological experiments and immunostaining for mutant γ-aminobutyric acid-A (GABAA) receptor subunits in HEK293T cells.
Results: We discovered a de novo heterozygous missense mutation (c.859A>C [p.Thr287Pro]) in the GABRB2-encoded β2 subunit of the GABAA receptor in an infant with EME. No GABRB2 mutations were found in three other EME cases or in 166 patients with infantile spasms. GABAA receptors bearing the mutant β2 subunit were poorly trafficked to the cell membrane and prevented γ2 subunits from trafficking to the cell surface. The peak amplitudes of currents from GABAA receptors containing only mutant β2 subunits were smaller than that of those from receptors containing only wild-type β2 subunits. The decrease in peak current amplitude (96.4% reduction) associated with the mutant GABAA receptor was greater than expected, based on the degree to which cell surface expression was reduced (66% reduction).
Conclusion: This mutation has complex functional effects on GABAA receptors, including reduction of cell surface expression and attenuation of channel function, which would significantly perturb GABAergic inhibition in the brain.
No MeSH data available.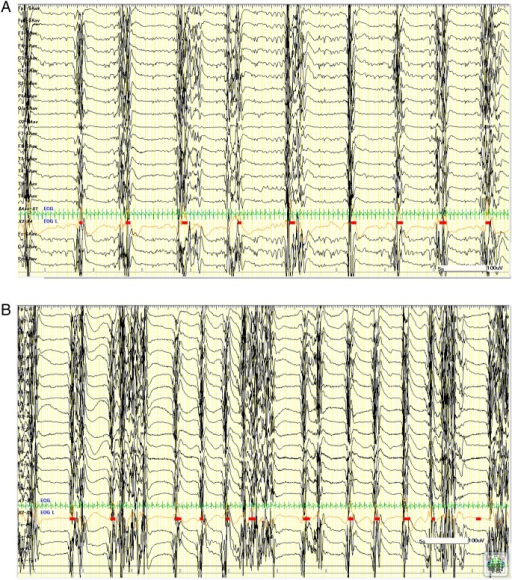 © Copyright Policy - open-access
License
getmorefigures.php?uid=PMC5384423&req=5
Mentions: The proband is a boy aged 1 year and 10 months. He was born at term to non-consanguineous parents as the result of a natural pregnancy. He had an appropriate body size for his gestational age and had no physical malformations. There was no history of epilepsy, developmental disorders or other neurological disorders in his parents, an elder sister, or other relatives. Immediately after birth, the boy presented with poor feeding, lethargy and weak crying. Subtle eyelid and limb myoclonus was also noted. He had generalised tonic clonic convulsions (GTCCs) lasting 5–10 min at the age of 2 months and was admitted to the children medical centre of Fukuoka University. Neurological examinations on admission identified drowsy consciousness, poor response to stimulation and hypotonicity. Laboratory results of blood and urine examinations, including evaluation of amino acids, organic acids or lipid metabolism, were all normal and a brain MRI was normal. However, an interictal EEG recording showed a SB pattern during wakefulness (figure 1A). Sleep EEG also displayed the SB pattern, of which the suppression components consisted of slow waves with approximately 150 µV amplitude continuing for 4–12 s, with an average of 6.5; the burst components indicated multiple focal lesions. During recording of sleep video EEG, we observed myoclonus in the eyelids, which corresponded to the bursts. During the EEG recording, intravenous injection of pyridoxine did not affect the clinical or EEG findings. Myoclonus in the eyelid and limbs was seen frequently every day thereafter and GTCC with apneic spells was seen approximately once a day. These clinical findings suggested a diagnosis of early onset EE, specifically EME. As possible causes of EME, we first considered endocrine disorders, such as hyperthyroidism, and metabolic disorders, such as non-ketotic hyperglycinemia, amino and organic acidopathies, urea cycle disorders, mitochondrial disorders, pyridoxine and pyridoxal-5-phosphate disorders, molybdenum cofactor deficiency, sulfite oxidase deficiency, Menkes syndrome, Zellweger syndrome and other disorders, because of the appearance of a normal brain structure in MRI analysis. General serum biochemistry tests, including ammonia, lactic acid, pyruvic acid and copper levels, were normal. Urine tests, including the qualitative reaction of sulfurous acid, were normal. Serum free T3, T4 and thyroid-stimulating hormone levels were in the normal range. Mass spectrometry and amino acid analyses for serum, urine and cerebrospinal fluid (CSF) showed normal concentrations of glycine in the serum and urine, low CSF:serum ratios and normal levels of taurine, cystatin, citrulline, ornithine, arginine and other amino acids. Acylcarnitine analysis by tandem mass spectrometry also did not identify any abnormalities. Examination of the ocular fundus, abdominal ultrasonography and cardiac ultrasound did not identify any abnormalities. Although we also screened for methamphetamine, benzodiazepine, cocaine, phencyclidine, opioids, cannabis, barbiturates and tricyclic antidepressants by simple urine examination, all of these tests were negative. These results excluded hyperthyroidism and metabolic disorders. Chromosome G banding analysis showed a normal 46, XY karyotype.