MEDI1873, a potent, stabilized hexameric agonist of human GITR with regulatory T-cell targeting potential
ABSTRACT
---
Glucocorticoid-induced tumor necrosis factor receptor-related protein (GITR) is part of a system of signals involved in controlling T-cell activation. Targeting and agonizing GITR in mice promotes antitumor immunity by enhancing the function of effector T cells and inhibiting regulatory T cells. Here, we describe MEDI1873, a novel hexameric human GITR agonist comprising an IgG1 Fc domain, a coronin 1A trimerization domain and the human GITRL extracellular domain (ECD). MEDI1873 was optimized through systematic testing of different trimerization domains, aglycosylation of the GITRL ECD and comparison of different Fc isotypes. MEDI1873 exhibits oligomeric heterogeneity and superiority to an anti-GITR antibody with respect to evoking robust GITR agonism, T-cell activation and clustering of Fc gamma receptors. Further, it recapitulates, in vitro, several aspects of GITR targeting described in mice, including modulation of regulatory T-cell suppression and the ability to increase the CD8+:CD4+ T-cell ratio via antibody-dependent T-cell cytotoxicity. To support translation into a therapeutic setting, we demonstrate that MEDI1873 is a potent T-cell agonist in vivo in non-human primates, inducing marked enhancement of humoral and T-cell proliferative responses against protein antigen, and demonstrate the presence of GITR- and FoxP3-expressing infiltrating lymphocytes in a range of human tumors. Overall our data provide compelling evidence that MEDI1873 is a novel, potent GITR agonist with the ability to modulate T-cell responses, and suggest that previously described GITR biology in mice may translate to the human setting, reinforcing the potential of targeting the GITR pathway as a therapeutic approach to cancer.
No MeSH data available.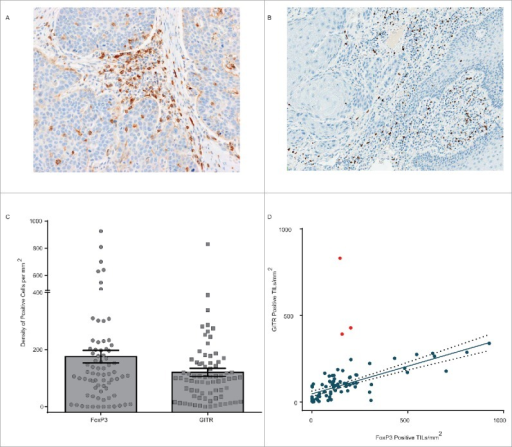 © Copyright Policy - open-access
License
getmorefigures.php?uid=PMC5384396&req=5
Mentions: Our initial flow cytometry assessments (Fig. 3B) indicated that the expression of GITR on human NSCLC TIL demonstrates a similar pattern to that observed in mouse tumor models, with expression being highest on FoxP3+, CD4+ Tregs. To assess the expression of GITR and FoxP3, and their relationship to one another, in a broader range of human tumors, and across a larger sample set, we developed optimized IHC methods and used them to assess the expression of GITR and FoxP3 (Figs. 5A and B) in 76 sections of tumor tissue from squamous NSCLC, CRC, SCCHN and bladder cancer patients. Nuclear FoxP3 expression was identified on TIL in 71 of 76 (93%) samples assessed and membranous GITR was detected on TIL in 75 of 76 (99%) samples. The density of FoxP3 positive TIL varied considerably from 1.1 to 925.7 positive cells per mm2, with a mean of 175.5; the density of GITR-positive TIL showed similar variation, from 0.6 to 830.1 positive cells per mm2, with a mean of 120.4 (Fig. 5C). The level of GITR expression did not vary significantly across tumor types (Fig. S9). In contrast, the level of FoxP3 expression in SCCHN samples was significantly higher than that in NSCLC and bladder cancer samples (Fig. S9). Assessment of the correlation between FoxP3 and GITR expression in sections from the same sample (Fig. 5D) indicated that, in general, samples with higher FoxP3 also had higher GITR (Spearman correlation coefficient 0.7). However, this was not always the case, and three samples in particular demonstrated high levels of GITR in the presence of limited levels of FoxP3. In the presence of these samples, the linear correlation between GITR and FoxP3 was modest (Pearson correlation coefficient 0.5), however, when these outlying samples were excluded, the linear correlation became significantly stronger (Pearson correlation coefficient 0.8).Figure 5.